Short Sale Brief
Next week, I will be initiating a short sale of Preferred Apartment Communities (NYSEMKT:APTS). Preferred Apartment Communities is traded on the New York Stock Exchange (NYSE) and is the smallest multi-family REIT traded on the major indices, and at present, has minimal analyst coverage. The company currently generates income from three multi-family properties, and 9 loan originations. Preferred Apartment Communities is structured as an UPREIT, with 100% general partnership interest in Preferred Apartment Communities Operating Partnership, L.P (PACOP) and externally managed by Preferred Apartment Advisors (PAA).
Basis for Short Sale
Fundamental Overvaluation
Near Term Debt Maturity
Preferred Apartment Communities New Preferred Equity Program
Future Dilution from Exercise of Warrants Associated With Equity Program
Secondary Factors
Sub-Par Management and Fee Structure
Massive Insider Selling from Funds Controlled by Management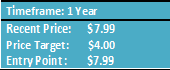 Insider Selling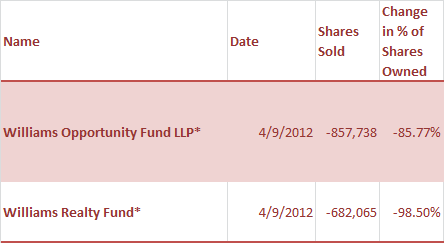 *Williams Opportunity Fund LLP and Williams Realty Fund are controlled by Preferred Apartment Communities CEO John A. Williams.
Corporate Structure: Erosion From Management
In conjunction with Preferred Apartment Communities, Preferred Apartment Advisors Apartment Advisors holds a general interest in PACOP. PAA collects asset, acquisition, property management and general administrative fees, effectively reducing Preferred Apartment Communities income streams to interest income on loans and net operating income of its three multi-family properties.
Fees Paid Directly to PAA: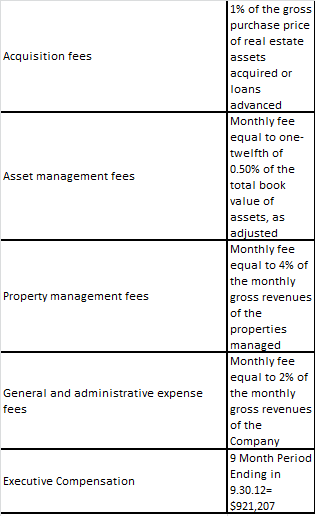 Preferred Apartment Communities Profit Analysis
TTM 2012 Preferred Apartment Communities Cash Flow
The pro-forma analysis below exhibits an unprofitable revenue stream that is highly encumbered by fees imposed on Preferred Apartment Communities by its manager, PAA.

Earnings with Commentary on Irregularities
While there is no strict standard set forth for AFFO, it is utilized by investors to attain deeper insight into a company's operations by subtracting recurring capital expenditures from FFO. According to income statements disclosed on Preferred Apartment Communities quarterly report (Q3 9.31.12), the company incurred the following property level capital expenditures:
| | |
| --- | --- |
| Asset Management Fees | $148,573 |
| Property Management Fees | $104,320 |
| Property Operating and Maintenance | $598,037 |
| Total Recurring Fees Reported For The Three Month Period Ending 9.31.2012 (Q3) | $850,930 |
With these recurring fees in mind, for the three months ending in September 30th, 2012, Preferred Apartment Communities reported "recurring capital expenditures from FFO for the 3rd quarter of 2012 as ($52,333). This represents a $798,597 difference in capital expenditures reported from Preferred Apartment Communities estimation of capital expenditures in its AFFO from items reported on its income statements.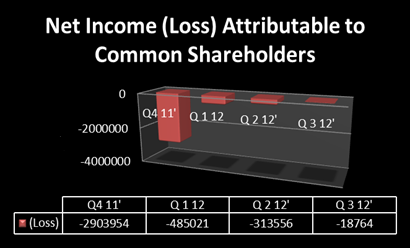 A more accurate portrait of the Preferred Apartment Communities cash flow can be found in their estimate of income available to common stock holders: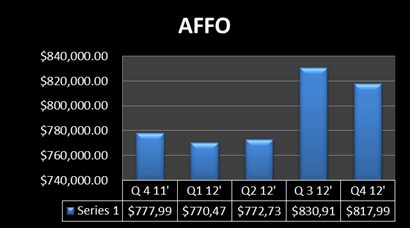 The table above illustrates an utter lack of profitability, which begs the question: where do the dividends come from? One clue can be found in the company's balance sheet under its disclosure of fixed rate debt:
"The intended uses of the Credit Facility are to fund investments, capital expenditures, dividends (with consent), working capital and other general corporate purposes on an as needed basis."
Are they partially or wholly funding dividends with debt?
Without jumping to a speculative conclusion, this does like a rational hypothesis, as a company-wide cash flow analysis indicates negative cash flow.
Value of Preferred Apartment Communities
Value of Real Estate Portfolio
In estimating the value of Preferred Apartment Communities real estate portfolio, I utilized a weighted average economic cap rate, applied using the following data.
| | | | | | |
| --- | --- | --- | --- | --- | --- |
| Name | Location | Purchase Price | Property Type | Units | Economic Cap Rate |
| Oxford Trail | Hampton, Virginia | $30,150,000 | Garden | 204 | 8% |
| Stone Rise Apartments | Philadelphia, Pennsylvania | $23,500,000 | Garden | 216 | 7% |
| Summit Crossing | Suburban Atlanta, Georgia | $33,200,000 | Garden | 345 | 7.6% |
To arrive Preferred Apartment Communities real estate portfolio, I divided NOI (calculated in the table below) by a average weighted economic cap rate.

Loan Value
Preferred Apartment Communities loan portfolio is composed of senior mortgage loans, subordinate loans and mezzanine debt secured by interests in multifamily properties. Below is an estimate of the value of Preferred Apartment Communities loan portfolio with adjustments made for partially amortized assets.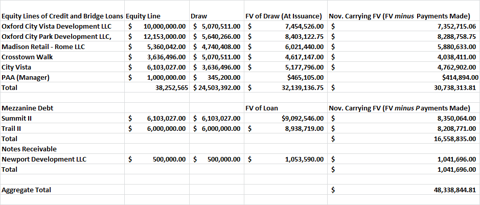 Utilizing valuation estimates of Preferred Apartment Communities real estate portfolio and loan portfolio, we can conclude a logical estimate of NAV. As you can see in the table below, Preferred Apartment Communities NAV is far below its current price of $7.99 per share. With an unfavorable management structure, class B assets and unfavorable debt ratios, I see no reason for there to be a premium over NAV.
Net Asset Value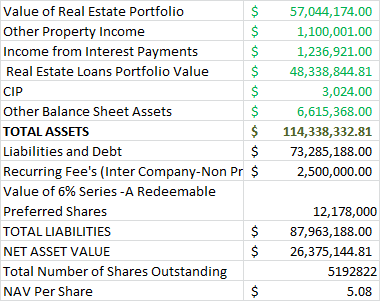 Why I am Initiating a Short Position: Preferred Apartment Communities Fiscal Cliff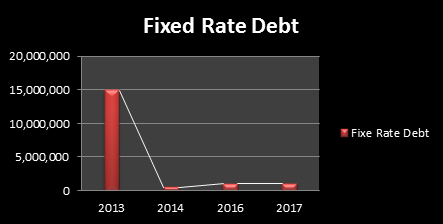 Preferred Apartment Communities impending debt maturity (2013) of a fixed rate credit line equaling $15,0000 represents 34% of its total market cap (43.2M).
In addition to this debt, the company's three multi-family properties, whose net operating income is currently $4,575,254 will transition from interest only payments, to fully amortized loans at the end of 2013, eroding the value of the properties pro-forma by increasing their yearly payments to a range of$3,000,000 (depending on variable rate).
To satisfy the companies impeding need for capital, the Preferred Apartment Communities, as of September 30th, 2012, has issued 12,798 6% Series A Redeemable Preferred Shares with attached warrants, and authorized 150,000 more. Preferred Apartment Communities Series A 6% redeemable stock has redemption value of $1,000. Each preferred share received a fixed dividend of $5.00 per share. Each warrant, included in the price of a preferred share has the option to convert into 20 common shares at varying prices and contingencies.
These factors, relating to the companies preferred share program present the following risks.
The immediate risk of dilution from the exercise of warrants= 2,559,690 common shares
The immediate increase in dividend payments= $767,880 per year and growing
Summary
I believe Preferred Apartment Communities has a toxic combination of debt, and volatility. In addition to these dynamic drivers of future declines in growth, the company was never profitable in the first place, and is highly overvalued. The companies fee structure continues to stifle its growth, while fundamentally undermining the purpose of REITs benefiting from managing their own properties.
This stock is just not very appetizing.
Disclosure: I am short APTS. I wrote this article myself, and it expresses my own opinions. I am not receiving compensation for it (other than from Seeking Alpha). I have no business relationship with any company whose stock is mentioned in this article.
Additional disclosure: I plan to initiate a short position 11.22.12 or next week.