Although diversification tends to be a fair hedge against many risks, McDonald's (NYSE:MCD) has been observing a drop in comp sales all around the world. Despite its strong brand name in the fast food industry, the financial results for Q32012 did not display the kind of exceptional performance usually expected from McDonald's. The company faced slow growth in several key dimensions. More bad news came with the announcement of a 1.8% decrease in comp sales in October 2012. The news came as a shock as it happened for the first time in nearly a decade. While the company guided towards a 1% increase in comp in its 8-K, the outlook could not be sustained and resulted in a drop in price of 4%, as shown in the figure below.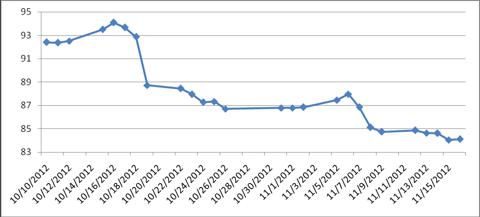 Revenues for Q32012 have gone up by 3.41% compared to Q22012. The company has seen a steady increase in overall profitability margins. Operating margin went up by 0.8% and, similarly, net profit margin went up by 1%. These facts can be observed in the following graph.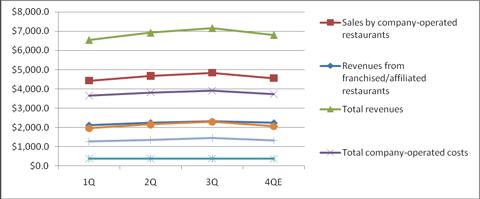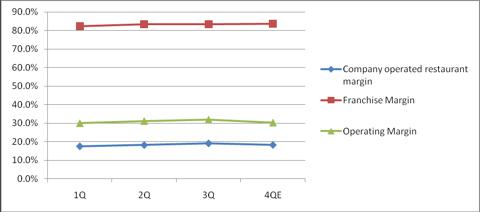 (*4Q2012 figures are Sell Side estimates*)
The company obtained this profit by relying on existing as well as new restaurants. It opened 275 new restaurants worldwide, out of which 93 were franchises and 81 were under its own control.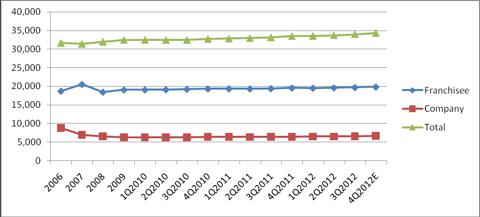 Despite improved margins and increased sales, the company faces declining same store sales (SSS) growth. Although the company saw a healthy increase in SSS growth in 2011, FY2012 started with a general decline in the SSS growth. The following graph shows the decline in SSS in FS2012.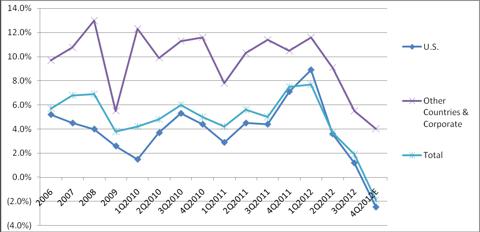 As the graph clearly shows, the start of FY2012 led to a general decline in SSS. The company saw a decline in the US by 2.2%, in Europe by 2.2% and in Asia Pacific by 2.4%. Analysts view this decline as a result of a general slowdown in the macro environment. Therefore, this decline is not specific to MCD but it has also engulfed other key competitors such as Yum Brands (NYSE:YUM), as shown in the following graph.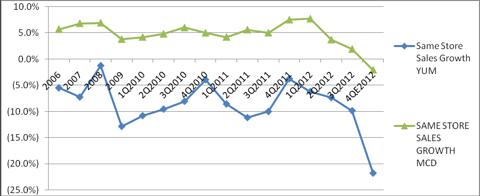 This decline in SSS reported by MCD gave way to a drop in the stock price. The loss in SSS is of special significance to MCD as it has reported such low values after a decade.
This drop in SSS is explained by rising labor and input costs. Due to the recent droughts and worsening conditions all over the world, the cost of inputs such as corn, bread and meat have soared, resulting in an overall increase in prices. The home inflation index is up by 2.8% from its value in August. As economic conditions are not suitable for a price increase, customers did not welcome it, resulting in an overall drop in traffic in many fast food restaurants. Many new competitors such as Chipotle Mexican Grill (NYSE:CMG) and Panera Bread (NASDAQ:PNRA) came on the scene, providing good quality food at cheaper prices, thereby attracting a good chunk of MCD's customers.
MCD introduced many promotional strategies to combat the worsening situation. It introduced the dollar menu and the Cheddar Bacon Sandwich, but they could not prove to be successful because of the modest customer demand. We feel that yet another reason behind the drop in SSS is the decline in customer confidence. As awareness increases among people, health consciousness is also increasing. Globally, many citizens have been complaining of obesity issues, especially with McDonald's' food. Due to the wide reach of the media, this news has traveled around the globe and has made many customers switch to healthier options.
The company has initiated some changes in order to confront the changing market situation. It has appointed a new CEO in the hope of triggering incremental change for a better financial and strategic future. Based on the current crisis being faced by MCD, analysts expect a fall in revenue and EPS in Q42012, as shown in the following table.
Company

Revenue

EPS

Current Quarter (A)

Next Quarter (E)

Growth

Current Quarter

Next Quarter

Growth

McDonalds

7152

6874.68

-3.88%

1.43

1.33

-6.99%

Yum! Brands

3569

4277.93

19.86%

1

0.85

-15.00%

Burger King
(BKW)

374.15

321.57

-14.05%

0.02

0.14

600.00%

Wendy's Company
(NYSE:WEN)

636.3

622.5

-2.17%

-0.07

0.04

Competitor Average

-0.06%
The stock looks relatively attractive for investors. Its P/E is below most of its key competitors. Same is the case with other multiples such as EV/EBITDA. We suggest a valuation based on competitors' average of 21x and historical mean of 17.2. Taking the historic median of 17x as the P/E and multiplying it with the projected annual EPS of $5.33, we have come up with a target price of $91.14, as shown in the following table.
A Relative Analysis Based on Multiples

Company

Trailing P/E

Forward P/E

PEG

P/S

EV/EBITDA

McDonald's

15.84

17.40

1.86

3.08

9.77

Yum! Brands

21.14

19.22

1.64

2.36

12.17

Burger King Worldwide INC

56.77

21.51

1.21

2.50

12.69

Wendy's Company

-

26.06

2.99

0.68

8.82

Competitor Average

31.25

21.05

1.93

2.16

10.86

EPS Current

$5.33

Price (Based on Competitor Average)

$112.18

Target Price based on Historical Mean of 16X-20X

$91.14
Our Stance:
McDonald's is facing a growth crisis as its SSS fails to grow according to the consensus of analysts. The company recently reported a historic drop in SSS. Rising labor and input costs are making things worse. Although the company has come up with several strategies to cope with the coming challenge, we suggest that potential investors should wait until the results of the new strategies are disclosed. We have a neutral stance on MCD.
Disclosure: I have no positions in any stocks mentioned, and no plans to initiate any positions within the next 72 hours.
Business relationship disclosure: The article has been written by Qineqt's Retail Analyst. Qineqt is not receiving compensation for it (other than from Seeking Alpha). Qineqt has no business relationship with any company whose stock is mentioned in this article.