Nokia (NYSE:NOK) was up almost 13% today. It seems investors are finally piling into the stock, for there are many reports that the Lumia 920 is doing quite well. Zacks reports (via Yahoo) of a modest demand in the U.S. and Germany for the new Nokia Lumia 920:
Nokia Corporation, once the world's largest mobile phone maker, wants to revamp its struggling handset business by creating modest demand for its newly launched Windows 8-based Lumia 920 smartphones in Germany and the U.S.

According to Amzon.com Inc.'s (NASDAQ:AMZN) latest report related to the smartphone sales, Lumia 920 holds second place after Motorola's DROID RAZR MAXX HD 4G. Moreover, AT&T Inc.(NYSE:T) - the second largest carrier in the U.S., holds exclusive rights of Lumia 920 device.
And in another report, sales in Germany are probably better than most expected:
Meanwhile, reports coming out of Europe suggest that the Lumia 920 is also selling quite well abroad - particularly in Germany, where it's very tough to come by. According to a statement posted to Facebook by Nokia Deutschland, a number of the company's German retail partners have experienced Lumia 920 stock-outs since the device first became available earlier this month.

"Because of the high demand, we are aware of the reports the Lumia 920 is sold out in many shops," Nokia explained. "Please be assured that we are working hard on having all models and all colors available in Germany for you." Reached for comment, a Nokia representative said that the company is seeing "a lot of interest" in its new Lumia phones, but declined to provide any details on sales.
Now I have been bullish on Nokia for awhile. I have given you many reasons to buy the stock in the past. You can read all my Nokia buy logic here.
Toady however, I want to mention a particular article I wrote on Nokia awhile ago, saying that the chart of Nokia seems to want to tell us, that institutional players were buying the stock on the dips. Please consider: Nokia: Buying The Dips.
Well it so happens that this is exactly what some of the biggest Wall Street firms have been doing all along. A big hat tip to Jacob Steinberg on his article here in SA called: Goldman Sachs And Morgan Stanley Are Backing The Truck Up For Nokia Shares. As Jacob tells us:
In the face of extremely negative sentiment, two investment banks, namely Morgan Stanley (MS) and Goldman Sachs (GS), increased the number of Nokia shares they were holding in the last quarter. In the beginning of last quarter, Goldman Sachs held 61 million shares of Nokia. As of the end of the last quarter, the investment bank holds 116 million shares of the company. This indicates an increase of nearly 90%. As for Morgan Stanley, the bank held 4 million shares of the company in the beginning of the quarter, whereas, it ended up holding 32 million shares by the end of the quarter. This is an increase of nearly 700%.
But its not just these two firms that have increased their holdings substantially. If you have a closer look, we will also notice that Arrowstreet Capital increased its stake by 76%, Barclays by 115% and Credit Suisse by 94%. Of this course we don't know what institutions have done since this report (as of 09/30/2012), but I would not be at all surprised, taking into consideration the current price jump, if institutional ownership increased one more time when the next report comes out.
And it seems strange that, while institutional ownership has increased, no major firm that I am aware of has a buy rating on the stock. And like I said yesterday, in my piece on Research In Motion (RIMM), I appreciate firms and analysts that can come clean and say what's on their mind, instead of beating around the bush and not giving any clear future price target, and simply giving us a target that the market has already discounted. It seems that some firms have been buying, and not sharing the good news with the rest of us.
Also, since Nokia is a heavily shorted stock (about 8% of the float), I assume that short covering probably has a lot to do with today's stock jump.
On a pure technical note: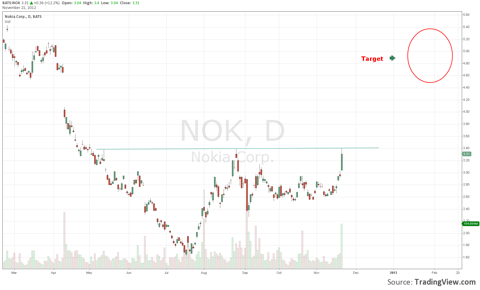 Nokia's high for the day was around $3.40. As you can see from the chart above, that is a 9 month resistance level. If however $3.40 is taken out and Lumia 920 sales go good, I think the next stop is around $5 in several months.
Disclosure: I have no positions in any stocks mentioned, and no plans to initiate any positions within the next 72 hours. I wrote this article myself, and it expresses my own opinions. I am not receiving compensation for it (other than from Seeking Alpha). I have no business relationship with any company whose stock is mentioned in this article.