Youku (NYSE:YOKU) reports Q3 results on Nov. 29.
The Street expects:
Revenue: $467 million
EPS: $0.53 loss per share
Q4 revenue guide: $541 million
Heading into the earnings, investors should focus on Youku-Tudou's post-merger financial results, top-line growth, and rising competition.
Youku completed its acquisition of Tudou in late August. The completion of this merger allowed Youku to:
Neutralize its biggest competitor in the online video space
Expand its market leadership and pricing power
Mitigate cost pressure from bandwidth, contents, and sales and marketing
While the merger is a long-term positive, I am concerned with the short-term financials in that Youku will likely to consolidate Tudou's financials starting this quarter. Prior to the merger, Youku was expected to achieve breakeven by year-end on a pro-forma basis. However, such a scenario is becoming increasingly unlikely given that Tudou was in a worse financial position than Youku. That said, I believe that Youku may achieve breakeven in Q4 2013 or early 2014.
Youku's top-line growth is decelerating due to the weak macro environment in China.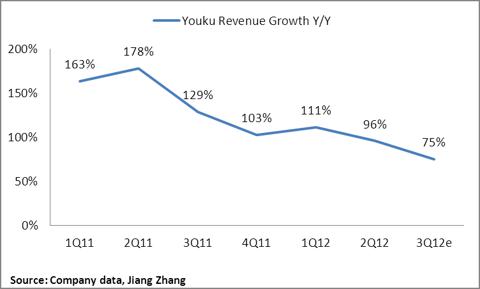 In addition, Youku's cost is growing faster than that of the revenue. I note that in Q2, cost of goods sold increased 115% year over year compared with a 96% year-over-year increase in revenue. Continued weakness in the advertisers' sentiment and higher cost pressure will continue to hinder Youku's profitability.
Finally, Youku and Tudou have been losing market share to rival iQiyi, which is owned by Baidu (NASDAQ:BIDU). According to data from iResearch, Youku and Tudou saw their market share decline from 32.3% to 25.6% and from 12.8% to 12.2% from December 2011 to July, respectively, while iQiyi increased its market share from 12%-15% to 18.4% over the same period.
Disclosure: I have no positions in any stocks mentioned, and no plans to initiate any positions within the next 72 hours. I wrote this article myself, and it expresses my own opinions. I am not receiving compensation for it (other than from Seeking Alpha). I have no business relationship with any company whose stock is mentioned in this article.