Quite often, brands target younger users because they either influence their parents when buying, or will become buyers themselves in the future.
Knowing this, it's useful to study what those younger users are longing for today. That's precisely what Nielsen did in its recent survey, published yesterday. Here are some of the findings:
Kids 6-12, interest in buying in the next six months
Here, Apple (NASDAQ:AAPL) dominates buying intentions. Four out of the five most desired products are from Apple, with the iPad leading the way with buying intentions at 48%, which is huge. For comparison's sake, "other tablets" show up with just 29% of buying intentions, and Amazon's (NASDAQ:AMZN) Kindle fire garners just 19% of intentions. Microsoft's (NASDAQ:MSFT) Surface truly lags, with just 6% of buying intentions, perhaps confirming the "modest sales" comments made by CEO Steve Ballmer a few weeks ago.
Microsoft does a bit better with the Xbox 360, even though the console is already seven years old, which bodes well for its replacement, due out during 2013. Microsoft also has the Kinect well placed, at 31% buying intentions. Again, the Kinect is expected to see version 2.0 when the new Xbox launches, perhaps even integrated into the console itself.
Sony's (NYSE:SNE) Playstation 3 is still neck-and-neck with Microsoft's Xbox, so the fight in the console markets is still undecided. Nintendo (OTCPK:NTDOY) is able to place its Wii U much higher, right after the iPad, but one needs to remember that the Wii U is already a next-generation console, which will probably be surpassed by both Microsoft's and Sony's new consoles once they come out. More surprising is the placement of Nintendo's 3DS and DS, which show much higher than Sony's (supposedly more powerful) Vita.
The whole table goes like this (Source: Nielsen):
(click images to enlarge)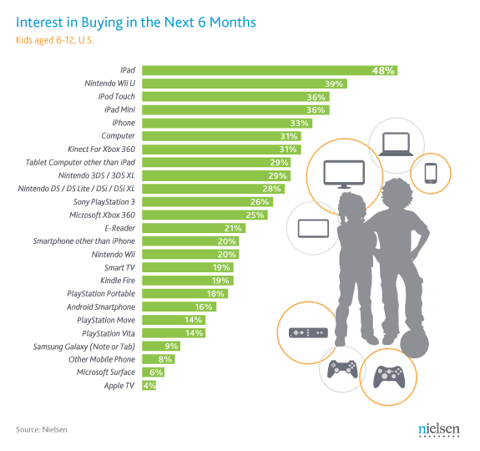 Persons 13+, interest in buying in the next six months
For older teenagers, the iPad rules yet again, with 21% of buying intentions. However, here the distance versus other alternative tablets is much smaller, with those garnering 18% of intentions. Also, even though the PC is always claimed to be dead, truth is that the intention of buying a PC shows up right after the iPad in this group, so maybe there's still some life in it, if even the youngsters still see it as a desirable purchase.
The Nintendo Wii U once again shows up well placed, with 17% of buying intentions. The urgency for Microsoft and Sony to bring their new generation consoles to market is even more evident. From reading the Wii U reviews, however, my personal opinion is that once Microsoft and Sony come to the market with their new devices, Nintendo will have a problem in its hands. After all, the Wii U is much less distinctive than the Wii ever was, and by now, the Kinect and even the Sony Move have already wiped out any former advantage Nintendo had.
Also worthy of note, Microsoft's Surface is still looking like a dud, with just 3% of buying intentions in this segment.
The whole table looks like this: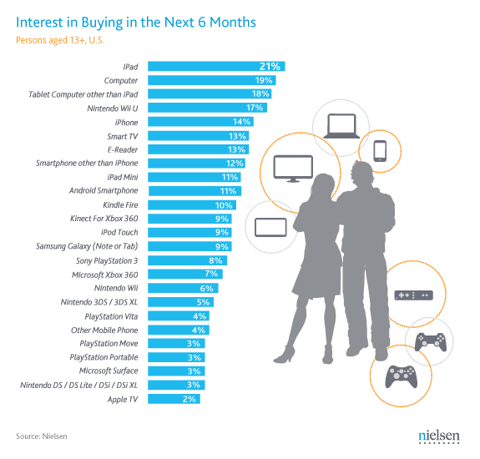 Conclusion
For now, even with the youngest generation of buyers, Apple still keeps its allure alive. This bodes well for continued market and industry domination, even though some signs of competition are already cropping up when looking at the age 13+ demographic.
Microsoft seems to have a clear problem in its hands, as there seems to be a lack of desire for the Surface, even though it also displays a decent showing for its soon-to-be replaced Xbox.
Nintendo has bought itself one year of relief with the early launch of the Wii U, but I would be worried about what happens next year when Microsoft and Sony upgrade their own consoles to what will certainly be technically superior monsters.
Finally, a shimmer of hope still remains for the PC. As long as the PC remains desirable with young buyers, rhetoric about its automatic and inevitable death cannot be taken for granted. This offers hope both for Microsoft and Intel (NASDAQ:INTC), whose shares carry low valuations based on the belief that the death of the PC has not been exaggerated. What's at stake here is the consumer market, because for enterprise use, both PCs and servers seem to have a long life ahead of them. It may pay to revisit Intel's story, given that it has been particularly punished as of late.
Disclosure: I am short AMZN. I wrote this article myself, and it expresses my own opinions. I am not receiving compensation for it (other than from Seeking Alpha). I have no business relationship with any company whose stock is mentioned in this article.