Shares of Whole Foods Market (NASDAQ:WFM) have returned 44.4% over the past 12 months. After attaining the 52-week high of $101.86 in October, the stock has declined by 9.6% to the current $92.07 level. WFM recently announced its Q4 results, and both the revenue and EPS were fairly in line with the consensus. The Q4 same-store-sales figure remained strong at 8.3%, compared to 8.4% in Q4 2011, and the company raised the dividend by 42.9%. It appears that WFM is still riding on the solid momentum, but should you buy the stock now?
WFM's valuations appear to have fully factored in the company's robust financial performance relative to its peers' (see comparable analysis table below). Analysts on average predict WFM's revenue, EBITDA, and EPS to rise by 2-year CAGRs of 13.4%, 16.1%, and 16.7%, respectively, over the current and next fiscal years. Those estimates are substantially higher than the averages of 6.2%, 7.3%, and 15.8%, respectively, for a peer group consisting of WFM's primary competitors. In addition, WFM's EBITDA margin is forecasted to expand by 0.4% over the same period, compared to the peer average of only 0.1%. On the profit side, WFM continues to demonstrate the strong performance as most of the company's profitability margin and capital return measures are markedly above the par. In terms of leverage and liquidity, WFM carries almost no debt and has a trailing free cash flow margin of 3.3%, which is almost twice of the peer average at 1.7%. Both WFM's current and quick ratios are considerably higher than the peer averages, reflecting a very healthy corporate balance sheet.
images

To summarize the financial comparisons, WFM's superior growth and profitability performance as well as its minimal leverage and ample cash position should substantiate a solid premium valuation for the stock. However, the current stock valuations at 13.0x forward EV/EBITDA and 31.9x forward P/E represent a whopping average premium of 112.6% over the peer-average trading multiples, suggesting that the stock is likely fully valued or even somewhat overvalued.
Moreover, WFM's forward P/E is currently trading at a significant 136.5% premium over the same multiple of the S&P 500 Index (see chart below). Although WFM's long-term estimated earnings growth rate of 19.14% is substantially above the average estimate of 7.9% for the S&P 500 companies, the huge valuation gap is still hard to be justified by the company's superior financial fundamentals.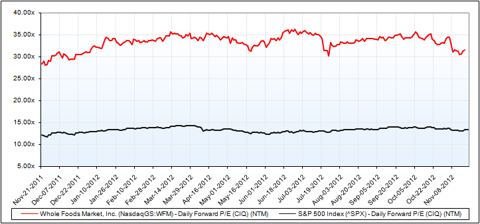 Both WFM's trailing EV/EBITDA and P/E multiples are now trading fairly in line with their 10-year historical averages, despite the fact that the company's revenue growth expectations are considerably below the historical growth rates in a few years ago (see charts below).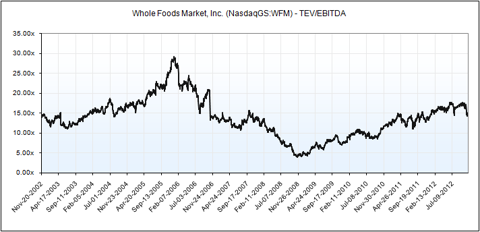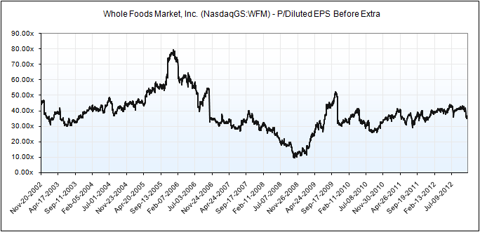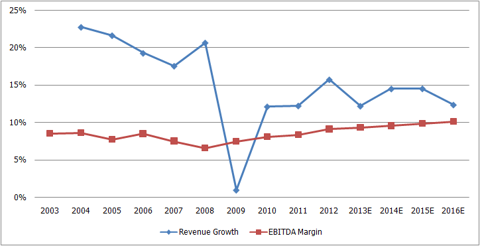 From 2013E to 2016E, analysts on average predict that WFM can at least sustain a top-line growth at above 12.0%. Their expectations for the firm's EBITDA margin are even more aggressive as it is anticipated to expand from 9.3% to 10.1% (see chart above) over the 4-year horizon. Based on the market's financial expectations and a 7.7% WACC, which is higher than the 6.6% WACC calculated by WikiWealth as a result of the market's optimistic assumptions, my DCF model yields a stock value at $99.33, representing only a 7.9% upside from the current market price (see DCF table below).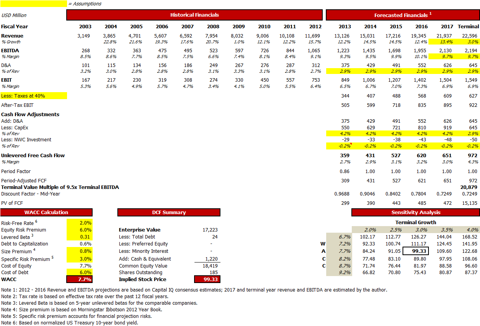 Bottom line, I remain constructive on the growth outlook for WFM given the firm's robust profitability and cash flow performance. However, the stretched valuations imply that the stock is being priced for perfection and the stock price is likely vulnerable to even a small expectation shortfall. The company's recent dividend hike can be interpreted as a sign that WFM is entering a more matured stage, which would usually drag on valuation as the growth momentum peaks. As such, the unfavorable risk/reward profile does not warrant my buy decision.
The comparable analysis and DCF charts are created by the author, all other charts are sourced from Capital IQ, and all financial data (except for the highlighted data in the DCF model) is sourced from Capital IQ.
Disclosure: I am long WMT. I wrote this article myself, and it expresses my own opinions. I am not receiving compensation for it (other than from Seeking Alpha). I have no business relationship with any company whose stock is mentioned in this article.