Value stocks can be terrific long term investments that provide outstanding short term gains. Two examples of this are Apple (NASDAQ:AAPL) and Domino's Pizza (NYSE:DPZ). Apple's share price surged over 100% from January of 2011 to its 705 high in September of 2012. Likewise, Domino's share price has steamrolled higher about 168% since December 2010 when I began recommending the stock. The key here is that these two stocks are still great long term plays, however their current valuations are more near fair value. Thus it will take extraordinary growth to see another incredible rally. Unfortunately for investors and traders, hoping that these same rallies will continue over the next two years leads directly into a value trap. (Please note we do not consider Apple or Domino's to be value traps.)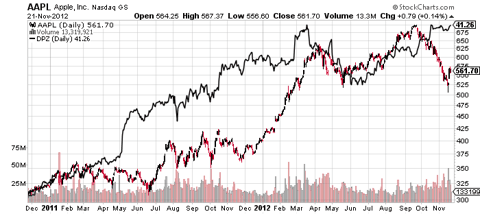 (Source: StockCharts.com)
A value trap is a stock that looks and sounds like a great value play, or commonly referred to as an undervalued stock, but in reality is extremely overvalued. Rather than fluctuating up and down, these stocks head lower as investors realize that the actual value of the company is much lower than previously thought.
Two stocks that were once deemed value stocks are Research in Motion (RIMM) and Hewlett Packard (NYSE:HPQ). Jim Chanos recently received praise after HP took an $8.8 billion write down on the acquisition of Autonomy due to flawed accounting practices by Autonomy. Chanos called out HP as a massive short opportunity back in July. With that in mind, we have identified several stocks as value traps and we expect these stocks to either continue lower, or make a turn lower over the medium term.
The first on this list should be no surprise. Netflix (NASDAQ:NFLX) has been in a spiral since the summer of 2011 when the stock was in the 300 range. Over a year later the share price sits in the 80s. We will admit two things: first, at one point we agreed that Netflix's business model was very impressive, and secondly those thoughts changed about 10 months ago and we do not think Netflix's business model will work in the future.
Here is why. Starting from the top, we need to look at the time frame Netflix's business soared. Netflix took off around the same time the recession was in full swing. This is in fact counter intuitive considering Netflix is a luxury service and consumers tend to cut luxury goods during recessions. However, many people, especially teenagers and recent graduates, had more free time to sit around and use a Netflix subscription. Now that unemployment is officially down about 2%, there are less people with nothing to do. Or perhaps most individuals cannot afford to pay for a Netflix subscription since they do not have a job. We side with the former.
Another problem with Netflix is the possible competition. To be frank, the streaming media industry does not present many barriers of entry from other major media players such as Dish Network (NASDAQ:DISH) or DirectTV (DTV). Not to mention RedBox (NASDAQ:CSTR) has already taken a huge chunk out of Netflix's subscriber base and profits. Therefore Netflix's future is not as bright as Carl Icahn would lead you to believe. But then again you cannot blame a man with a 10% stake in a company for not expressing the weaknesses of the business model.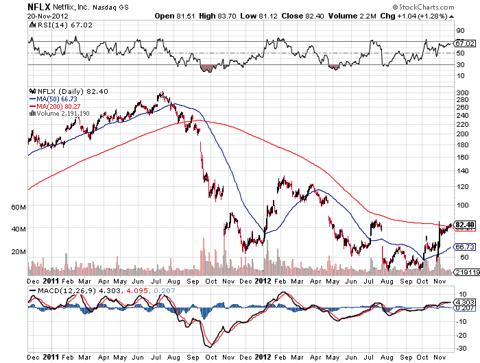 (Source: StockCharts.com)
Speaking of RedBox, Coinstar is another stock we have labeled as a value trap. Earlier this year Coinstar surprised many people with huge results from its RedBox unit. This enthusiasm has subsided and the stock is down a whopping 40% since its July 2012 high. We consider Coinstar a value trap for many of the same reasons as Netflix. And when you consider that Apple, Microsoft (NASDAQ:MSFT), Verizon (NYSE:VZ), and AT&T (NYSE:T) have the power to move into this industry then it becomes even more apparent that the streaming media industry is headed for massive dilution. This will affect Netflix and Coinstar the most because they captured the market early and raised expectations to insurmountable levels.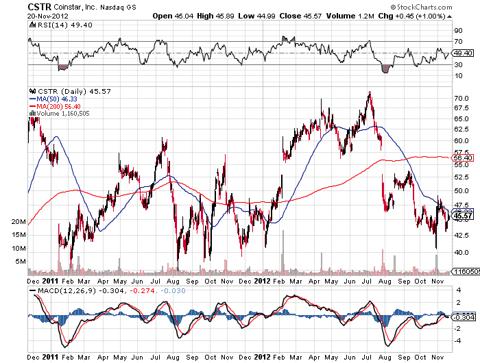 (Source: StockCharts.com)
A third value trap is Pandora (NYSE:P). We must admit that we once had great hopes for Pandora and even recommended buying the stock several times. However, data has changed and it appears Pandora has not grown as quickly as we were hoping for. When you step back and think about it, this makes sense. Pandora had a fantastic business model to begin with, but without users signing up for the Premium service, the model is doomed. Also, the stalled growth in listening hours is not a huge surprise either because, quite frankly, Pandora does not have an infinite amount of songs and playlists to create.
After a while you end up with the same songs over and over again. If these songs are your all-time favorites, then that is terrific, but if you want to listen to your favorites why not simply listen to the music you already own on iTunes? This saves battery life and you will not suffer any frustrating connection losses if the signal weakens. The point is Pandora is on the way out. Even while recommending the stock in the past, we warned that Pandora is more of a free service (think Facebook (NASDAQ:FB)) as opposed to a profit mogul (think Apple) and this will ultimately lead to the demise of the stock.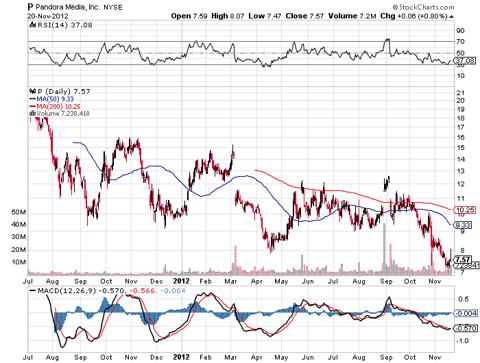 (Source: StockCharts.com)
The next value trap hurts us to admit, but Caterpillar (NYSE:CAT) is looking like it fits the billing. Caterpillar has been one of our favorite stocks to recommend over the past few years, but the data has changed. Caterpillar has thrived over the past several years as global economies have expanded. However now that these same global economies are not growing at the same rate, we are seeing Caterpillar's growth prospects shrink. Caterpillar's management has even warned investors of a slumping global economy and weak demand for several quarters and it appears this trend is not reversing.
It is important to note we do not expect Caterpillar to lose 50%, or even 30% of its value. However, over the short term we do not see any reason this stock will head back over the 100 level. Therefore we may be in for a slow decline in the share price as the company reports weaker demand and less revenue than analysts are expecting to see.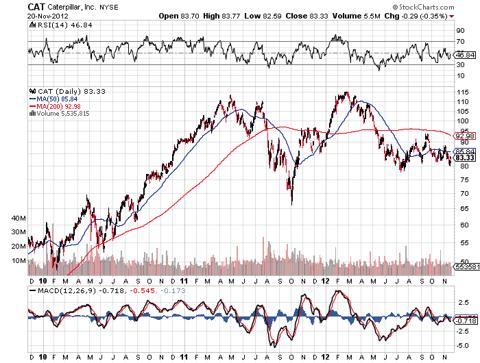 (Source: StockCharts.com)
Chipotle Mexican Grill (NYSE:CMG) is another stock that should be avoided. Some may argue that the stock is ripe for the picking now that it sits well below the 300 level. This is a good point, but then again this mindset is what drags investors into a value trap to begin with. The truth is Chipotle is transitioning from a growth stock into a value stock. To digress, on the one hand growth stocks typically carry a high P/E because investors and traders are willing to pay a premium expecting to receive higher rewards, while on the other hand a value stock has a low premium because investors and traders know what to expect from the company and are not willing to pay a premium for the shares but will instead receive dividends from the company.
We believe this is what Chipotle is going through right now. We still think Chipotle has a great business model and great food, but as this transition continues we expect to see the share price continue to fall as investors and traders try to find a fair value for this stock. Another important note to make that goes along with this transition is the increased share repurchase program. Many loyal Chipotle investors will argue that the company is taking advantage of a severely depressed share price. Contrary to this, we believe Chipotle is attempting to puff up their earnings per share (NYSEARCA:EPS) by buying back shares. This is not a bad strategy, but it will not save the stock from further declines in the future.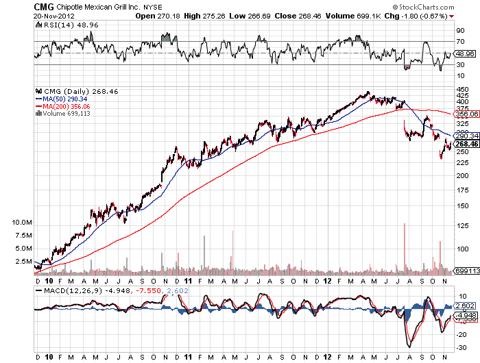 (Source: StockCharts.com)
One final value trap comes from the biotech sector. Amarin (NASDAQ:AMRN) may seem like a terrific buy at these levels compared to where the stock has been all year, but there are some warning signs. We must admit that we are huge fans of Amarin and have made substantial profits from the stock in the past. With that said, if you look at the firm from a fundamental view it is a value trap, but from a speculative viewpoint the stock is a great buy. The reasons Amarin is a value trap are simple: 1) it is a biotech stock, 2) its value is based upon the speculation that Vascepa will sell very well, 3) its value is based on the indiscernible value of patents and an eventual 3 or 5 year exclusivity, and 4) its value is based upon the speculation of a buyout.
To sum up the previous points, Amarin's valuation is based upon speculation. Speculation is great for risky investments, but not so great for a value investment. Furthermore it is important to note that until Amarin receives a real acquisition offer, 3 or 5 year exclusivity from the FDA, a partnership, or actual sales of Vascepa the stock has a high probability of slowly trending lower. Whether it actually does is a different topic, but in our opinion Amarin is a value trap when you consider there is about one year before any new sNDA approvals for Vascepa.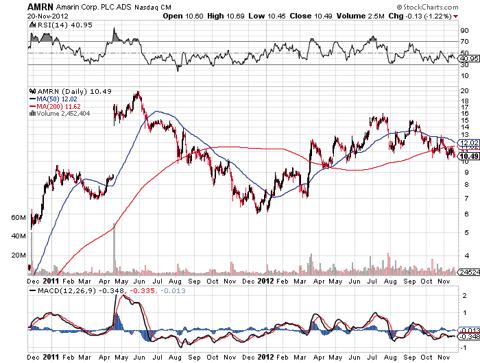 (Source: StockCharts.com)
We can guarantee there are dozens of unknown value traps out there. The problem is the majority of these traps are only noticed through hindsight. It is easy to get caught up in a value trap, but one way to avoid them is to stick to the fundamentals and avoid being greedy. Obviously if you have a portion of your portfolio set aside for risky or special situation investments then you can afford to gamble a bit. Amarin is a great example of a special situation stock because there have been reports that Teva (NYSE:TEVA) and AstraZeneca (NYSE:AZN) are interested in Vascepa and buyout rumors will fuel the share price for months to come.
Disclosure: I have no positions in any stocks mentioned, and no plans to initiate any positions within the next 72 hours. I wrote this article myself, and it expresses my own opinions. I am not receiving compensation for it (other than from Seeking Alpha). I have no business relationship with any company whose stock is mentioned in this article.