The S&P 500 posted a modest gain of 0.23% on the typically light-trading day before Thanksgiving. It was the fourth consecutive day of gains, which last occurred on the first four days of October. For a longer rally, we have to go back to the six-day series in early August.
Here is an hourly chart of the month of November so far. We see the post-election fizzle and what I previously referred to as the "Boehner Bounce" following some congressional happy talk after a meeting at the White House. Most of the latest four-day gains were chalked up on Monday. Since then the 500 has drifted a tad higher on light volume.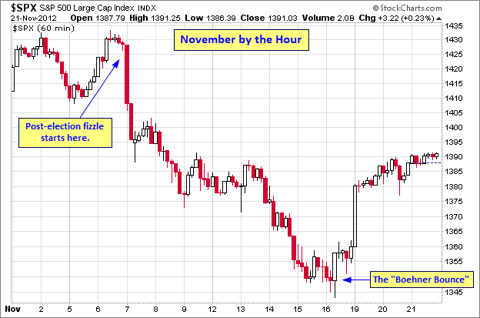 The S&P 500 is now up 10.61% for 2012 but 5.10% below the interim closing high of September 14th.
From a longer-term perspective, the index is 105.6% above the March 2009 closing low and 11.1% below the nominal all-time high of October 2007.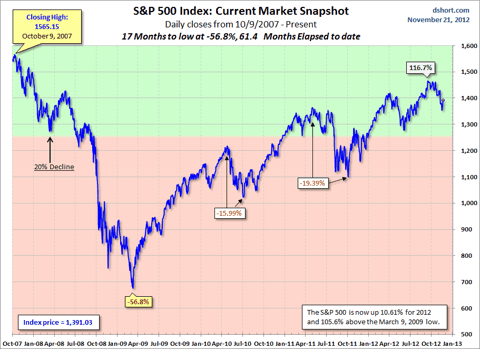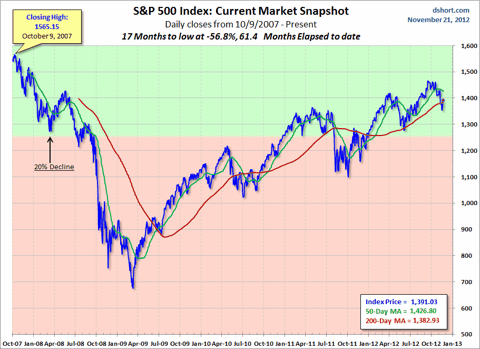 For a better sense of how these declines figure into a larger historical context, here's a long-term view of secular bull and bear markets in the S&P Composite since 1871.