Initial jobless claims fell 41K in the latest week from an upwardly revised 451K down to 410K. There really is not much to say about these numbers except that they are still being skewed by the impact of Hurricane Sandy. Although for those who have doubts regarding the economy's momentum, this week's reading doesn't help. For the optimists out there, we would note that in the two weeks after Hurrican Katrina, initial claims rose by 98K. Post Sandy, the maximum increase in claims has been just 90K.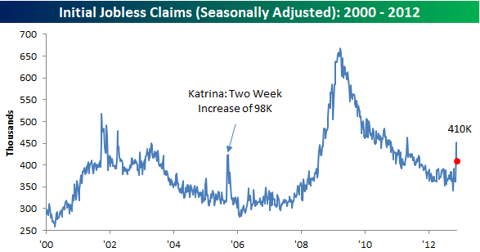 Looking at the four week moving average, initial claims rose to 396.3K, which is the highest reading since November 2011. It has now been 34 weeks since the four-week moving average made a new post-recession low.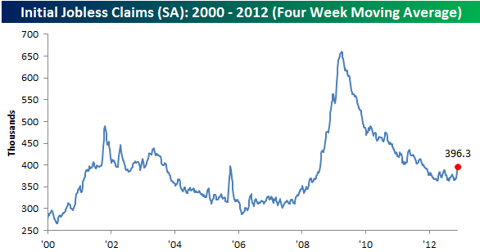 On a non-seasonally adjusted basis, initial claims dropped to 397.7K. Interestingly, this is the lowest reading for the current week since 2007. This week's reading was also below the average of 392K for the current week going back to 2000. On a non-seasonally adjusted basis at least, claims for the latest week were pretty positive.