Rackspace (NYSE:RAX) posted a very solid 3Q 2012 driven by the rapid adoption of cloud computing and managed hosting by corporations realizing that outsourcing their data center needs saves money and frees vital engineering resources for growth initiatives. I am on record saying that Rackspace has one of the best business models in the world, and the most recent quarter provides evidence that this assessment is accurate.
Rock Solid Revenue Growth:
Total revenue grew 27% yoy (+20% for Managed Hosting and +57% for Cloud). Based on my research, the industry is growing around 20% annually, implying that Rackspace is taking market share even as they compete against the low-cost king Amazon (NASDAQ:AMZN). Rackspace differentiates themselves by superior customer service and focuses on businesses that need hand holding when managing remote data centers. The chart below depicts the impressive upward trajectory of the company's revenue stream.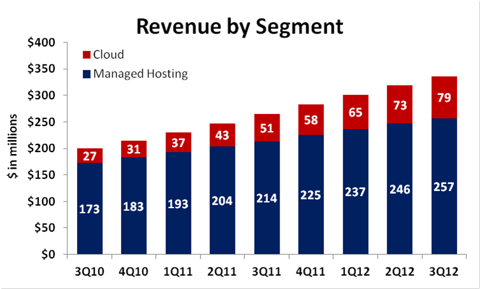 Here is a detailed look at revenue growth by segment: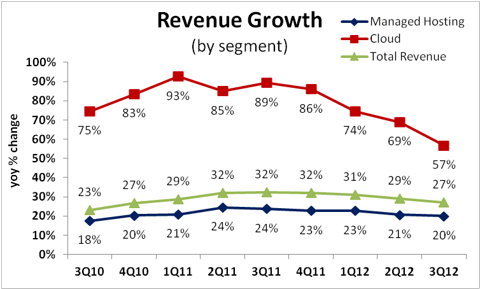 Churn Remains Very Low, Implying Satisfied Customers:
Many investors wonder if Rackspace can effectively compete against Amazon or the other bevy of competitors such as Savvis, owned by CenturyLink (NYSE:CTL). I firmly believe that Rackspace's unique approach to unmatched customer service is a winning and sustainable competitive advantage. The charts below suggests that this thought process is accurate.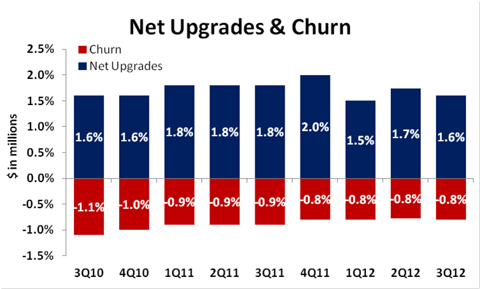 Given the high recurring nature of its revenue base, RAX has a highly predictable revenue stream and management can focus on winning new business versus worrying about replacing lost business.
Key Metrics Remain Healthy:
Revenue +27% yoy
Revenue per Server +11% yoy
Customers +22% yoy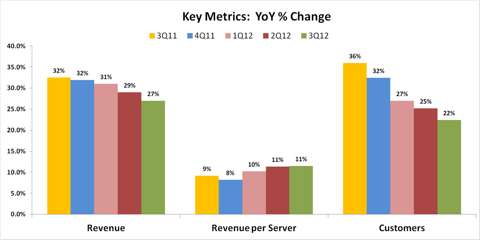 The key takeaway here is revenue per server. As this metric increases, the overall profitability of the company and ROIC will increase as Rackspace becomes less hardware and capital expenditure-intensive. This is occurring for two reasons: 1) they are taking advantage of server virtualization, and 2) they are winning larger deals.
The Business Model is Scaling Nicely:
Rackspace is experiencing gross margin, operating margin, and net margin expansion as the business grows. This is what investors should expect, but sits in sharp contrast to Amazon that achieves rapid growth but cannot translate it into profits. The chart below demonstrates the margin expansion nicely as operating income and EPS grows faster than revenue.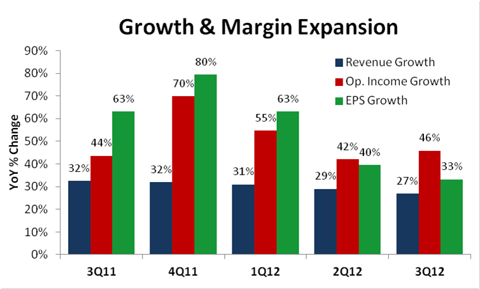 Free Cash Flow Has Hit an Inflection Point:
Many investors have long fretted about the capital-intensity of the business. Management always noted that they were investing heavily in growth capex and that maintenance capex was a much smaller % of revenue. As the business model begins to mature, we are starting to see evidence of this change. Again, the shift to server virtualization is helping, as well as Rackspace's decision to lease data center space from 3rd party providers such as Equinix (NASDAQ:EQIX) and Digital Realty Trust (NYSE:DLR).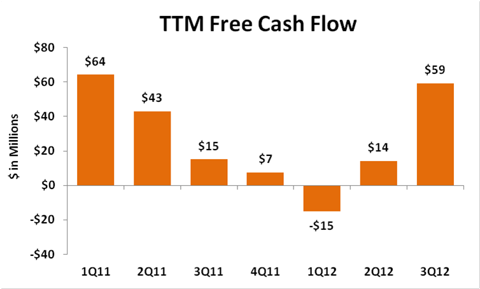 Given the growth trajectory we expect for Rackspace and their well-defined cost structure to service their customers, we expect substantial cash flow generation over the next few years.
Rising ROIC Implies that Business Fundamentals are Strong:
Management is laser-liked focused on "profitable growth" and maximizing ROIC. I love this about the management team. They are focused on winning the right customers for their service offering, not just any customer. I expect ROIC to march higher as the company begins to win larger enterprise deals based on their new Open Stack powered cloud.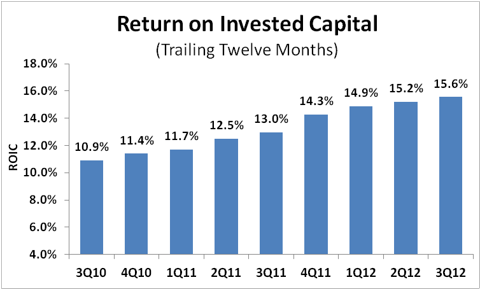 Risks to the Business:
Open Stack is a dud. But there are no signs of this.
Amazon successfully moves upscale with more Do-It-For-Me services.
Rackspace does a silly acquisition that disrupts the companies culture and focus.
The CEO leaves.
Disclosure: I am long RAX. I wrote this article myself, and it expresses my own opinions. I am not receiving compensation for it (other than from Seeking Alpha). I have no business relationship with any company whose stock is mentioned in this article.