Align Technology (NASDAQ:ALGN), maker of Invisalign braces, has pulled back ~30% from its high in October due to unreasonably low expectations on the top and bottom line. These expectations are a result of market reactions focused on short term indicators rather than longer-term market potential. This creates an attractive opportunity to own Align, which is gaining market share from the traditional orthodontics (wires and brackets) and creating a market share by providing cost effective solutions for patients who would not otherwise be in the market for braces. This creation of new market share increases the company's long term growth potential and this potential will be realized as a result of increasing adoption rates. The short term indicators currently putting pressure on the industry will converge with the long-term industry drivers as the market continues to adopt Invisalign products.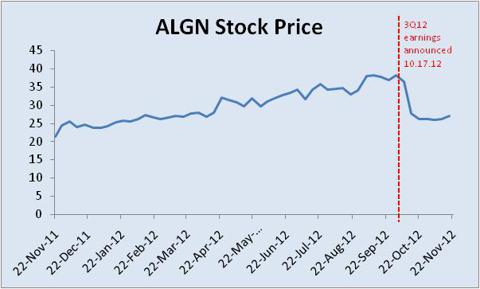 Source: Yahoo! Finance
Sales Miss
Analysts lowered estimates on sales, margins and earnings following a slight miss on sales and a continuation of margin contraction in 3Q12. This sales miss was a reflection of seasonality and is not indicative of deterioration in growth potential. Q3 is historically a slower period for North American and European dentists because they spend significantly fewer days in the office due to extended vacations. Also, insight from Invisalign dentists indicates that more adult patients were delaying or deferring their treatment plans this summer and early fall due to concerns about the economy. Thus, these deferred operations should boost case starts in 4Q12 and 1Q13.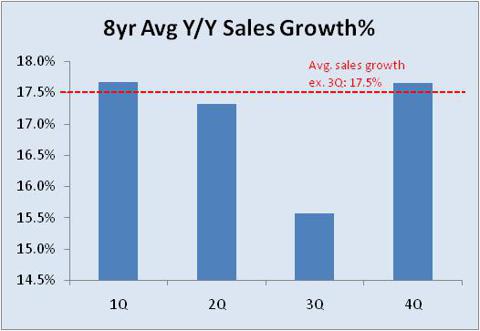 Source: Company Data
Align had a strong summer season for Invisalign teen case starts and despite slowdown, case starts are still rising. Despite the miss in Q3, the company still projects annual growth volume of at least 16%. This is indicative of further adoption of the Invisalign products among dentists and patients which is the key factor in the company's future success.
Lower Margins & ASPs
Align's gross and profit margins have been in steady decline since 2Q11 when the company acquired Cadent, an oral scanning device company. The acquisition was a long-term investment in technology and product innovation that allows Align's customers to vertically integrate CAD/CAM capabilities with its aligners for their patients. The intraoral scanners that Align provides its doctors replace the traditional PVS impressions that take several days to cast, are often inaccurate, and are messy and uncomfortable for patients. The scanners provide an improved patient experience, increase accuracy and quality for dental restorations, and eliminate costs and storage of physical models. They allow dentists to treat patients with greater precision and volume, thus bolstering the growth potential of case starts and aligner sales growth.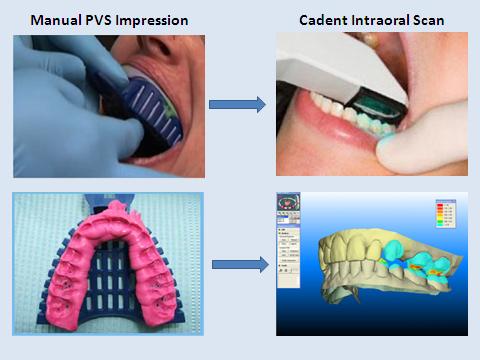 Source: Company Presentations and Marketing Materials
Also, over this period of margin decline, Align has increased its product promotions, advertisements, and sponsorships, specifically in its Invisalign Teen line, to increase brand recognition and loyalty within the teen market (ages 11-19). The teen market has been a key target of Align's advertising efforts as it is poised for continued growth. These investments in marketing and brand development have also weighed on the company's margin, but will pay off as this market matures and further adopts its products.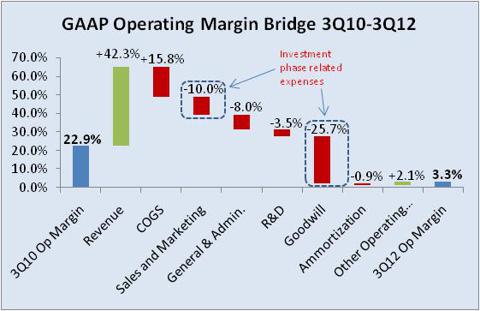 Source: Company Data
Market Potential
In 1Q12, Align introduced a product similar to its existing Invisalign system called Invisalign Express 5. The Express 5 system is designed for patients with slight crowding or malocclusions, because their cases aren't worth the hassle, time commitment and cost of the typical wire and bracket treatment. It is a cost-effective treatment option for very minor crowding, spacing, or relapse, and takes fewer stages. Naturally, because this product is less expensive than regular Invisalign, the Express line has become a source of margin pressure as it lowers ASPs. Although the Express line's affordability weighs on margins, it expands Align Technology's market potential. So, once this model is scaled across the company's network of dentists, it will lead to increases in volumes that will far negate the effects of lower average prices.
Emerging economies also represent a significant opportunity for market expansion in Align's future. It is well accepted that in the coming decade, a large portion of emerging market populations will move into the consumer class. Research from the Wolfensohn Center for Development at Brookings predicts middle class consumption rates will double by 2030 at a minimum. This increase in middle class consumption is supportive of the dental health industry in general because historically, increases in dental spending have been correlated with increases in discretionary income. This widening of the middle class and increase in consumption represents an increase in demand for discretionary dental health products and services and will thus sustain Align's long-term growth trajectory in the future.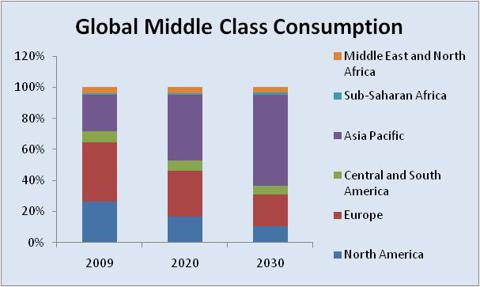 Source: Brookings Institute
In emerging economies and regions where there is little penetration of orthodontics services, there is also opportunity for a technological leap in orthodontic treatment for the developing middle class. Old practices, including PVS impressions and traditional brackets and wire braces, would be less popular as dentists and orthodontist have access to new technology. New dentists in emerging markets wouldn't have the same familiarity bias to the grandfather products because they would be trained to use this innovative technology.
Product Adoption
The expected long run increase in product volumes is a function of increased acceptance of Invisalign products from orthodontists, general dentists, and patients with a variety of case severity. Align's product innovations, specifically intraoral scanners and the Express line, combined with strong marketing and brand loyalty efforts will lead to an overwhelming wave of product adoption, moving the company out of its investment phase into an execution phase. This product adoption is key to Align's success and will outweigh the significance of a slight miss on sales or depressed margins from investments in the business.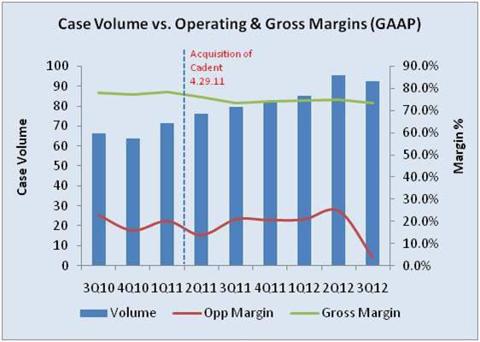 Source: Company Data
Disclosure: I am long ALGN. I wrote this article myself, and it expresses my own opinions. I am not receiving compensation for it (other than from Seeking Alpha). I have no business relationship with any company whose stock is mentioned in this article.