I think I have seen about 200 articles on the lawsuit against Google (NASDAQ:GOOG) by Vringo (VRNG), and this article is not about any of that. I will say that I personally do not see anything that can stop the Google juggernaut, aside from self destruction. I also believe that the company is slowly becoming the biggest threat to the Apple (NASDAQ:AAPL) kingdom, and at some point might displace Apple as the technology company of the future.
There is no denying that Apple is a truly remarkable company and has performed brilliantly in just about every product segment within its playground. After all, in the last 2 decades, Apple has changed the way the world works and plays.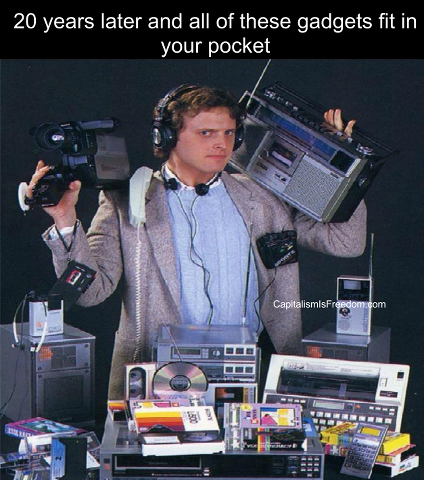 A glance at this picture I found says quite a bit when we realize that all the items in the picture are now available in a gadget smaller than just about any of the individual pieces themselves!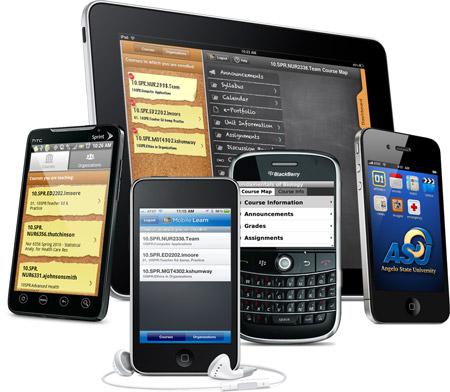 Apple was the company that made this happen and there is absolutely no denying that fact. If it were not for the vision of Steve Jobs, we might still be lugging around some of the items in the previous photo.
Now what?
There has been plenty of debate as to what the next "big thing" will be, but I believe that the next big thing will not simply be one thing, but a collision of business segments that can bring all of the "big things" together, and monetize all of them within one enormous company. I think Google will be that company.
Let's Look At Some Fundamentals
Let's put aside all of the pins being stuck in Google for now. We always see legal issues against large corporations, and most of them are nothing more than pin-pricks. The way I see the patent issues that Google has fought, it will do virtually nothing to the company as we head into the future. The fundamentals of this company remain virtually bullet proof.
A $185 billion enterprise value makes this one of the largest companies on Earth.
Google has a cash to debt ratio of 5:1 making it virtually debt free; $45 billion in cash and $8 billion in total debt.
Operating margins of nearly 30%.
YOY revenue growth as of the last quarter of about 45%
A forward P/E of 14.30 which is very low within the technology sector. The sector P/E averages about 24.60.
84% of all outstanding shares are held by institutions.
This 10-year chart shows a growth company by any metric that can be applied. Every aspect of the company is growing. These are results that we already know of. What about the future of Google? What might it look like?
The Future Could Be Quite Different From The Present
When we look at Google, the first thing that comes to mind is the search engine business. Obviously that is where Google has made its largest impact thus far. I have yet to hear anyone say to their buddies; "hey, let's Bing that." Any person who has a computer of any kind knows that Google is THE search engine, period.
Google has been able to put up the numbers because they have been able to monetize the search business better than any other company anywhere. That will probably continue, and will probably grow. If anyone really believes that Yahoo (YHOO) will come close to competing, I have a boom box to sell you.
The beauty of this is that since Google is a money machine by virtue of its search engine alone, the company has been able to spread its tentacles into other businesses.
Google Chrome browser.
Google Chrome tablet.
Google smartphones.
Google+ social media.
These are the most obvious "adventures" of Google and none has been a flop, and time will tell if any "adventure" will put a dent into the Apple armor. The fun will be when all of these different "adventures" are combined to take all of the technology already in place by just about any other company, and place them smack dab in the middle of the Google ecosystem.
That being said, there are areas that can actually be led by Google. To name just several, Google TV, and perhaps the next "big thing"; Google "Goggles." I added the word "Goggles" by the way because that is what they look like to me. The actual product patent is called "Project Glass."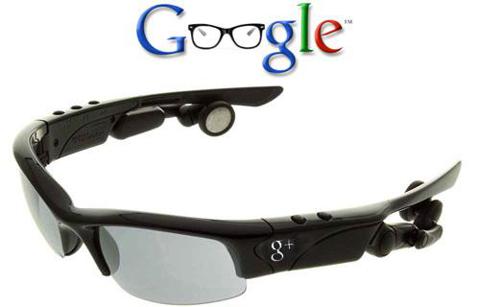 Obviously I have no idea what they could look like but these are pretty cool. Perhaps this photo taken back in late June is more accurate:
This is Google co-founder Sergey Brin sporting a prototype. OK, not as cool but you get the idea.
When a device like this can do all of the magical things that smartphones, PCs and tablets can do, plus maybe even correct your vision, we might just have the next big thing. Actually, there are plenty of technology companies that are chasing this type of product. Apple filed a patent in July, after Google's patent of "Project Glass."
Apple is several paces behind Google in the development as well, but patent infringement has not seemed to stop Apple anyway, so maybe there will be a "Battle of Giants" at some point but there is no denying the fact that Google has the inside track.
The rewards are off the charts when it comes to a product such as this.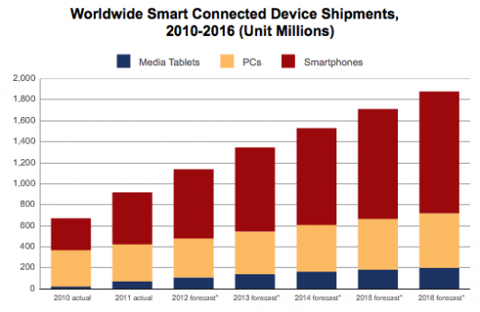 In this chart, we can see the remarkable growth of all smart devices. I would think that if the next "big thing" is done right, that it could takeover at least 2 of the sectors shown; smartphones and tablets.
With the number of units that could be sold, and with margins in the range of where Google's margins are (about 30%, see above), the stakes are nothing short of enormous.
It is also interesting to note that the Android operating system for the smart device market is growing far more rapidly than the competition. As noted in this article;
"In the same IDC report, it is revealed that PCs will slip in market share from 35.9% in 2011 to 25.1% in 2016, as Android-based devices will grow from 29.4% share in 2011 to become a market leader in 2016 with 31.1% share. Devices running iOS will grow from 14.6% to 17.3% market share by 2016."
Google has the inside track with Android based devices as well, in my opinion. I would not underestimate the power of Google in the smart "anything" arena. Especially with newer technology. Add to that, the Google search engine which can place their own products on top of any search, and let's also "make believe" that Amazon (NASDAQ:AMZN) decides to work out some sort of deal with Google to actually sell the stuff. Can you see where I am headed with this?
I suppose it might make this recent article seem prophetic, if everything happens. Actually, why couldn't everything happen? Google does have the power and the means to make it all work in my opinion.
What Is Next?
In future articles, we will delve into the smart TV market which everyone has been anxiously waiting for Apple to launch. Guess who has entered the market; Google.
We just might not be crazy to believe that Google can have it all.
Disclosure: I have no positions in any stocks mentioned, and no plans to initiate any positions within the next 72 hours. I wrote this article myself, and it expresses my own opinions. I am not receiving compensation for it (other than from Seeking Alpha). I have no business relationship with any company whose stock is mentioned in this article.
Additional disclosure: I hold Apple LEAP call options, and sold Apple naked puts.