Comcast Corporation (NASDAQ:CMCSA) is the largest operator in the cable industry, reaching 53 million households. In 2011, Comcast combined its cable networks with NBC Universal to create a new 51% owned venture. CMCSA's core cable business has been producing solid customer and revenue growth that has driven strong cash flow in the past several quarters. The New NBC Universal had also been performing well under Comcast's control while the Company continued to invest in new programming to strengthen and revitalize its cable and broadcast networks. With its solid balance sheet and consistent cash flow, along with its leadership position and robust network, CMCSA's outlook remains strong and sound.
Recent Earnings and Ratings
On Oct. 26, 2012, CMCSA reported net income of $2.1 billion or 78 cents per share vs. $908 million or 33 cents per share in the same quarter a year earlier. The revenue rose 15.3% to $16.54 billion from the year-earlier quarter. CMCSA fell in line with the mean estimate of 46 cents per share for the adjusted net income and beat the average revenue estimate of $14.43 billion. As quoted from Brian L. Roberts, Chairman and CEO of Comcast, "the third quarter continues our momentum. Cable's results show real strength in every part of the business, producing sustainable and profitable growth while we expand our product offerings, deliver more innovation and continue to transform the customer experience." The Company has now seen its net income rise for 3 quarters in a row and revenue increase 4 quarters consecutively. Analysts are estimating earnings of 1.96 EPS for the current year and 2.23 EPS for 2013, as compared to the 1.58 EPS in 2011. Analysts are also expecting $62.46 billion revenue for 2012 with 11.90% sales growth, as compared to $55.84 billion in 2011, as seen from the table below. The earnings call transcript for Q3, 2012 result from Seeking Alpha can be read here.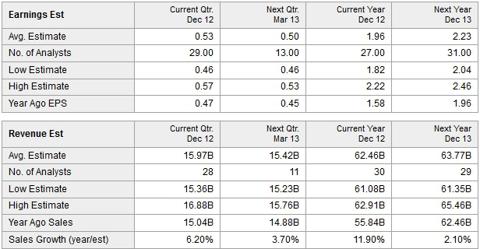 Source: Yahoo! Finance
On Nov. 8, Fitch Ratings affirmed he 'BBB+' Issuer Default Ratings, IDRs. The rating outlook for all of Comcast's ratings is stable and approximately 38.6 billion of debt, including $9.7 billion outstanding at NBC Universal as of Sep. 30, 2012 is affected. As quoted directly from the report,
"The company maintains an appropriate balance between returning capital to shareholders, in the form of dividends and share repurchases, repaying debt, and investing in the strategic needs of its business. Cash generated from the cable business will be used to return cash to Comcast shareholders while cash generated at NBCUniversal will build-up in anticipation of obligations related to GE's ownership put rights. Cash returned to shareholders (dividends plus buybacks) totaled $3.4 billion or approximately 48% of cash flow before dividends during the first nine months of 2012. As of Sept. 30, 2012 approximately $4.25 billion of capacity remains under Comcast's share repurchase authorization."
On Nov. 22, 2012, Zacks restated the "neutral" rating on CMCSA and currently has a target price of $38.00, as quoted below,
"Comcast maintains its strong momentum in the third quarter of 2012, supported by healthy businesses generated during the London Olympics. While the company's Cable businesses continue to beat market expectations, NBC Universal division makes a turnaround. Importantly, the company's struggling basic video operation continues its positive momentum. In the meantime, Comcast has completed its major technical innovations, such as DOCSIS 3.0, all digital networks, and a multi-platform content delivery network. Several newly launched services, such as Xfinity Home, Wi-Fi, and X1 will act as long-term growth catalysts for the company. Comcast is generating huge free cash flow and paying regular dividend. On the other side, the stock price has soared nearly 75% in the last year, which may restrict any above market gain. We, therefore reaffirm our long-term Neutral recommendation on Comcast."
Fundamentals Overview and Technical Analysis
By using the data provided from MorningStar, CMCSA's key stats will be compared to its competitors in the pay TV industry within the communication services sector. The competitors include Directv (NYSE:DTV), Century Link Inc. (NYSE:CTL), and DISH Network (NASDAQ:DISH) Corporation. Despite the lagging EPS growth (3 year average) of 20.4, as compared to the industry average of 35.6, CMCSA enjoys a higher revenue growth of 17.5, comparing to the average of 8.2 CMCSA also has a higher operating margin and net margin of 19.1%, ttm, and 9.7%, ttm, as compared to the averages of 17.4% and 6.9%, ttm, respectively. From the valuation perspective, CMCSA's lower valuation of P/E 16.7, as compared to the average of 17.1, could be partly explained by the lower ROE of 12.5, comparing to the average of 20.4. However, investors should be comfortable with CMCSA's low debt-to-equity of 0.7, as compared to the average of 11.8.
CMCSA closed at $36.49 with 0.19% loss on Wednesday's trading. The volume of 5.98M is 54.18% lower than the 30 day average volume of 13.05M. In the past 52 weeks, CMCSA had been trading in the range of $20.9 to $37.96. As seen from the chart below, CMCSA managed to close above 50-day MV of $36.07 since Nov. 20, 2012. While MACD (12, 26, 9) is still showing a bearish sign, the MACD difference continued to diverge, and MACD could reverse its sign anytime soon if CMCSA continue to gain. From the momentum perspective, RSI (14) is picking up the buying momentum and is currently at 53.13. If CMCSA can hold above its 50-day MV, the next resistance will be $38.60, the R1 pivot point, followed by $39.68, the R2 pivot point.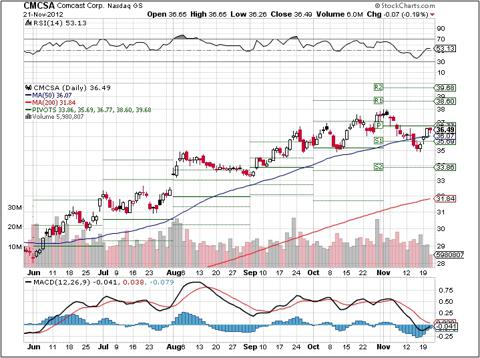 Source: StockCharts.com
Options Play
The long-term outlook for CMCSA is optimistic. In the near-term, CMCSA is also turning bullish from the technical perspective. Below, a bullish credit put spread will be reviewed for investors who would like to gain some upside potential while having the plan to acquire CMCSA at a discount price as the worst case scenario.
Short April 20, 2013 Put at the strike price of $33.00 for the credit of $0.90
Buy April 20, 2013 Put at the strike price of $28.00 for the cost of $0.26
The maximum profit is $0.64, and the maximum risk/margin requirement is $4.36 ($5 loss - $0.64 credit received). If CMCSA closes above $33 on April 20, 2013, 14.68% profit on margin will be gained. IF CMCSA falls below $33 upon options expiration, CMCSA stock will be purchased at the cost of $32.36, which is 11.32% below the current price. However, for more conservative investors, it is suggested to wait until the concern for U.S. Fiscal Cliff is cleared before setting up the long-term positions.
Note: All the prices are quoted from the closing of November 21, 2012 and all calculations are before fees and expenses. Investors and traders are recommended to do their own due diligence and research before making any trading/investing decisions.
Disclosure: I have no positions in any stocks mentioned, but may initiate a long position in CMCSA over the next 72 hours. I wrote this article myself, and it expresses my own opinions. I am not receiving compensation for it (other than from Seeking Alpha). I have no business relationship with any company whose stock is mentioned in this article.