Philip Morris International Inc. (NYSE:PM) has over the last couple of years implemented very shareholder friendly policies. The company has been engaged in a massive share buyback program and has been increasing its dividend yearly since its spin off from Altria (NYSE:MO) back in March 28, 2008. The company has also increased its earnings at a steady pace while also taking advantage of historically low interest rates to lower its interest expense. PM has been firing on all cylinders since its spin off, it is a classic example of a high quality dividend stock with strong earnings growth. For these reasons, PM is one of my largest holdings.
Philip Morris is currently trading for $88.72 as of Nov. 23, 2012.. With its current quarterly dividend of $0.85, the yield equates to $3.40 per year, or 3.8%.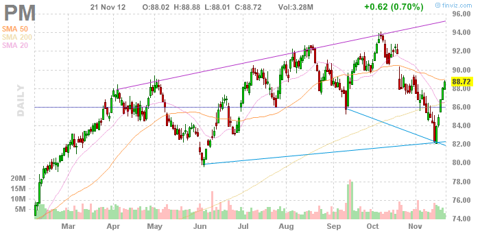 DIVIDEND GROWTH
Philip Morris International has been growing its dividend at an average pace of over 13% since its spin off from in 2008. Its 2008 yearly dividend was $1.84 compared to today's dividend of $3.40, this is equal to an 84.8% increase in the dividend in only 5 years.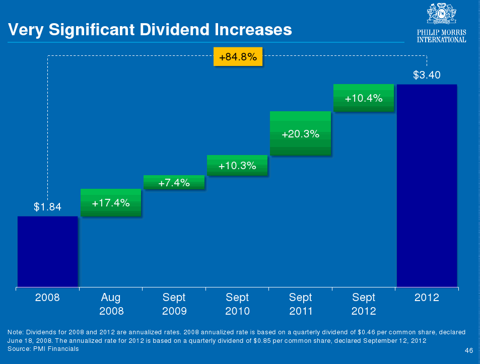 SHARE BUYBACKS
Philip Morris International has also been engaged in an aggressive share buyback program since 2008. The company has bought back nearly $26 billion (466.6 million shares at an average price of $55.75) to date. This is about 22% of the total shares outstanding since it was spun off.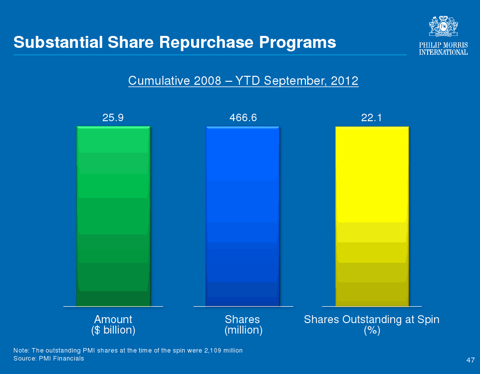 YTD FINANCIAL OVERVIEW
Philip Morris International has been increasing its earnings at a constant rate if you exclude the impact of currencies. For 3Q 2012 the company reported $1.32 in eps, down 2.2% versus the $1.35 reported 3Q 2011. Excluding currency, reported eps came in at $1.39, up 3.0%. For period prior to 2012 eps growth has averaged over 15% per year excluding currencies. YTD adjusted EPS ex currency is up 10.9 compared to prior year. The company has projected a mid to long term currency neutral eps growth rate of between 10% to 12%. YTD net revenues are up 5.4% excluding currency compared to prior year . YTD adjusted OCI excluding currency and acquisitions is up 6.9% compared to prior year. YTD Organic cigarette volume is up 0.7% compared to prior year.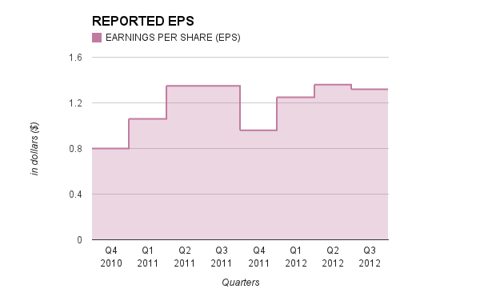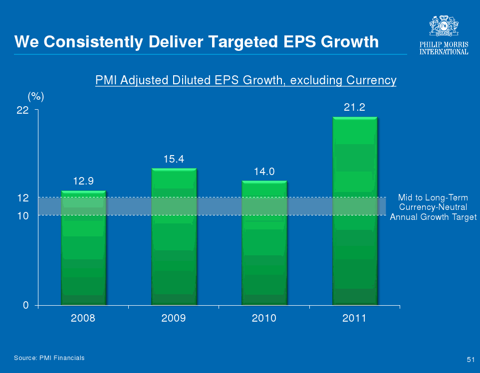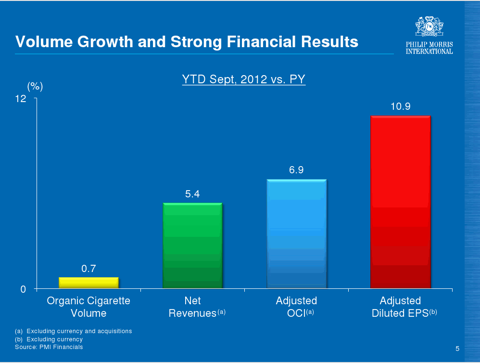 DIVIDEND PAYOUT RATIO
Philip Morris International has averaged a 62% dividend payout ratio during the last 8 quarters. During Q3 2012 the payout ratio was 61% compared to the 57% payout ratio during Q3 2011.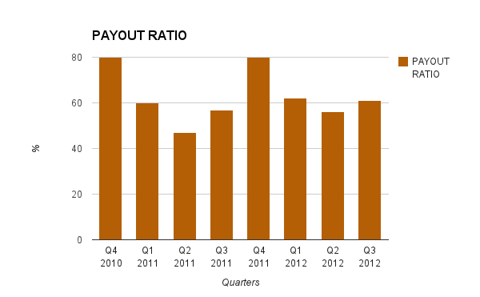 PEG DISCOUNT COMPARED TO PEERS
Using a basket of other mega-cap consumer peers, Philip Morris's PEG has traded at a discount since its spin off in 2008.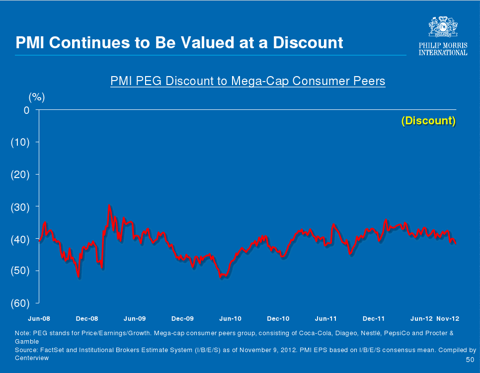 LONG TERM DEBT
Philip Morris International has done a fantastic job shoring up its balance sheet since its spin off in 2008. The average coupon yield for its long term debt has fallen 24% from 5.5% in 2008 to an estimated 4.2% in 2012. The average time to maturity for its long term debt has increased 3 years from 7.1 years in 2008 to 10.2 years in 2012.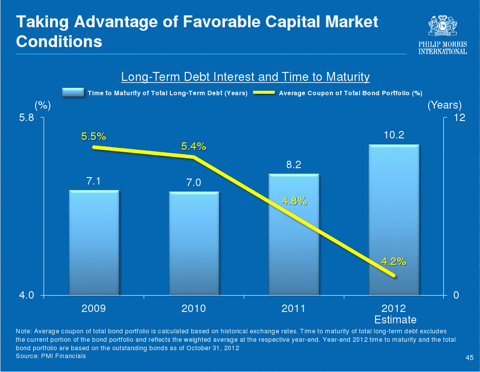 CONCLUSION
For those looking for a high current yield and dividend growth Philip Morris International is a great choice. Its management has used its expertise to significantly reduce the yield on its outstanding debt but also buy back an incredibly large amount of outstanding shares. With a current yield of 3.8% and an average dividend growth well over 10% Philip Morris International is well worth a look.
Disclosure: I am long PM. I wrote this article myself, and it expresses my own opinions. I am not receiving compensation for it (other than from Seeking Alpha). I have no business relationship with any company whose stock is mentioned in this article.