Back on the trail looking for undervalued high dividend stocks, we have a Consumer Goods micro cap to offer, from our High Dividend Stocks By Sector Tables, which is currently undervalued for earnings growth, in additional to having strong dividend growth.
Oklahoma-based Orchids Paper Products, (NYSEMKT:TIS), manufactures and sells private label tissue products in the South Central U.S. market, serving dollar stores, grocery stores and wholesalers, convenience stores, and co-ops. It was founded in 1978, and had a $159.03M market cap as of 11/21/12.
After lagging the market for the first three quarters, TIS has outperformed since early October, rising 15.91% as of the 11/21/12 close: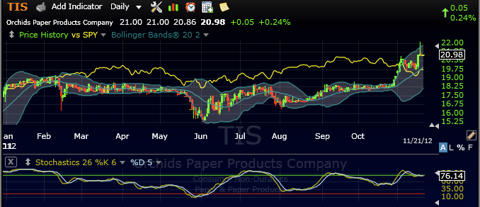 Earnings Growth: Even though TIS is overbought on a technical basis, it still looks undervalued on a PEG basis, with a low .66 2013 PEG, due to 25% projected growth in 2013. This estimate seems reasonable, given the fact that TIS has enough pre-orders for a 17% sales spurt. So, if it can keep a lid on costs, 25% EPS growth in 2013 certainly seems within reach.
CEO Snyder commented on this in their Q3 earnings release:
Our converted product business continues to show strength, as evidenced by our above market improvement in shipments in the third quarter of this year.

More importantly, we anticipate that our recently announced new business gains will increase our annual run rate by approximately 1.1 million cases, providing for a strong ending to 2012 and a solid foundation for the beginning of 2013.

(Source: TIS website)

TIS blew out its earnings in the third quarter, almost in line with its high 5-year earnings growth rate: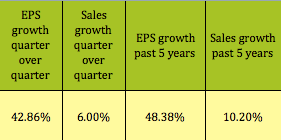 Dividends: Although it doesn't have a double-digit yield like the stock in last week's article, TIS has dramatically increased its yield. It started out paying $.10 quarterly in March 2011, and doubled its dividend to $.20 in December 2011, and just announced a 25% increase for this quarter's dividend, which will be $.25.
If TIS just maintains the $.25 quarterly payout in 2013, it will represent 50% dividend growth over 2011. TIS goes ex-dividend on Thursday 11/29/12: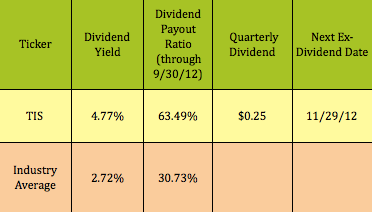 Financials: TIS has higher ratios for Management Efficiency, Operating Margin, and Interest Coverage, and also has lower Debt than its peers: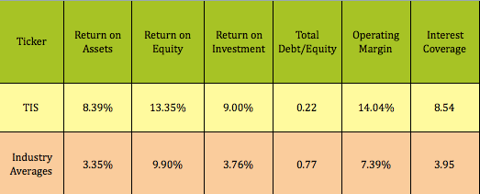 Options: There are no options available for TIS as of yet.
Technical & Ownership Data: TIS only has 28.66% Institutional Ownership at present - but this might get a boost soon, since it announced on 11/2/12 that it had been added to Forbes "100 Best Small Companies" list.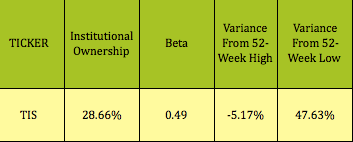 Disclaimer: This article is written for informational purposes only and isn't intended as investment advice.
Disclosure: I am long TIS. I wrote this article myself, and it expresses my own opinions. I am not receiving compensation for it (other than from Seeking Alpha). I have no business relationship with any company whose stock is mentioned in this article.