Hennes & Mauritz AB (OTCPK:HNNMY) reported last week an unexpected 5% like-for-like (LFL) sales decline in October compared to the same month the previous year, highlighting a negative trend that started last year when the company's strategy switched to compete on price. As I discussed in my previous articles on H&M, this performance is barely surprising. Given that only H&M's sales are mainly concentrated in Europe, I doubted that this would have the desired effect on sales on a same store basis and that it would lead to lower profit margins.
Indeed, this was what happened to H&M over the last few months leading in the first quarter of 2012 to a gross profit margin of 55.8%, the lowest in the past eight years. Regarding sales, although monthly growth data is very volatile, H&M shows a weak performance against soft comparatives (-1% LFL in 2011) over the last few months with October being the worst month, as shown in the following graph.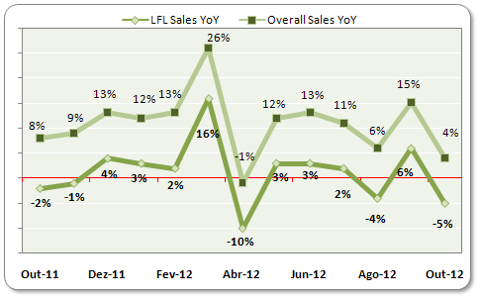 Source: Company Data
Over the last few quarters H&M has missed profit expectations, and this recent weak sales data doesn't bode well for its outlook over the next few months. With the economic slowdown in Europe spreading recently to Germany the company will most likely continue to struggle, given that this is H&M's most important market representing more than 20% of its sales.
Also, H&M's woes don't appear to be industry related, because its closest peer Inditex (OTCPK:IDEXY) has achieved record profits and showed healthy sales growth over the same period. Furthermore, contrary to H&M, The Gap (NYSE:GPS) invested recently in upgrades of its merchandise instead of lower prices and showed good results over the last few months, which highlights how wrong has been H&M's strategy.
Not surprisingly, H&M has underperformed its peers over the past year. Compared to Inditex and Gap, which have returns of 53% and 97% in the last 12 months, H&M's return although positive is still very weak. Nevertheless, it has outperformed Abercrombie & Fitch (NYSE:ANF), over the same time period.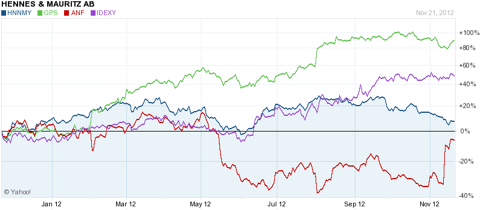 Source: YahooFinance
The company maintains its long-term goals of increasing the number of stores annually by 10-15 percent, while at the same time increasing sales on comparable units. Given the strong balance sheet and high business profitability this is achievable, but much probably not at the same level of the past years. From 2002 to 2010, H&M's compounded growth of sales and net profit were, respectively, an impressive 24% and 35%, but last year's for the first time in its recent history H&M delivered a negative earnings growth rate.
H&M is a growth company and will continue to be, justifying its high valuation multiples compared to the broader market and some of its peers. However, as the macroeconomic outlook continues to deteriorate for most of H&M's major markets, a return to the strong growth of past years may be difficult for H&M in the short-term. This should lead to a re-rating and lower multiples going forward, something that didn't seem too happened yet.
Compared to some of its peers, H&M appears to be overvalued especially against its U.S. peers Gap and Abercrombie & Fitch. Even though Inditex trades at a higher earnings multiple this is justified by its higher growth, as can be seen from its lower PEG ratio. Historically, H&M has traded around or above 20x earnings, but with slower growth going forward this multiple may be too much high.
| | | | | | | | | |
| --- | --- | --- | --- | --- | --- | --- | --- | --- |
| Company | Market Cap ($Million) | Div. Yield | Payout Ratio | P/E | PEG | P/BV | P/Sales | Gross Margin |
| H&M | 46,084 | 4.4% | 99% | 21.0 | 2.48 | 9.37 | 3.01 | 59.5% |
| Inditex | 80,471 | 1.5% | 41% | 26.6 | 1.55 | 8.84 | 4.35 | 59.8% |
| Gap | 16,904 | 1.4% | 22% | 15.4 | 1.31 | 5.34 | 1.12 | 38.1% |
| Abercrombie | 3,609 | 1.6% | 32% | 19.8 | 0.83 | 2.12 | 0.84 | 60.6% |
Source: Bloomberg
H&M's dividend yield is very attractive at 4.4% and above the sector's average. However, it is way above the management goal to pay around 50% of earnings each year to shareholders. However, over the past few years the payout ratio has been always much higher than 50%, and last year it was practically 100% of earnings. Going forward, the strong balance sheet can be supportive at least for a stable dividend but its quality will most likely continue to decrease.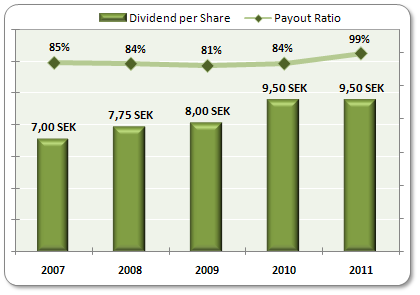 Source: Bloomberg
Conclusion
H&M continues to be priced as a growth company, but over the last two years has failed to maintain the growth pace seen over the past decade. With the macroeconomic outlook continuing to deteriorate in H&M's most important markets (Europe), the company's short-term outlook justifies a lower valuation and a re-rating more consistent with its weakest growth going forward. If H&M would converge to P/E ratios similar to Gap and Abercrombie & Fitch it could trade at 17.5x forward earnings, resulting on a 15% downside risk on H&M.
Disclosure: I have no positions in any stocks mentioned, and no plans to initiate any positions within the next 72 hours. I wrote this article myself, and it expresses my own opinions. I am not receiving compensation for it (other than from Seeking Alpha). I have no business relationship with any company whose stock is mentioned in this article.