The third quarter ended with good financial numbers for the two telecom giants in the United States. Both Verizon communications (NYSE:VZ) and AT&T (NYSE:T) reported a boost in their respective service revenues that jumped largely due to the increased smartphone sales and usage by its subscribers. However, there were key differences between the results of the two companies which can't be ignored. Verizon 650,000 iPhone 5s increase in its operating revenues for the quarter, whereas revenues came in flat for the second largest telecom, AT&T.
More customers switching to wireless products like smartphones and tablets is making the regional telecom carriers rethink their strategy. They are investing more on building out networks that are more capable of handling the data requirements of their subscribers. These changing consumer preferences and shift away from the traditional means of communication are the biggest reasons for the deterioration in their wireline businesses for both companies. However, wireless segments for both companies have performed well in the recent past and remain the key growth drivers.
Smartphone Monopoly:
When it comes to selling smartphones, no other telecom beats Verizon or AT&T. That is for a number of reasons which include and are not limited to better service, wider coverage and better speeds. However, selling smartphones like Samsung and iPhone comes at a cost to these carriers which eventually eat into their service margins. Telecom carriers pay smartphone manufacturers huge sums of money to keep offering the phones to their customers at a subsidized rate which results in an erosion in their margins. However, they eventually recover that cost from their subscribers through their phone bills over the period of the contracts. If we analyze the average revenue per user metric for Verizon, a consistent upward trend is visible and that is largely due to the increased smartphone usage on average by a customer. Moreover, selling smartphones on their networks also results in a lower churn (percentage of customers leaving a network).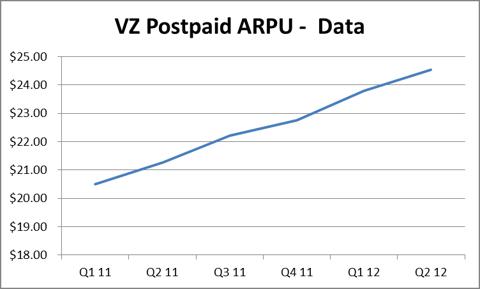 What sets Verizon apart from AT&T:
When Verizon and AT&T are compared based on number of iPhone sales, At&T takes the cake as it has historically sold more iPhones than Verizon. In the quarter recently ended, AT&T sold 6.1 million smartphones, of which 4.7 million were iPhones. Even though the company didn't disclose the number of iPhone 5s sold in the later part of the third quarter, there are reports that it sold around 1.3 million units. If that is true indeed, it means that AT&T sold 650,000 more units than Verizon. In Q3 2012, Verizon sold 650,000 iPhone 5s.
Breakdown of smartphone sales in Q3 2012:
 

Smartphones

iPhones

Q3 2012

 
 
 

Verizon

6.8 million

3.1 million

AT&T

6.1 million

4.7 million
Stronger Net Subscriber Additions for Verizon:
Net subscriber additions is a key metric for any telecom company against which its performance can be judged and the latest figures should be a cause for concern for AT&T. Despite selling more iPhones in the quarter, AT&T reported very disappointing net postpaid additions of 150,000 subscribers which is a material drop from the Q3 2011 additions of 319,000. The expectation was that the company would add approximately 360,000 postpaid customers in the quarter. The company did, however, blame iPhone supply constraints for the lower additions. On the other hand, Verizon ended the recent quarter with strong net postpaid additions of 1.5 million subscribers, which is a 67% increase in the additions over the last year.
Stronger Wireless Margins for Verizon:
The end of the third quarter might also mark the end of AT&T dominance in the regional iPhone market. Verizon reported EBITDA margins of 50%, improving sequentially and staying constant quarter over quarter. On the other hand, AT&T reported EBITDA margins of 40.80%, a significant drop from Q3 2011's margins of almost 44%.
Expanding Wireless Margins Despite High Volumes:
Verizon is aggressively extending its lead in the wireless segment, largely due to its recently launched shared data plan as well as LTE leadership. The primary reason for the staggering growth in Verizon's postpaid additions was its shared data plan which brought in more customers and revenues for the company than its rival. This is particularly impressive considering that despite high volumes (net adds: 1.5mm versus AT&T's 0.15mm) and increased smartphone sales, Verizon reported an increase in margins unlike AT&T.
Verizon - LTE Leadership:
Currently, Verizon has the widest 4G LTE market coverage in the region and AT&T is far behind its rival in that respect. By the end of the third quarter, Verizon's 4G service was available to more than 250 million people in over 400 markets across the United States. In comparison, AT&T's 4G is available in only 100 markets serving approximately 150 million people. The chart below shows how wide Verizon's market coverage is compared to its peer.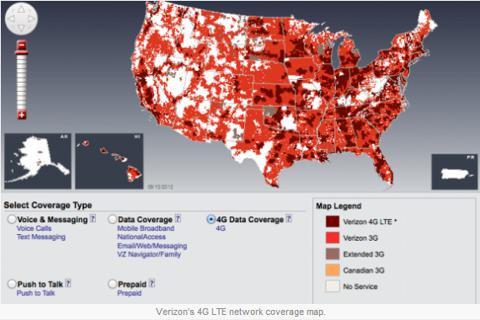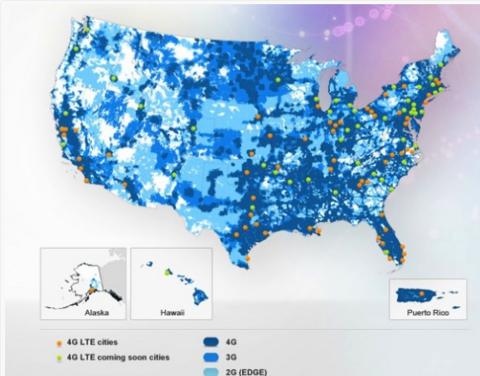 Source: www.gottabemobile.com
Future Trends - Market Share Shift Towards Verizon:
With the release of LTE-enabled iPhone 5, we expect more customers switching to Verizon's 4G network for higher speeds. As mentioned previously, Verizon has wider 4G coverage than AT&T and going forward we expect this to lead to more customers leaving AT&T's network and switching to Verizon. If this happened, the probability of which is high, we could see Verizon stealing some market share of iPhone sales from AT&T.
AT&T started selling the iPhone in the first quarter of 2010 while Verizon joined in a year later. However, it is quickly catching up. The interesting thing to note is that at the time AT&T started selling the iPhone there was no other player in the market. For those subscribers who bought their phones in the third or fourth quarter of 2010 and who will be coming off their two year contracts with AT&T, Verizon is a very good alternative with a wider coverage and matching speeds. Perhaps, that was a major driver behind the staggering 67% growth in Verizon's postpaid additions and we expect this factor to continue to play its part in Q4 2012 resulting in a further market share shift to Verizon's advantage.
Dividend Perspective:
Both Verizon and AT&T are attractive stocks from a dividend standpoint, currently yielding 4.8% and 5.3% respectively. Both companies also have a very high dividend payout, however, we believe given the recent developments for AT&T, the company will find it difficult to sustain its high payout. The company recently announced that it is going to increase its capital expenditures by 16% to $22 billion for each of the next three years and now expects its debt-to-EBITDA ratio to move higher to 1.8x from the 1.42x by the end of Q3 2012. The major reason behind the hike in ratio is that the company has decided to take advantage of the debt market to finance its aggressive ($300 million) share buyback program, capital expenses as well as dividend payments.
Analyzing the dividend history of AT&T, its cash flow deficit cannot be ignored. In the first three quarters of the year, the company generated operating cash flows of $28.9 billion while incurring a total of $29.3 billion in dividend payments, capital expenditures and share buybacks, which explain why the company is going for more financing. In comparison, Verizon generated operating cash flows of approximately $25 billion well in excess of $19 billion it incurred for its payouts and capital expenditures. Based on the cash-flow analysis of the two companies, Verizon is in a better position to sustain its payout and bring growth in its dividends.
We conclude by picking Verizon as the stronger telecom operator. It continues to outpace its rival in terms of improvement in its key business metrics. Record wireless margins, subscriber additions and a wider market coverage point towards its strength over AT&T. Verizon, however, is trading at high valuations. Currently, it is trading at 15 times its forward earnings - higher than the historical levels. However, its valuation (based on P/E ratio) is in line with that of AT&T. We believe there is a limited upside potential based on its valuations. However, the stock remains attractive from a dividend perspective, currently yielding 4.8%.
Disclosure: I have no positions in any stocks mentioned, and no plans to initiate any positions within the next 72 hours.
Business relationship disclosure: The article has been written by Qineqt's Telecom Analyst. Qineqt is not receiving compensation for it (other than from Seeking Alpha). Qineqt has no business relationship with any company whose stock is mentioned in this article.