There are a few aspects of a company I look for when researching stocks. First and foremost, I want the company to have strong growth and fundamentals. This means checking out a stock's EPS, EPS growth rates, ROE, current ratio and other such metrics that gauge a company's growth and fundamentals. Secondly, I would also like the stock to be cheaply priced. Although there are some great companies which can be bought regardless of their valuation ratios (like Warren Buffett's Coca-Cola (NYSE:KO) purchase 20 years back) because of their brand name/growth, these stocks are a rarity. Additionally, buying a cheaply priced stock adds an extra margin of safety to one's investment. Finally, I look for dividends. I believe that dividends are a crucial part of one's portfolio, and it can increase one's returns drastically over the long term. Although I prefer dividend-paying stocks, please note dividends are not the most important or the only thing one should look for in companies.
Here are the criteria for today:
1. Fast-Growing
EPS Growth Past 5 Years > 20%
EPS Growth Next 5 Years (est.) >10%
The company is required to have rapid growth in earnings to qualify for this screen, since one of our criteria is "fast-growing." The criteria listed above are not easy to fulfill, but it will ensure the quality of the products of the screen. This rapid growth in earnings can, firstly, prove that the services/products that the company offers are well-liked. Additionally, companies will only grow larger and advance further because of their profits. Therefore, these criteria can ensure that these companies are growing at a fast and steady rate.
2. Dividend Stocks
Dividend > 3%
Payout Ratio < 60%
As dividends are an important part of an investor's portfolio, it is mainly used to boost returns, therefore a company with a high dividend would work better in producing high returns over the long run in an investor's portfolio.
The next criteria (payout ratio < 60%) was included in the screen to confirm that a company's dividends are sustainable. The definition of payout ratio is the net earnings given out as dividends. A company with too high a payout ratio indicates that it may not be able to support the dividend in the future, especially during recessions or downturns, which are inevitable. Many companies will have to depend on their cash reserves to further expand in those times.
3. Great Fundamentals
Current Ratio > 1
ROE > 15%
Long-Term Debt Equity Ratio < 0.3
The company also has to be in an acceptable financial state; therefore, the current ratio has to be at least 1. Any current ratio below 1 would mean that the company has more current liabilities than current assets (Current ratio: Assets/Liabilities), which is dangerous for any stock, as the company may not be able to pay for short-term obligations.
The company's ROE should also be above 15%, as management should be making good use of shareholders' investments, and not wasting them away. The definition of ROE is the amount of net income returned as a percentage of shareholders' investments. This measures a corporation's profitability by revealing how much profit a company generates with the money shareholders have invested.
Finally, I want stocks with low debt as it proves that the company has the ability to generate enough capital to expand itself without borrowing too much money. This ensures that the company has a stable business model, which can provide it with enough profits over the long term to benefit shareholders.
4. Dirt-Cheap Prices
A high valuation would mean that the stock is priced for perfection, with no space for failure. Therefore, I would normally stay away from stocks with really high valuations and companies which are losing money. On the other hand, this criterion ensures that all the products of the screen are really dirt-cheap and trading at single-digit P/E ratios. This also ensures an extra margin of safety protecting the investments, as downside is reduced.
Without further ado, here are the stocks for today:
| | | | | | |
| --- | --- | --- | --- | --- | --- |
| Company | Sector | P/E | Dividend Yield | Payout Ratio | EPS Growth Past 5 Yrs |
| Giant Interactive Group, Inc. (NYSE:GA) | Services | 6.95 | 5.61% | 48.00% | 25.42% |
| Guess? Inc. (NYSE:GES) | Services | 9.53 | 3.30% | 31.91% | 16.45% |
| Intel Corp. (NASDAQ:INTC) | Technology | 8.45 | 4.65% | 35.93% | 22.76% |
1. Giant Interactive Group, Inc.
Giant Interactive may be a small company with a market cap of $1.26B, but its main attractions to investors are its cheap valuation, steady growth and high dividend. It currently trades at a low 6.95X earnings, which is a lower valuation than most stocks in the market. Besides this, it also pays a high dividend of 5.61%, and this dividend is by all means sustainable, judging from its relatively low 48% payout ratio. The company has also outperformed the market this year so far, delivering an impressive 39% gain year to date, which is much better than the S&P 500's 10.5% or the Dow Jones' 5.04% gain year to date.
It had also grown at a fast rate over the past 5 years, at a rate of slightly more than 25% year over year. Additionally, it had delivered great earnings over the past few quarters even as the economy in China, where it is based, is slowing. From these facts, it is evident that the company has a considerable amount of merits and could deserve a place in the investor's portfolio.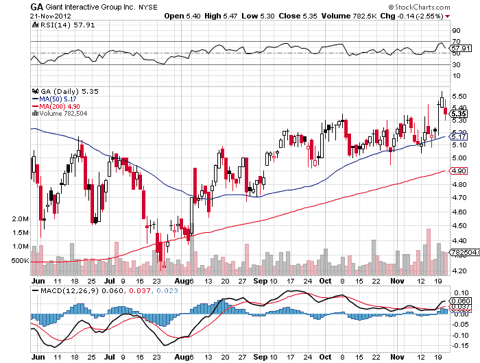 Giant Interactive Group develops and operates online games in China. Founded in 2004, it primarily offers Multiplayer Online Role Playing Games (MMORPGs). It currently operates 11 games, with 9 MMORPGs, 1 multiplayer online game and 1 strategy browser game. Besides games, it also sells prepaid game cards and game points through distributors, retail outlets, internet cafes and convenience stores in China.
Target Entry Price: When the stock price hits the blue 50-day moving average line, which had acted as strong support in the past.
Target Exit Price: None, I plan to hold this stock long term if I buy it.
2. Guess Inc.
Guess had been treated badly by the stock market this year, with its return year to date being a disappointing -18.33%, as compared to the many indexes delivering positive returns so far. Although this is the case, there are a few merits that Guess has that might attract investors.
Firstly, it has a high ROE of 20.7%. This shows the effectiveness of the company's management and that they had been managing shareholders' investments well. As stated above, this is very beneficial to the company and its shareholders, as this extra gain in capital can enable it to perform more internal operations, or even increase its dividend to return more to its shareholders. Secondly, it is very cheaply priced. With a P/E of only 9.38 and a P/B of 1.93, its valuation is much cheaper when compared to its other competitors. Thirdly, it has only a small amount of debt, with the number currently around $10.4M, which is only a small fraction of its $2B market cap.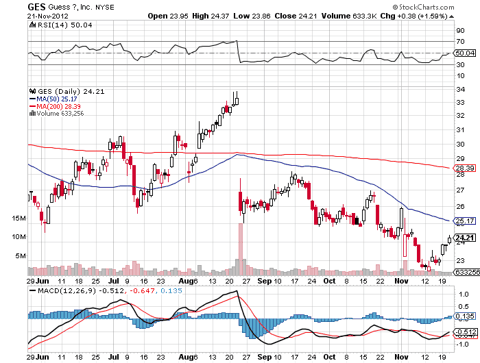 Guess Inc. designs, markets, distributes, and licenses lifestyle collections of contemporary apparel and accessories for men, women, and children. The company also grants licenses to manufacture and distribute a range of products that complement its apparel lines, including goods like fragrance, jewelry, and other fashion accessories.
As of January 28, 2012, the company directly operated 504 stores in the United States and Canada; 251 stores outside of the United States and Canada; an additional 230 smaller-sized concessions in Asia and Europe. The company was founded in 1981 and is headquartered in Los Angeles, California.
Target Entry Price: $20- $22, Strong support in 2009
Target Exit Price: When the stock hits the 50-day moving average, this had acted as a very strong resistance point.
3. Intel Corp.
Intel, like Guess, had also been performing badly this year, with a -16.77% return year to date. Although it is the largest chip processor in the world and has a big chunk of the market share, fears that it is losing ground due to heavy competition had caused the company's stock to plunge after hitting a 52-week high early this year. In my opinion, this drop in Intel's stock may be overblown.
After the scary drop that Intel had over the past few months (shown in the chart below), it is currently trading at a dirt-cheap 8.45X earnings at the moment. This valuation is much cheaper than many of its competitors, including Texas Instruments (NYSE:TXN), with a P/E of 19.08, or Maxim Integrated Products (NASDAQ:MXIM), with a P/E of 23.64. Intel also has a high ROE of 24.94%, which shows that shareholders' investments had been managed properly and were not wasted.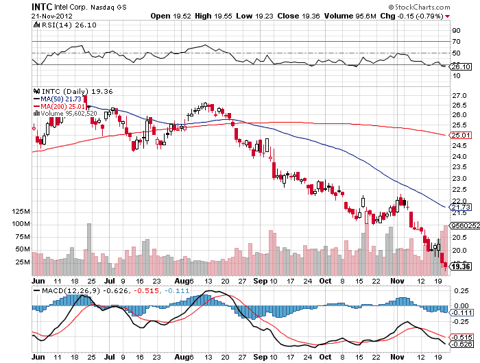 Intel Corporation designs, manufactures, and sells integrated digital technology platforms. The company offers microprocessors, chip sets, storage devices and wireless connectivity products. It also provides mobile phone components comprising baseband processors, radio frequency transceivers, and power management integrated circuits. In addition, the company offers network and content security products for consumer to protect systems from malicious virus attacks, as well as loss of data. It also offers a variety of other products and services. Intel Corporation was founded in 1968 and is based in Santa Clara, California.
Target Entry Price: $18-$18.50 acted as strong support in 2011
Target Exit Price: None, I plan to hold it long term.
The Takeaway
The companies listed here had been screened under very strict criteria and are all good companies with a fair amount of potential. I feel that for these kinds of investments where an investor buys a stock for its dividends or fundamentals, a stock should be held for at least 2 years for the portfolio to benefit most from the investments. Although the investments may seem attractive to buy at the moment, please still do your due diligence before investing any money into these stocks.
All information sourced from Finviz, Yahoo! Finance and Stockcharts.com. All prices mentioned are based on the 21 November 2012 closing price.
Disclosure: I have no positions in any stocks mentioned, but may initiate a long position in INTC over the next 72 hours. I wrote this article myself, and it expresses my own opinions. I am not receiving compensation for it (other than from Seeking Alpha). I have no business relationship with any company whose stock is mentioned in this article.