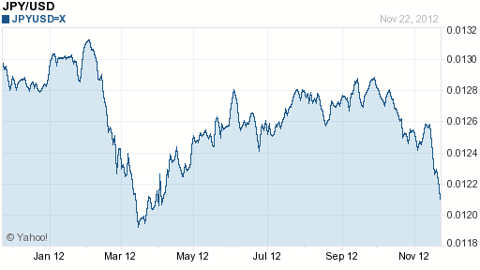 In early 2012, the yen cemented its reputation as the "Asian Swiss Franc." The yen soared in January and March because investors were seeking a safe haven from the effects of the European sovereign debt crisis, China's slowing growth, and overall weakness in the global economy. One of the major reasons the yen was so strong was that Japan maintained an account surplus, which made it less reliant on overseas borrowing and in turn made the yen the most attractive investment out of the G3 currencies. Also, many investors were turned off by the price ceiling established on the Swiss Franc by the Swiss National Bank, making the yen relatively attractive out of the two strong currencies. The yen appreciated in value so much that it significantly stunted the growth of Japan's critical export industry, leading major companies such as Honda (NYSE:HMC) and Toyota (NYSE:TM) to build factories and plants overseas to diminish the effects of exporting products from a deflationary economy.
Now, it seems as if the yen has reached a turning point. As shown above in the graph of the JPY/USD exchange, the Japanese yen has weakened significantly in November. This can be attributed to a couple of factors, namely Japan's trade surplus deficit, economy, and potential BoJ intervention.
Japan's trade surplus has now turned into a trade deficit. For October, Japan reported a trade deficit of 549 billion yen, significantly larger than the market expectation of 360 billion yen. Moreover, exports were down 6.5 percent Y/Y, which was also worse than the consensus estimate of a decrease of 4.9 percent. This gloomy economic picture is in part due to the conflict over the Senkaku/Diaoyu islands with China, which JPMorgan projected to shave 0.8 percentage points off of Japan's GDP from October to December. This conflict also significantly decreased the sales of many Japanese companies in China; in September, Toyota sales in China decreased 48.9 percent and overall exports of automobiles to China were down 82% Y/Y.
The dismal economy, in part due to the Senkaku/Diaoyu island conflict and in part due to the strength of the yen, has put pressure on the Bank of Japan to initiate more monetary easing policies to weaken the yen and in turn give exports a competitive boost. This, combined with the erasing of Japan's account surplus and the seemingly overvalued nature of its currency relative to its economic performance, has led many, such as Goldman Sachs Asset Management chair Jim O'Neill, to declare that the yen is entering a significant period of depreciation. Daiwa Securities senior economist Maiko Noguchi has also stated that "With weak trade data, and likely a weak result to the BOJ's December Tankan survey, the BOJ could very probably ease in December."
This belief has been substantiated by recent rhetoric in Japan's political landscape. The head of the Liberal Democratic Party, Shinzo Abe, is extremely pro-stimulus and is also widely expected to win the Japanese PM elections on December 6. Mr. Abe recently stated that "The biggest economic problem is prolonged deflation and a strong yen" and called for "unlimited easing" by the Bank of Japan. It should be noted that the Bank of Japan is largely independent of political partisanship and the BoJ Governor Masaaki Shirakawa was recently quoted as saying ""I seek respect for the BOJ's independence as it's doing its utmost to conduct appropriate monetary policy." However, the BoJ should be coming to the same conclusion as Mr. Abe, especially with many economists expecting Japan to enter its fifth technical recession in 15 years.
The euro recently reached 6-month highs against the yen and the U.S. dollar recently reached a 7-month high against the yen. With the significant probability that the yen will be weakened further, there are a few main takeaways investors should consider. The first is to steer clear of going long on ETFs that benefit from a strong yen; these ETFs include iPath JPY/USD Exchange Rate (NYSEARCA:JYN), CurrencyShares Japanese Yen Trust (NYSE:FXY), and ProShares Ultra Yen (NYSEARCA:YCL). The second takeaway is to invest in currency-hedged ETFs such as DBX MSCI Japan Currency Hedged Equity (NYSEARCA:DBJP) and WisdomTree Japan Hedged Equity (NYSEARCA:DXJ), which are designed to provide exposure to equity securities in Japan, while at the same time hedging exposure to fluctuations. Finally, investors should consider investing in ETFs that benefit from a weak yen, such as ProShares UltraShort Yen (NYSEARCA:YCS). Although monetary easing and a falling yen have the potential to significantly benefit the Japanese economy, I would stop short of recommending ETFs such as ProShares Ultra MSCI Japan (NYSEARCA:EZJ) because there are a multitude of other variables (such as Japan's burgeoning debt and relations with China)that could derail any economic progress created by monetary easing.
As noted by O'Neill, the performance of the yen is "the most interesting macro thing out there." Indeed, the yen has made some interesting moves as of late, moves that investors should definitely take advantage of.
Disclosure: I have no positions in any stocks mentioned, and no plans to initiate any positions within the next 72 hours. I wrote this article myself, and it expresses my own opinions. I am not receiving compensation for it (other than from Seeking Alpha). I have no business relationship with any company whose stock is mentioned in this article.