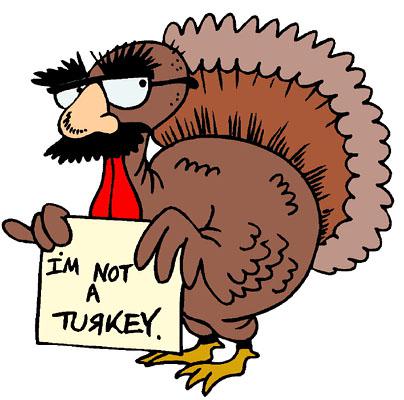 I live right near a turkey farm. When the wind is just right, it even obscures the sounds and smells of goats and sheep next door to our home.
It is eerily quiet this morning, however.
Although I enjoy, to a degree, getting together with friends and family for Thanksgiving, I'm not a huge fan of the holiday. Besides being very disruptive to stock trading -- far more disruptive than a holiday celebrated on a Monday -- turkey is not one of my favorites.
Increasingly, for what I'm being told is for my health, turkey is finding its way into my diet on a more regular basis. As if that's not bad enough, when Thanksgiving comes around, we have to purchase a Kosher turkey at unbelievably exorbitant prices for some of our guests.
Year in and year out, I debate whether to just get rid of those turkeys or just tell them that the turkey is Kosher. Either way, my lot is sealed, so there's not much to lose.
As I sit down to contemplate the coming week's stock selections, I first look at a portfolio that is now filled with a bunch of turkeys. They didn't start out that way, but somehow have evolved into something that is pretty much incapable of flight. At the moment, no disguise is good enough to hide what they really have become, but I'm ever hopeful, even as I'm looking for end of the year strategic tax loss prospects. That's something like turkey hunting, with the government rewarding your past stupid decisions.
Beyond that, the past few weeks haven't done much to erase the feeling that this market has been acting like a turkey, and that it is completely devoid of conviction one way or another. Volatility keeps getting lower, and risk-reward ratios seem increasingly skewed toward risk. Over these past few weeks, I've had a difficult time finding justification to make many new purchases, despite the fact that prices are reasonable, at least by last month's standards. To compound matters, one of the downsides of selling weekly versus monthly options is that as share price goes down, those attractive weekly premiums get much less so, unless you're willing to lower your strike prices. So I'm sitting with far too many uncovered positions, that despite having benefited from this week's gains, still leaves me with an uncomfortable feeling.
I may lie about whether the turkey is Kosher or not -- I can easily capitulate on my ethics -- but I'd have a far more difficult time settling for dropped strike prices.
With a glimmer of hope earlier this past week on the idea that with the Thanksgiving holiday our elected officials would all be back home and relatively incapable of creating trouble in D.C. as far as the "Fiscal Cliff" goes, the market had a brief rally on Monday. I continue to believe that we will have enough of a resolution by year's end, that I have pledged not to upload any updates to my TurboTax this year.
I desperately want to put my money where my mouth is, but I still need some kind of a sign that it is better spent in the markets than sitting and doing nothing. Although I certainly understand that doing nothing is better than losing, it's just not as exciting and makes it more difficult to justify my staying at home all day or charging others for not receiving Trading Alerts. I suppose the time could be valuably spent trying to research precisely where the fine line is that separates value from value trap and then making that knowledge actionable, but I think they will turn lead into gold before that line is ever identified.
As usual, this week's stock selections are categorized as either being Traditional, Momentum, Double Dip Dividend or Premiums Enhanced by Earnings, as earnings season comes to its end (see details).
The challenge over the next few days is the realization that over the past 50 years, performance on the Friday after Thanksgiving tends to be positive, while it reverses course substantially on the Monday after the holiday. That would suit me just fine if the pattern continues this year, as I've grown tired of hearing how stocks were higher this Friday on holiday-reduced volume, especially since I'm unable to keep up in the drinking games. However, my real preference is to see continued upward price movement so that I could get many currently uncovered positions back to work at generating premium income.
That itself is challenging, as call premiums, even near the money, have been extraordinarily low the past two weeks as volatility sinks even further. In the options markets, such low premiums on calls can only mean that buyers are bearish in the near term and unwilling to bid prices higher. I hope that their track record for predicting the future continues, as I'm anxious to see both further gains and some more froth in the premiums.
Despite a little bit of a comeback the past few days, Caterpillar (NYSE:CAT) has been on everyone's list of stocks to denigrate. Somehow, Caterpillar is reflective of everything that's wrong in the world, despite the fact that much of the world can't be relied upon for actually providing reliable data. Nonetheless, when speculation hits that things are slowing down, Caterpillar is the leading lagger.
What especially intrigues me is how Caterpillar and Deere (NYSE:DE) go through periods when they trade in tandem and then other times they seem to diverge.
(click image to enlarge)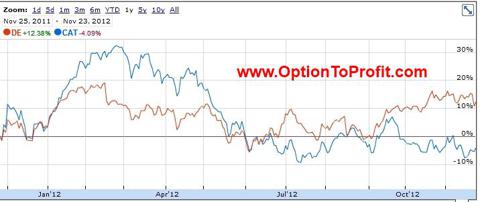 After Deere showed a bit of recovery from the adverse price response to its earnings earlier this week, I believe that Caterpillar and Deere are about to start their next period of convergence, with Caterpillar outperforming Deere shares. Hopefully, Caterpillar will be rising higher as it outperforms.
General Electric (NYSE:GE) returns from last week, having participated in the rally, but not while part of my portfolio. As long as our elected officials (talk about turkeys) don't say very many stupid things (perhaps extending their Thanksgiving vacations) over the next few weeks, and put aside the need to make the other side look bad over the Fiscal Cliff, General Electric and some others that took disproportionate drops over the recent weeks should continue to fare well.
For the second week in a row, Cliffs Natural Resources (NYSE:CLF) makes the list, but to get the full story, you'll have to read "I Don't Understand Dividends," which focused on Cliffs and engendered almost 300 comments, including my obligatory responses. For some further background as to why Cliffs is on the list, read below, as it is a contrarian play on Goldman Sachs' (NYSE:GS) ability to divine commodity prices.
Baidu (NASDAQ:BIDU) has been mentioned a few times over the course of the past month, initially as a PEE play. During that time, after earnings were released, shares fell by as much as 18% after finally showing some strength on Friday. As with many other companies lately, I've resisted making new purchases despite what seems to be bargain prices, while awaiting some sign of stability. In Baidu's case, the overdone selling may have come to its conclusion.
I just lost Cisco (NASDAQ:CSCO) to assignment this past Friday. Having held it since October 22, 2012, it returned 3.8% during that period, compared to a loss of 1.7% for the S&P 500 during that period. Although I rarely consider chasing assigned shares that are much higher than their assignment price, I have made it a habit of picking up Cisco shares during its ex-dividend period, although the low volatility is making the Double DIp Dividend approach a little less rewarding.
Goldman Sachs was on the list last week and like most everything else, wasn't purchased and went higher this week. It did, however, have an impact on one of my previous week's holdings, Cliffs Natural Resources, which traded ex-dividend this past week. Goldman Sachs downgraded shares from neutral to sell the day after Cliffs announced some operational changes, shutting down some production. Very surprisingly, my shares were assigned, however, as perhaps option buyers remembered that Goldman is often wrong on divining the direction of commodity prices. But shares of Goldman do go ex-dividend this week and with the possibility of some fiscal discipline coming our way, the financial system stands to prosper. While I don't particularly like to chase stocks, this one may be worthwhile.
The most intriguing trade of the week may well be with Green Mountain Coffee Roasters (NASDAQ:GMCR). You certainly need some intestinal fortitude to trade Green Mountain. I don't think I would ever refer to "investing" in Green Mountain, due to its erratic behavior. I currently own shares that were put to me at $28 and have been happily selling calls on those shares for the past eight weeks. 20% moves in either direction are not unusual with Green Mountain. In fact, one night that I appeared on Bloomberg Rewind happened to be the day that Green Mountain plunged 20 points in the after hours, and I volunteered the information that I owned shares (see the video). Based upon its Friday closing prices, one could still create a 2% ROI even if shares fell 20% after earnings, despite being long shares. Alternatively, selling puts can potentially be quite rewarding, as well..
Traditional Stocks: Caterpillar, General Electric
Momentum Stocks: Baidu, Cliffs Natural Resources
Double Dip Dividend: Cisco (ex-div 11/27), Goldman Sachs (ex-div 11/28)
Premiums Enabled by Earnings: Green Mountain Coffee Roasters (11/27 PM)
Remember, these are just guidelines for the coming week. Adjust accordingly with market movements, and you'll have the makings of a healthy income stream for the week with reduction of risk.
Disclosure: I am long GMCR. I wrote this article myself, and it expresses my own opinions. I am not receiving compensation for it (other than from Seeking Alpha). I have no business relationship with any company whose stock is mentioned in this article.
Additional disclosure: I may initiate positions in BIDU, CAT, CLF, CSCO, GE and GS.