In January 2012, I outlined a stop-loss strategy that I use for three of my dividend growth [DG] model portfolios. Essentially, I look for four consecutive weekly closes where the stock has underperformed the S&P 500 (NYSEARCA:SPY) by 20% from a common starting date. The original goal was to use price as a proxy for identifying DG stocks that may be in trouble and hence could potentially cut their dividend. After collecting some data, I found that the "-20% rule" was better at predicting further losses, overdue dividend raises, and small dividend raises, as opposed to cuts. However, for DG investors, these are still useful things to detect.
More recently in one of my monthly portfolio updates, an SA member asked if I had any data on portfolio stocks that had triggered the -20% rule and their performance. This article reviews these stocks, as well as some others from my portfolio screening process that triggered the stop-loss rule. Overall, this data aligns with the data set in the original stop-loss article. About 70% to 80% of the time, the rule prevents a future loss of 15% on average. If the stocks were held to the present day, on average they lost around 10%. This rule can help investors to exit a stock and avoid further losses; there are plenty of alternative stocks to purchase in the CCC list.
Data Set
This data set consisted of 20 stocks from my DG model portfolios and screens that triggered the stop-loss rule within the last 12 months. Most of them were in the consumer discretionary, financial, industrial, and technology sectors. The table below lists the stocks and their prices at the stop-loss date, the lowest close after the stop-loss date, and the current price as of 11/16/2012. The SPY's prices are provided for comparison.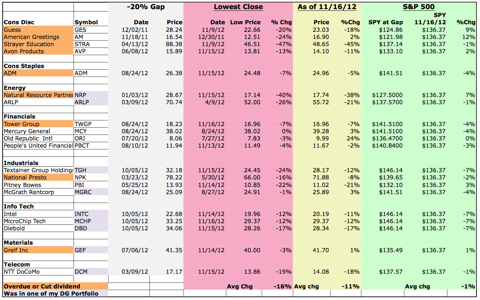 For this analysis, I used the unadjusted prices for the sake of simplicity. The average losses are high enough that it would not change the directional outcome. Also, some of these stocks, such as Strayer Education (NASDAQ:STRA) and Avon Products (NYSE:AVP) triggered the stop-loss in 2011, so an investor could have exited then and saved even more. I only looked at the most recent application of the stop-loss rule.
Data Results
On average, the 20 stocks in this list lost 16% between the stop-loss date and the stock's lowest close after that date.
13 of the 20 stocks (65%) declined over 10% more after the signal date [red section]. Only one stock (5%) had no further decline.
Held to the present (11/16/2012), these stocks gained back a little ground, but were still down 11%.
15 of the 20 stocks (75%) had negative returns as of 11/16/2012 [yellow section]; the rule was "correct" in this respect. Further, of the 5 with positive returns, 4 had gains of 3% or less, so the opportunity cost to the investor was not large. The exception was Old Republic (NYSE:ORI), which gained 24%.
9 of 20 stocks (45%) either cut their dividend in the last year or are overdue for a raise. 7 of 20 (35%) have raised their dividend by one-cent or less in recent years. 4 of 20 (20%) have had more substantial raises.
The rule appears to be less predictive for the financial sector, and more effective for the consumer discretionary, energy, information technology, and industrial sectors. The data set is too small to know for sure though.
Analysis
While this research originally started as an effort to identify dividend cuts, it appears that the "-20% rule" is more effective at signaling when to get out of a DG stock to avoid future losses. On average, this group lost around 11% if one held the stocks, and at some point during the last year, the investor would have been down around 16% on average for these holdings, which is probably more volatility than some DG investors would care to see. In addition, only a few companies went positive after the signal, so from a total value standpoint, selling was the right move. I must acknowledge that the data set is small, so this is not meant as a scientific analysis. However, this data matches very well with the results from the original study that contained around 40 stocks, so the sample size is growing and the results are similar.
Those focused on the income stream may be less concerned about the price, however, the fact that 80% of these stocks either cut their dividend, froze it, or had weak raises should be of interest. In the original data set, around 70% fit these categories, so collectively the results appear to be well over 50%. Why continue to hold these stocks when there are stronger firms with consistent dividend growth track records, lower payout ratios, and better brand names?
Good alternatives to consider include:
Though limited in size, the sample data provided confirms the original stop-loss data set results. The "-20% rule" is not perfect, but about 75% of the time, it seems to correctly save an investor from further losses and from DG stocks with weak dividend raises, freezes, or cuts. I should note that the DG stocks in my model portfolios survive a rather rigorous set of filters; I don't know if this rule works as well for the entire CCC universe. Any rule-based strategy has limitations, as it does not factor in other information about the firm and its prospects, but at the least investors should perform additional due diligence upon observing the stop-loss signal.
With the exception of McGrath RentCorp (NASDAQ:MGRC), all of the stocks [in purple] that were held by one or more of my DG model portfolios declined by at least 10% after the stop-loss date versus an average decline of 3% for the SPY. Selling these stocks helped to avoid those above average losses. However, I have previously not applied the stop-loss to the DG high-yield, low-payout portfolio, as I felt that the low-payout would help to shield these stocks from major declines. The data shows otherwise, as Alliance Resource LP (NASDAQ:ARLP), Intel (NASDAQ:INTC), Textainer Group (NYSE:TGH), and NTT DoCoMo (NYSE:DCM) are four of the worst performers in the DG-HYLP portfolio over the last 6 months, with an average loss of 18.7%. The portfolio is due for a rebalance in January, so I will not perform any exchanges at this time. However, effective in January, the stop-loss rule will be applied to all of the model portfolios. I will also start paying more attention to it for my personal portfolio, as I still own shares of three of these firms myself, though I was wise enough to sell some of my INTC shares at $27.
I plan to continue collecting data on stocks that exhibit the -20% stop-loss rule. If you happen to notice one, please feel free to email me and let me know. There are just too many for me to track, so I stick to the 80 or so in my model portfolios. David Fish contributes articles regarding dividend stocks that are overdue for an increase; many of the stocks in this article are on that list. If anyone has ideas on how to refine this stop-loss rule, feel free to offer your thoughts.
Disclosure: I am long ARLP, TGH, INTC. I wrote this article myself, and it expresses my own opinions. I am not receiving compensation for it (other than from Seeking Alpha). I have no business relationship with any company whose stock is mentioned in this article.