Actionable Items:
Highest Positive Spread: John Hancock Tax Advantaged Global Shareholders Yield Funds (NYSE:HTY)
Lowest Negative Spread and Focus Stock: New Germany Fund (NYSE:GF)
Last Week's Focus Stock: Cohen & Steers Quality Income Realty Funds (NYSE:RQI)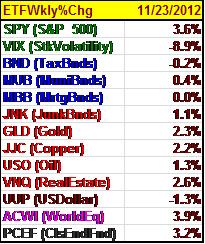 Week of 11/23/12: The equity index was an aggressive (3.6%); the bond prices were muted. The industrial commodities were almost half the equity index (1.5%). The US Dollar was down by -1.3%. The entire "index" (without the VIX) was up by 1.6%. The markets volume was 26% less this week that the average.
Spending Losses and Tax Cuts: What if the average bipartisan taxes losses and spending cuts are enforced. What comes next? Will there be an emotional propensity to send the equity markets higher?
What we failed to accomplished is to reduce the spending cuts and tax increases out of the "spending equations". If we're not careful to modify the recession cuts we will be likely to lead us into the next recession.
CEF Weekly Review: On average, the 13 closed-end fund (NYSEMKT:CEF) types registered a share price increase of +2.7% for the week ending 11/23/12. The high-low spread (average percentage price change difference between the highest and lowest fund types) registered this week was +2.0% versus last week's high of +4.8%. On an aggregate unweighted basis, the weekly average price change for the approximately 525 CEFs in the GrowthIncome database was +2.4%.
The PowerShares CEF Income Composite (NYSEARCA:PCEF), an ETF that invests in taxable fixed-income CEFs, advanced +3.2% for the week. PCEF is now up 7.2% yield-to-date on price appreciation. Currently, PCEF's trailing twelve months' yield is 8.0% (YTD monthly total return of 15.2%).
CEF Weekly Fund Type Performance: The leaders in the CEF index were PrefStkFnds (3.5%), SpecEqFnds (3.5%), GenEqFnds (3.4%) and WrldEqFnds (3.3%). Most notable was InvGrdBndFnds at 3.2%. The least were SingleStMuniFnds (1.5%) and NatlMuniBndFnds (2.0%). Among the 13 highest priced PrcNAVSprd was 1.8% (price over NAV). USMrtgBndFnds was among the high of 2.6%; GenEqFnds was among the lowest of 0.3%.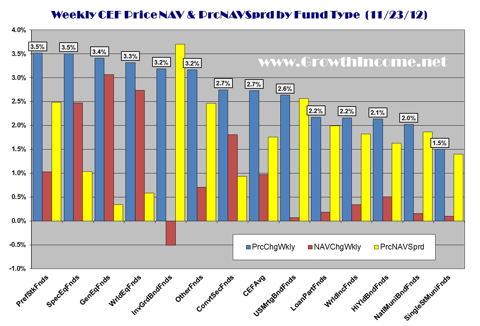 Highest Focus Stock for the Week: John Hancock Tax Advantaged Global Shareholders Yield Funds price increased 10.8% with a change of a positive 2.7% for the NAV. This would indicate a positive PrcNAVSprd of 8.1% (prices change relative to NAV change-negative at best). The fourth quarter distributions could be for December at a $0.32 per shares (2012). Distribution is at the 10.0% yield rates. The total distribution is 71% of its income rate. Premium is at 9.1% of NAV.
Lowest Spread and Focus Stock for the Week: New Germany Fund share price advanced 2.5% and its price advance was 6.0% from NAV; its PrcNAVSprd declined 3.5%. The final distribution is late in December 28, 2011 and the next distribution may be in late December 2012. The average UNII per share is $0.1864. The average discount is 10.3% discount to NAV. The dividend was 3.8% last year.
Last Week Focus Stock: Last week we had Cohen & Steers Quality Income Realty Funds . The stock was up 7.5%.
Disclosure:
I am long RQI, PCEF, GF. I wrote this article myself, and it expresses my own opinions. I am not receiving compensation for it. I have no business relationship with any company whose stock is mentioned in this article.