My mom could not abide show-offs. As a boy, I imagined how great it would be to "leap tall buildings in a single bound" during the introduction of the Superman episode on our little black-and-white television. My mom contended that Clark Kent should be my role model. She favored substance over show, and she thought that the Superman alter ego was the epitome of a "mild-mannered" everyman who humbly disguised his exceptional powers with an old suit and rimmed glasses.
Superior Uniform Group (NASDAQ:SGC) is a mundane enough moniker to cause most analysts to turn the page in favor of a bio-something or leading-edge tech stock. In this case, first impressions are deceiving. It is true that this micro-cap uniform manufacturer completes in a mature industry, but this unassuming front does not hint at the special situation that could make this a portfolio superhero.
The stock has been beaten down 21% from its annual high of $13.50, mostly due to recent shrinking margins and decreasing earnings per share, creating an rebound opportunity with low relative risk.
images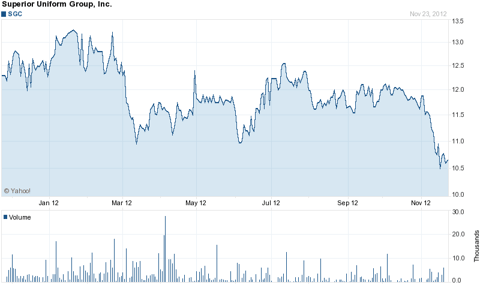 SUPERior Powers.
Every super-hero has at least one characteristic that can separate him or her from mere mortals. In the case of Superman, his physical strength was his best-known asset. Regardless of the impossible dilemma, fans could expect that somehow the Man of Steel would overpower the threat, and they could take to the bank that good would prevail over evil. In the case of Superior Uniform Group, the dividend is one thing that investors have been able to count on for the past 35 years. It currently stands at $.54 or 5% of the stock price of $10.65. The company has all the characteristics that we look for in income stocks: no debt, recurring revenue and excess cash generation. Although it is admirable for a small company to maintain a dividend that is invulnerable to a series of recessions, the payout is not what excites us about this resilient stock.
Clark Kent had the additional power of being able to project a burning laser beam by taking off his glasses, without actually exposing his Superman uniform. SGC has a side business outside of uniform sales, The Office Gurus, which is a staffing and outsourcing operation. Even though this division provides only 6% of the revenue, it has higher margins than the uniform business. In the past quarter it accounted for 30% of the net income. Revenue from The Office Gurus nearly tripled in 2011 over 2010 and is on pace to double in 2012, but that is only icing for the real reason we like SGC.
Superman always seemed to be in the right place at the right time to divert disasters. Unfortunately, public companies cannot rely on comic book luck to stay ahead of the pack. Superior Uniform Group has been recognized in its industry for the latest technology in design and fabrication of its products. SGC last year hired a consultant to help management determine how to further invest for future growth. Management knows how to run manufacturing and deal with labor productivity, but they obviously needed outside help to maximize growth in the 21st century. They decided to launch an initiative, everyBODY Media, which produces co-op advertising on uniforms as an additional source of revenue for clients. This initiative has yet to produce appreciable results, but license and set-up fees have been paid out of excess cash flow from operations. This could be big for SGC, but we are not considering any substantive impact from this initiative in our investment rationale.
Superior's Kryptonite
Superman was reduced to human frailty by exposure to Kryptonite. Superior Uniform Group has threats to its business that could affect its profitability. The biggest of these is foreign production of cheap uniforms. The recent election discussion about China currency control and protection of American products from those produced by cheap foreign labor is relevant to the U.S. uniform industry. SGC has partially offset some of this exposure by utilizing foreign labor in offshore phone banks in its outsourcing operation, as well as installing technology in its plants to maximize production over less sophisticated foreign factories. SGC also targets custom uniform production, which is less vulnerable to mass-production competition.
The other threat to Superior Uniform Group is variable raw material costs. Cotton is the main culprit, and the change in that market is the main reason we think that now is the right time to invest in SGC.
Timing
If we only looked at the big dividend, the reasonable PE, the price equal to book value, and stability of the company, we would join Fidelity, Vanguard, Newberger-Berman and others that hold more than half the outstanding shares in long-term value and income funds. However, we are looking for a portfolio superhero, and that means we expect an exceptional, near-term boost in share price. Timing is the key.
The main reason why SGC margins have been shrinking and income has been restrained in 2012 is the price of cotton. The ten-year chart indicates the extraordinary spike in cotton that has held SGC back.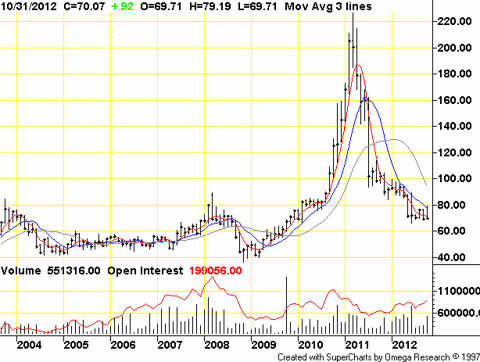 In 2011 the price of cotton hit a 140-year high at more than $2.20 per pound due to a severe shortage. Superior Uniform Group has to purchase raw materials for its inventory months in advance, and the shortage of 2010/2011 placed SGC in the position of paying the high price so it could meet customer commitments in 2012. The 2012 income comparisons have fallen short of 2011 figures, which are based on much lower cost of good sold. Despite a great dividend, growth in the outsourcing business and general revenue growth, investors have been turned off by decreasing earnings per share.
The reasons that the timing is now right for SGC is fourfold. The most significant of these is that the latest reported quarter (third quarter 2012) is the final one to reflect the elevated cost of raw goods from the 2011 cotton bubble. Cotton is back to $.72 per pound, which is in line with historic prices, and cost of goods will be lower in subsequent reports. The upcoming EPS comparisons with the 2011 fourth quarter should indicate a drastic "turnaround" compared to the other three 2012 quarters. This should attract traders to this special situation. It is expected that each of the 2013 quarters will indicate improvements and full year EPS could reasonably be 50% better than 2012. This should attract longer-term investors.
The second reason the timing is right for this stock is that management mentioned in the last report that the outsourcing revenue was flat, but the fourth quarter will be exceptional. Although this is public information, it was overshadowed by the disappointing earnings, and it can add some energy to the Superior story once it becomes noticed.
Third, since much of the stock is in the hands of insiders, institutions and mutual funds, the float is relatively tight. Sudden demand could create a powerful upside move. Following the recent sudden market drop, this creates a bungee effect.
Finally, the reelection of President Obama has increased the likelihood of higher taxes on dividend income. This is the impetus for the recent sell-off in stocks known for big dividends. This is obviously overdone considering that the alternative income sources will not provide the combination of safety and 5% yield that Superior Uniform Group offers.
If the new everyBODY Media initiative takes off, Superior has another growth driver. However, the amortization of the start-up costs will continue to have a non-cash reduction in reported income that will probably exceed the 2012 contribution of this division.
Conclusion
Clark Kent got little respect until he turned into Superman. Clark was not a loser: after all, he had a job, worked hard and blended in as a productive citizen. Superior Uniform Group is not bad if it does nothing more than keep generating cash and paying a good dividend for another 35 years. It is a well-run operation, and its stock is hardly over-priced according to traditional value metrics. However, the combination of better raw material pricing, continued growth in some divisions and easy comparisons to 2012 creates an opportunity to catch a jump in the stock price.
Much of our rationale for a stock price rebound is that the fourth quarter report will kick off the string of strong earnings comparisons. It is possible that the good quarter may be overshadowed by the negative year-over-year report that will be included in the same release. In that case, the first quarter of 2013 should also be a stand out report capable of moving the stock price. We normally do not try to time the bottoms, but we do think that there is good value in SGC at its current price and that reduces the risk. The hefty dividend provides support for the stock price if the general market turns lower or fails to immediately take notice of this special situation. We prefer to take that risk than the risk of chasing the stock later, given the tight float.
Investing in micro-caps is not for the weak of heart. Occasionally, they go long periods of time as "dead money", and then the stock price embarks on a sudden roller-coaster ride. SGC is relatively thinly traded, and traders should be careful to time their investments and include limits to avoid buying the spikes. We expect the meat of this move to be in the next six months, but the price should settle at an elevated level, giving time to gradually lighten up while collecting a nice income.
After all, superheroes sometimes are disguised as mundane characters, but it is better to be with them than without them...just ask Lois Lane.
Disclosure: I have no positions in any stocks mentioned, but may initiate a long position in SGC over the next 72 hours. I wrote this article myself, and it expresses my own opinions. I am not receiving compensation for it (other than from Seeking Alpha). I have no business relationship with any company whose stock is mentioned in this article.