While the Bullish Percent Indicators for most of the major indexes moved up slightly this past week, only the NASDAQ 100 gained sufficient strength to turn the ball over to the offensive team. The Dow Jones Industrial Average (DJIA) actually lost ground, moving from a percentage of 53.33 down to 50. Following the same path, the Dow Jones Transportation Average (DJTA) also moved lower, losing another five percentage points. The broad NYSE moved up slightly from 58.58% to 59.07%. The following table provides some history of these broad indexes.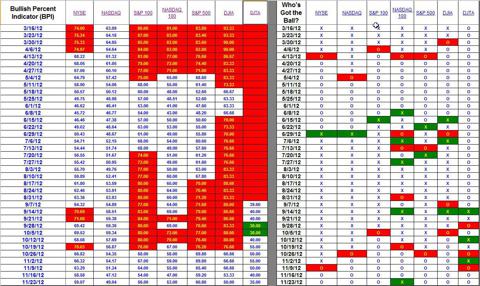 Sectors of the market also showed mixed results with most gaining a little ground. Discretionary, Materials, and Technology moved from a defensive to an offensive posture, a non-trivial change. Sectors that dropped in percentage were Energy, Health, and Telecommunications. A word of caution about Telecommunications as there may be an error in the data. I note that VOX, Vanguard's telecommunications ETF, actually turned bullish this week. This contradicts the 12.5% point drop reported for the BPI telecoms value. This difference merits watching over the next few weeks.
Last week it appeared as if a number of sectors and indexes were on their way to moving through the 30% threshold or into the buy zone, but this week the market reversed that trend.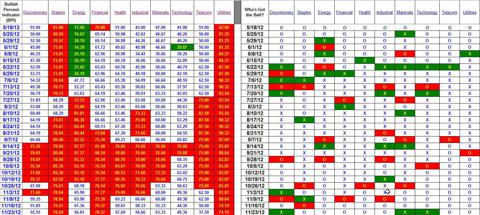 Disclosure: I have no positions in any stocks mentioned, and no plans to initiate any positions within the next 72 hours. I wrote this article myself, and it expresses my own opinions. I am not receiving compensation for it (other than from Seeking Alpha). I have no business relationship with any company whose stock is mentioned in this article.