In November 2008 the US Federal Reserve announced its first program of Quantitative Easing, "QE1". Following the announcement the S&P 500 index rose 37.5%. The US market also rallied strongly on the announcement of QE2 and Operation Twist. However in the wake of QE3 which was announced on 13 September, the S&P has fallen 3.2%.
Below is a chart of the S&P 500 index which shows the announcements of QE1, QE2, Operation Twist and the Fed's latest round of stimuli, QE3.
A 5 year chart of the S&P 500 index showing the Fed's stimulus programs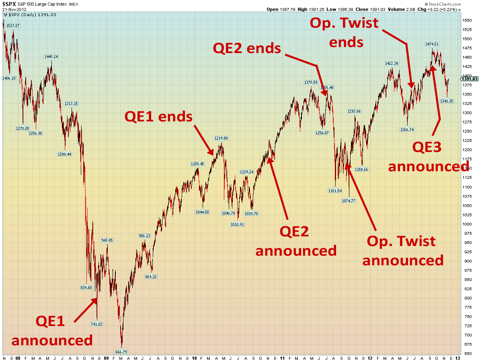 Chart courtesy of stockcharts.com
QE1: On 25 November 2008 the Fed announced that it would purchase up to $600 billion in mortgage-backed securities (MBS), and on 16 December the program was formally launched by the Federal Open Market Committee (FOMC).
On 18 March 2009 the FOMC announced that QE1 would be expanded by an additional $750 billion in purchases of agency MBS and $300 billion in Treasury securities.
Between 25 November 2008 and 31 March 2010 the S&P 500 rose by 37.5%.
QE2: On 3 November 2010 the Fed announced QE2 in which it would purchase $600 billion of longer dated treasuries.
Between 3 November 2010 and 30 June 2011 the S&P 500 rose by 10.6%.
Operation Twist: On 21 September 2011 the FOMC announced the implementation of Operation Twist, a plan to lengthen the maturity of its bond portfolio. On 20 June 2012 the program was extended by $267 billion to the end of 2012.
Between 21 September 2011 and 20 June 2012 the S&P 500 rose by 12.6%.
QE3: On 13 September 2012 the Fed announced QE3, an open-ended commitment to purchase $40 billion of agency mortgage-backed securities per month until the labor market improves "substantially".
No panacea
On the back of the Fed's first three stimulus programs the S&P 500 rose by an average of 20.2%. However since the announcement of QE3 the S&P 500 has fallen by 3.2% which has led many investors to look for an explanation as to why the stock market has responded so poorly.
One explanation for the post-QE3 selloff is simply that QE3 was so well telegraphed (thanks to the Fed's new policy of openness) that it was already priced into the market. Following the announcement investors immediately switched their focus to the outcome of the US presidential election and the impending fiscal cliff which is still a major concern.
It is also possible that we are in the early stages of a new bear market. Evidence for this can be seen in the so-called glamour stocks such as LinkedIn (NYSE:LNKD) and tech giant Apple (NASDAQ:AAPL), which led the market higher and have since been selling off hard.
However perhaps the most likely explanation is that investors are finally beginning to realize that Fed stimulus is no panacea for America's economic ills. The Fed is doing its utmost to counter the natural deflation that is coming from the deleveraging of the private sector. However, as those who have studied monetary history will know, central bank stimulus is subject to diminishing marginal returns. Therefore in order to remain effective each successive round of QE must be bigger than its predecessor, and we have seen the opposite.
QE1 was $1.75 trillion which equates to around $109 billion a month, QE2 was $600 billion which equates to around $75 billion a month, Operation Twist does not alter the size of the Fed's balance sheet, and QE3 is just $40 billion a month.
The bottom line
The lackluster performance of the US stock market since mid-September may simply be a result of investor anxiety over the fiscal cliff. However it could also be a sign that the slowdown in US economic growth is the start of another period of deflation and possible recession.
The Fed's dual mandate of maximum employment and stable prices means that any serious threat of deflation is likely to be countered with even more aggressive monetary easing. Especially since sustained deflation would make the US debt harder to service.
In this environment investor caution is undoubtedly warranted, however there are areas that remain attractive. The energy sector has some interesting opportunities, in particular US shale gas, which has a very bright future. Even some of the big names in the conventional oil space look attractive, many of which have low valuations and pay decent dividends.
For savvy investors with a long-term outlook the global shipping industry also offers some interesting opportunities since it has been depressed for a number of years and is likely nearing a significant bottom.
Over the next 12-18 months I also expect any concerns of deflation to have been replaced with those of inflation. Therefore precious metals warrant serious consideration by investors, as do precious metals producers such as Yamana Gold (AUY) which looks to have excellent prospects.
Disclosure: I am long AUY. I wrote this article myself, and it expresses my own opinions. I am not receiving compensation for it. I have no business relationship with any company whose stock is mentioned in this article.