Investors had quite a bit to be thankful for during the holiday week. After rallying more than 1.3% on light volume Friday, the Dow closed above 13,000 for the first time since before the election. Thanksgiving week was the best week for stocks in 5 months, proving beyond a shadow of a doubt that dead cats do indeed bounce.
Popular opinion has it that the rally can be largely attributed to optimism about the prospects for a bipartisan fiscal cliff resolution combined with market enthusiasm surrounding the busiest shopping day of the year. One might also plausibly attribute the gains to a short squeeze, as the most shorted names in the Russell 3000 outperformed the rest of the index by a full 200bps on the week.
Whatever its cause, a rally is a rally and gains are gains and investors who hung around after the election only to watch their portfolios tank in dramatic fashion should consider themselves lucky to have been presented with an relatively attractive exit point. In other words, market participants may want to take this opportunity to take some money off the table and make a few bearish bets via short positions or long put options because make no mistake, the outlook going forward is bleak.
Take last week's brightest star, the tech sector, for instance. Tech stocks outperformed the broad market by .5% during the week as the Nasdaq gained 4%. As FactSet's John Butters notes however, the prospects for the tech sector in the fourth quarter and beyond are quite grim according to constituent companies' own projections:
Of the 30 tech companies to give guidance, 27, or 90%, have lowered their outlook. That's well above the 56% of tech companies that typically lower their guidance.
On the whole, Butters notes that analysts' expectations for fourth quarter earnings growth have fallen from 10% at the beginning of 2012 to just over 4% currently.
The bleak outlook comes on the back of a third quarter earnings season which saw a disconcerting amount of firms report lower than expected revenue. Companies' top lines were hurt by weak capital spending as the uncertain fiscal policy landscape tempered business investment. The following graphic demonstrates just how bad the third quarter was in terms of top line misses: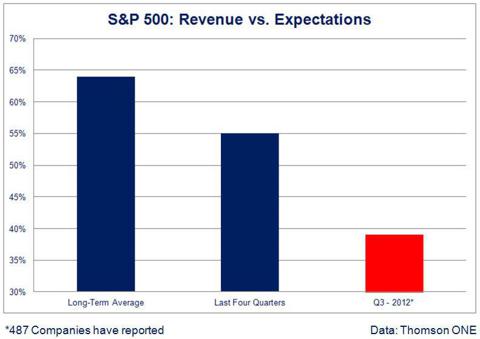 Source: Thompson ONE
As you can see, just 37% of the S&P 500 beat revenue expectations compared to the long-term average of 64%. As for the culprit, here is U.S domestic capital spending dating back nearly 70 years: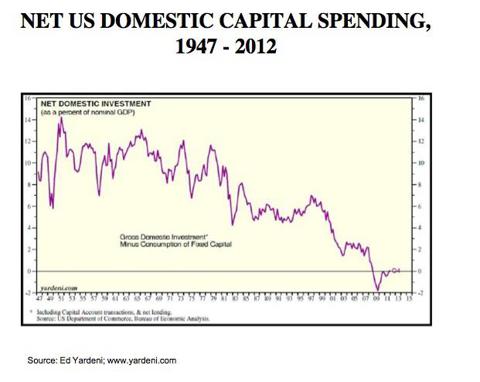 Source: Department of Commerce, Bureau of Economic Analysis, Ed Yardeni via Marc Faber
Meanwhile, the American consumer continues to fall further behind as evidenced by the fact that as of the beginning of 2011, more U.S. households were receiving some form of government assistance than at any other time in at least the last 28 years: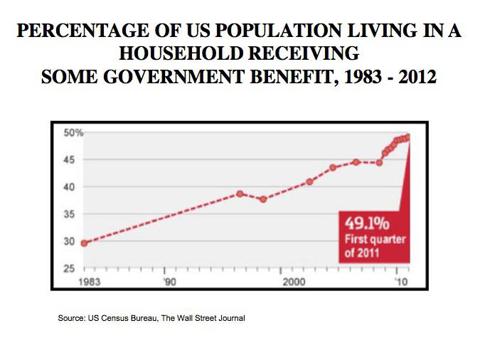 Source: U.S. Census Bureau, WSJ, via Marc Faber
One might expect that given 1) the uncertain fiscal policy environment in the U.S., 2) the capital spending drought, 3) the eurozone crisis, and 4) the anemic pace of growth in real disposable personal income since 2008, that U.S. equities would not have performed as well as they have over the past several years. The answer to this quandary is simple: Central bank balance sheet expansion has muted volatility and papered over investor angst.
However, it would appear -- given the performance of the market since QE3 -- that investors are growing increasingly skeptical of the Fed's ability to buoy stock prices and support the economy. In fact, it looks as though the responses of American consumers and businesses to economic data may be becoming more pronounced. Consider for instance, UBS' so-called 'blase barometer' derived by
...tak[ing] the three year standard deviation of a sentiment index, and...compar[ing] it to the three year standard deviation of a pertinent economic variable. For example [to]...compare the volatility of U.S. consumer sentiment with the volatility of real consumer spending growth...[one can] use consumer spending growth to match the dynamic nature of the sentiment index.
Here are the results for three key U.S. indices: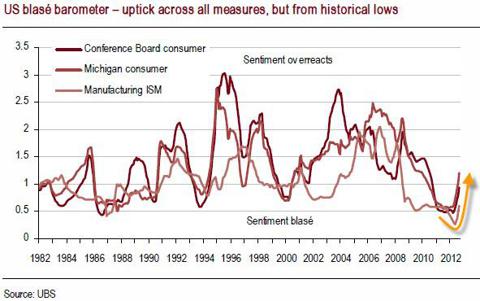 Source: UBS via ZeroHedge
You can see from the graphic that reactions to economic data are beginning to spike after settling comfortably at historic lows surrounding central bank money printing. Consider also the following chart which shows the average holding period for U.S. stocks over the past 86 years: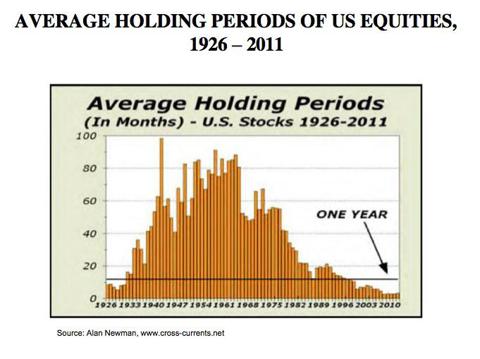 Source: Alan Newman via Marc Faber
Clearly, holding periods are at historic lows.
Taken together, all of this suggests that 1) revenues and corporate earnings are likely be weak going forward due to subdued capital spending and 2) volatility could pick up substantially surrounding the fiscal cliff debate and the ongoing European drama as reactions to economic data points are becoming more pronounced and holding periods for equities remain at historic lows. Investors should stay short U.S. equities (NYSEARCA:SPY) (NASDAQ:QQQ) and long volatility (VIX).
Disclosure: I have no positions in any stocks mentioned, and no plans to initiate any positions within the next 72 hours. I wrote this article myself, and it expresses my own opinions. I am not receiving compensation for it (other than from Seeking Alpha). I have no business relationship with any company whose stock is mentioned in this article.