Stocks, indexes and ETFs that offer options give investors a variety of alternatives to trade, manage and protect their investments. Every day we see new securities offer options, potentially enhancing the opportunities for generating premium or insuring investments. Many of these new listings are relatively unknown indexes and ETFs that have lower liquidity, or lower price stocks that recently were listed across the exchanges. At times we see stocks offer options shortly after an IPO, but we also see stocks that have been listed on the exchanges for years decide to offer options.
Here is a list of securities that now have options listed as of this week:
Delek Logistics L.P. (NYSE:DKL) Stock Price @ $21.88
Delek Logistics debuted on the exchanges on November 2nd, 2012, with an 8 million share IPO priced at $21.00 per share. DKL popped about 11% after its listing but has fluctuated in price since.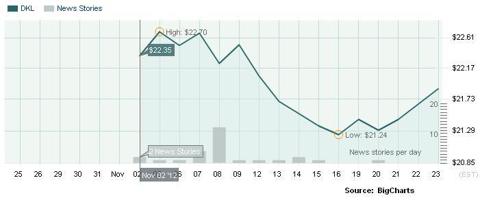 Based out of Brentwood, TN, Delek Logistics is listed in the Basic Materials sector and the Independent Oil & Gas industry. Its operations include gathering, storing and transporting crude oil in the southeastern United States and west Texas regions.
DKL options were listed on November 21st, 2012. Current option liquidity (as of Friday, November 23rd) is low, showing only an open interest of 10 contracts for the MAY 20 strike put and a volume of 50 contracts on the JAN 20 strike put option. Although DKL showed an initial rise after the IPO and has recovered from the recent decline, one should consider waiting to see a longer term uptrend before researching options positions on DKL. If you have purchased shares of DKL, you may want to evaluate a JAN or farther out collar position if a positive premium can be generated. The premium generated will reduce the cost basis of the security with the added benefit of a guaranteed exit price if DKL has a dramatic pullback in price.
Hi-Crush Partners L.P. (NYSE:HCLP) Stock Price @ $15.51
Hi-Crush Partners LP has been listed on the exchanges since August 15th, 2012. HCLP is also in the Basic Materials sector but is listed in the Industrial Metals and Minerals industry. After showing a good growth period after the initial IPO, HCLP had a -20% drop due to disappointing earnings on November 13th, 2012.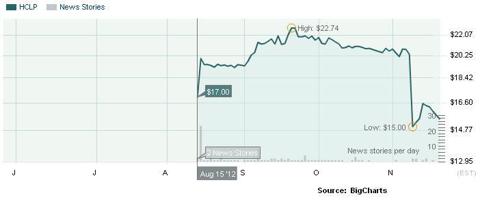 Options for HCLP became available on Friday, November 23rd, 2012, which was a shortened trading day due to the Thanksgiving Holiday. There is currently no open interest of volume for HCLP options. This makes opening any new position difficult as the bid-ask spreads on the listed options are very wide and an investor may have difficulties getting filled on their orders. As liquidity picks up on the options, HCLP shareholders may have opportunities to sell covered calls against their shares to help reduce the cost basis or use a stock repair strategy to help them get back to break-even after the massive decline in value from the recent earnings report.
Just Energy Group, Inc. (NYSE:JE) Stock Price @ $8.95
Just Energy Group, Inc. has been trading on the exchanges for a number of years. As with HCLP, options were made available for JE on Friday, November 23rd, 2012. Just Energy Group, Inc. offers natural gas and electricity services to residential and commercial customers in Canada and the United States. The company is based in Mississauga, Canada and was previously known as Just Energy Income Fund.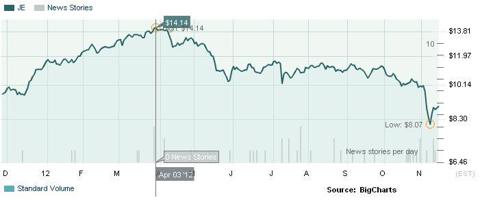 JE is currently down -35% from its 52 week high of $14.14 per share but seems to be recovering from the recent low of $8.07. As with HCLP, the newly listed options have no liquidity as they were just released. But, just as with HCLP, as option volume and open interest pick up, current shareholders of JE may see opportunities to use a stock repair strategy, lower their cost basis by selling covered calls and protected covered calls or protect their current shares from further losses using put options. Analysis on potential repairs or stock insurance will be difficult until options liquidity increases.
Southcross Energy Partners L.P. (NYSE:SXE) Stock Price @ $23.05
Lastly we have Southcross Energy Partners L.P . Southcross' IPO came out the same day as DKL (November 2nd, 2012) and both stocks showed a similar growth in their debut, as well as a pullback shortly after. SXE has recovered since, hitting a recent low of around $21.00 per share and is only about $0.50 per share shy of the recent high of $23.59. Based out of Dallas Texas, SXE engages in the sale, transportation, gathering and processing of natural gas, mainly in Texas, Alabama and Mississippi.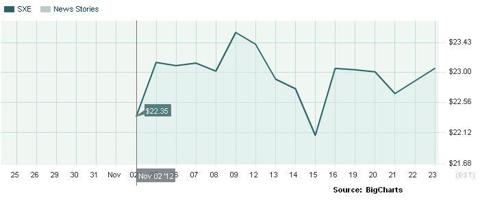 SXE options were made available on the exchanges Wednesday, November 21st 2012. The open interest and volume for SXE options are also low, but the listed bid-ask spreads are more reasonable than some of the other securities listed in this article. Considering the stock has recovered from the recent pullback, the opportunity for generating income through covered calls or protected covered calls as liquidity increases for SXE options may become, well, downright sexy.
Disclosure: I have no positions in any stocks mentioned, and no plans to initiate any positions within the next 72 hours. I wrote this article myself, and it expresses my own opinions. I am not receiving compensation for it (other than from Seeking Alpha). I have no business relationship with any company whose stock is mentioned in this article.