On Friday, shares of the Royal Bank of Scotland (NYSE:RBS) closed at their 52-week high while Lloyds Banking (NYSE:LYG) closed only a penny off the $2.97 high shares hit two weeks earlier.
The problem with such moves is that the situation in Europe has not gotten any better for these institutions. Instead, the mess the European Union is still left to fix has only gotten more complicated. On Friday, European leaders failed to reach an agreement on a new budget for 2014-2020. As a result, leaders have decided to postpone talks into early 2013 or dangerously close to the time such a budget will need to be implemented.
Now leaders made sure to comfort markets by announcing they weren't expecting to reach a deal right away.
"I have always said that it wouldn't be dramatic if today were only the first step," said German Chancellor Angela Merkel.
However, investing in any European bank without a clear cut financial plan for the future is just as risky as buying large blocks of shares in U.S. markets in late December with the fiscal cliff still looming large.
Now Europe has largely been spared in recent months as investors have instead chosen to focus on America's budget battle and questions surrounding China's slowing economy. However, once the budget battle in Washington is resolved, the major headlines will more than likely return back to Europe. With a growing confidence that more aid will soon be released to faltering Greece, investors may learn the EU is in just as much trouble as ever.
Even more disturbing is how some can argue that continued influx of aid has been what has propped up many European bank stocks in failing nations such as Ireland, Spain and Greece. For instance, the Bank of Ireland (NYSE:IRE), Banco Santander (NYSE:SAN) and the National Bank of Greece (NBG) are all up between 26% to 51% from their 52-week lows without much in the way of economic growth or certainty.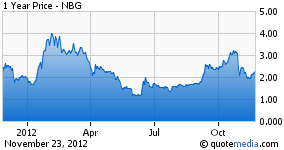 This leaves investors to question what will eventually happen to the countries and banks that are dragging down the EU or, perhaps more importantly, what will happen to the stronger economies like Germany should they continue to throw money at these faltering nations?
Whatever the answer, the fact that the majority of these banks are near highs or up substantially remains concerning. With Moody's cutting France's credit rating last week while also maintaining a negative outlook for Italian banks, European banks in general continue to trade with little in the way of positive news.
With European shares posting their best gains of 2012 last week, the stage is set for companies, particularly banks, to deliver. However, with a continued need for aid and a budget that remains up in the air for the time being, banks may instead be set to become the greatest casualties.
Disclosure: I have no positions in any stocks mentioned, and no plans to initiate any positions within the next 72 hours. I wrote this article myself, and it expresses my own opinions. I am not receiving compensation for it (other than from Seeking Alpha). I have no business relationship with any company whose stock is mentioned in this article.