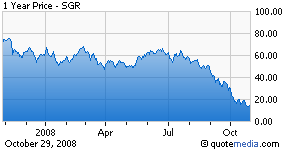 The Shaw Group (SGR) is expected to report Q4 earnings before market open Thursday, October 30, with a conference call scheduled for 9:00 am ET.
Guidance
Analysts are looking for EPS of 71c on revenue of $1.94B. The consensus range is 66c to 79c for EPS, and $1.86B to $2.11B for revenue, according to First Call. Shaw Group issued guidance back in February expecting FY08 EPS of $2.30 to $2.60 vs. consensus then of $2.47. The consensus estimate has since been lowered to $2.32. The company also expected FY08 revenue of approximately $7B vs. consensus of $7.23B. That revenue consensus has been lowered to $7.13B.
In August Westinghouse Electric Co. and Shaw Group announced that they had signed a letter of intent to form a joint venture to fabricate and assemble structural and equipment modules for AP1000 nuclear power plants.
Analyst Views
In July Shaw Group was upgraded to Buy from Neutral by SMH Capital. The firm upgraded shares following the company's strong Q3 results with a $70 target. However Citigroup downgrade the company to Sell from Hold, citing valuation. The firm also lowered the company's price target to $50 from $77.