Domino's Pizza (DPZ): Topping Action You Should Not Want
Those who fail to learn from past investment mistakes are destined to repeat them. Domino's went public at $14 per share in 2004 when the market was as hot as the pizzas they were delivering. EPS went from a pro-forma $0.81 in 2004 EPS to $1.44 in 2005. It grew again to $1.65 in 2006.
Price momentum and earnings growth traders both piled into the stock sending the shares towards $36. A one-time special dividend of $13.50 was paid on May 4, 2007. That gutted the balance sheet while allowing early private equity investors to cash out any remaining holdings during the run-up to the ex-dividend date.
At the 2007 top Domino's was trading for 21.6x earnings.
Book value was a negative $24.30 per share by year-end 2007. Profits dropped off to $1.03 per share. It was predictable that the shares would decline by the $13.50 amount of the one-time dividend. Instead, they were as low as $23.40 below their previous top by December 2007.
People were so worried about a potential bankruptcy in 2008 that the stock fell to $2.60. Those who had held from the IPO through 2008 had the worst of all worlds. They'd been forced to pay taxes on the large dividend received and were sitting on large unrealized losses.
The horrendous balance sheet remained but earnings started picking up after the recession. DPZ shares took off again. 2011 saw EPS of $1.69 just pennies above the number that was posted in 2006. The stock hit $35.30 or 20.9x earnings, also an almost identical valuation to what occurred in 2007.
Management once more declared a special dividend. This time, it was a more modest $3 per share (paid on April 2, 2012). Last April - June's broad market sell-off drove DPZ back down to $28.20. Since then, the shares have been on fire.
Domino's is back to a very overpriced valuation. That's especially true for an economically sensitive company that could easily disappoint shareholders as it did back in 2007.
DPZ averaged 13.5x earnings over the seven years from 2004 - 2011. A regression to that normalized multiple would take the shares back to under $27. That assumes Q4 is nicely positive so that DPZ hits their full year 2012 estimate of $1.97.
Analysts optimistically expect $2.27 next year. Applying a historically typical P/E to the 2013 projection would still see the shares at $30.65 more than 12-months from today.
Insiders, including CEO J. Patrick Doyle have been big sellers over an extended period. Those sales took place at prices well below the present quote. There's been almost zero insider buying over the past three years.
Standard and Poor's enigmatically calls fair value at $25.80 while actually carrying a BUY rating on the stock. I can't quite figure out what they are trying to tell people regarding Domino's prospects.
I'd rather take my cue from the people running the company. They have dumped millions of dollars of shares just since August.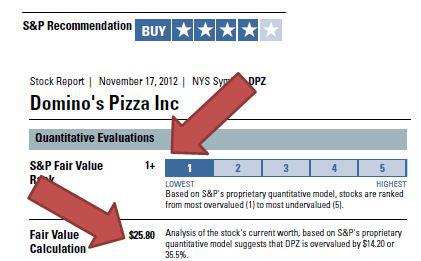 Owners of DPZ shares should be selling while the stock is still overheated. Aggressive traders might want to consider buying puts out to March or June of 2013.
Disclosure: I have no positions in any stocks mentioned, and no plans to initiate any positions within the next 72 hours. I wrote this article myself, and it expresses my own opinions. I am not receiving compensation for it (other than from Seeking Alpha). I have no business relationship with any company whose stock is mentioned in this article.