As the old Wall Street adage goes, "don't sell a dull market".
The S&P 500 came into the holiday shortened week in a short-term "very oversold" extreme. So the bounce this past week came as no surprise. It was the magnitude of the bounce that surprised many.
The S&P as seen through SPY climbed 3.7% in a little over 3 days.
But now, the bears are salivating as the potential odds move back to their side… at least over the short term.
As seen in the chart below, not only SPY, but all of the major market ETFs have pushed into a short-term overbought state. Moreover, several sectors have moved into a "very overbought" state. Couple the aforementioned extremes with strong overhead resistance and you can quickly see why the bears are excited. This is exactly what they wanted (check out my friend Tim Knight's post).
So, as you can guess I am quite bearish headed into the week. My bias my not last longer than a few days, but I like to pounce on the types of extremes we are currently witnessing in the market.
I like to sell premium, through the use of bear call spreads (vertical calls) when we see a push into an overbought state. By selling an out-of-the-money bear call spread, I allow myself a margin for error just in case my underlying of choice continues to move further into an extreme.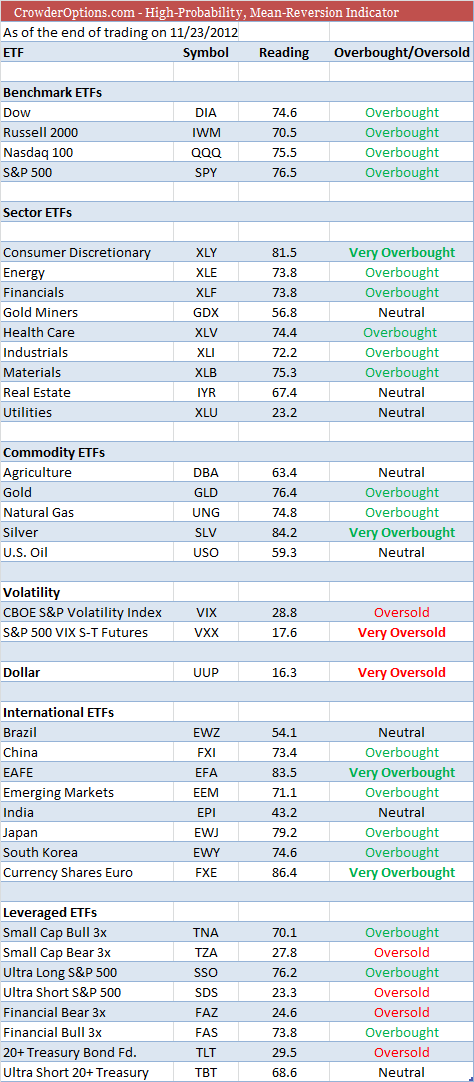 Disclosure: I am short SPY. I wrote this article myself, and it expresses my own opinions. I am not receiving compensation for it. I have no business relationship with any company whose stock is mentioned in this article.