After reporting earnings back on November 6th, Carrizo Oil & Gas, Inc (NASDAQ:CRZO) plunged over the next week. While the company beat earnings estimates, the market was clearly disappointed with some of the reduced production estimates even if it was due to previously announced joint ventures.
The company is an oil and natural gas exploration and production company focused on the shale plays: Eagle Ford, Niobrara, Marcellus, and now the Utica.
One has to wonder if Carrizo isn't running into some of the investor's frustrations as with Halcon Resources (NYSE:HK) and SandRidge Energy (NYSE:SD). The numerous joint ventures along with previous sales of Barnett Shale assets make the company difficult to value. With Wall Street focused specifically on quarterly production growth numbers, the constant shifting of assets leads to confusion.
Q3 2012 Highlights
The company reported the following highlights for Q3 2012:
Record Oil Production of 8,652 Boe/d, a 14% sequential increase over the second quarter of 2012 and a 257% increase over the third quarter of 2011
Natural Gas and NGL Production of 101,576 Mcfe/d
Total Production of 2,354 Mboe, or 25,587 Boe/d
Record Oil Revenue of $76.9 million, amounting to 80% of total revenue, a 12% sequential increase over the second quarter of 2012 and a 286% increase over the third quarter of 2011
Record Revenue of $96.2 million, or adjusted revenue of $105.9 million, including the impact of realized hedges, a 15% sequential increase over the second quarter of 2012
Net Loss of $0.9 million, $0.02 per diluted share, primarily attributable to a $24.7 million unrealized loss on derivatives, or Adjusted Net Income, (as defined below) of $17.8 million, $0.44 per diluted share
Record EBITDA, (as defined below) of $86.5 million, a 25% sequential increase over the second quarter of 2012 and a 108% increase over the third quarter of 2011
Analysts expected earnings of $0.39 so the reported earnings of $0.44 easily beat analyst numbers. Forward-looking estimates for 2013 remain intact at $3.24 providing for a very cheap forward PE of 6.5.
Guidance
The company provided the following updated guidance for the rest of 2012 and 2013 as follows:
Q4 oil production of 8,400 Boe/d.
Full year oil production of 7,584 to 7,734 with a 28-30% increase in 2013. If kept, the Huntington North Sea project would allow oil production to increase 80-85%.
Q4 natural gas production of 88 to 99 Mcfe/d.
Full year natural gas/NGLs production of 105 to 107 Mcfe/d with a 3% decline in 2013.
The market didn't like the slight decline in Q4 oil production forecasts over Q3 numbers.
Drilling Activities
Even with production divestitures, the company saw oil production grow 257% over last year. Drilling activities remain focused on the Eagle Ford with a smaller focus on the Niobrara and the Marcellus. In 2013, the Utica Shale should become an additional focus with the first test wells completed during Q1.
The below chart from the investor presentation highlights the production growth during 2012.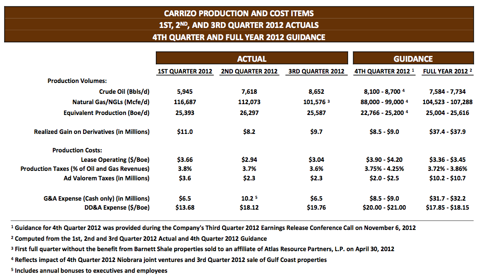 A major impact to these forecasts will be whether the North Sea assets are sold by month end. The company expects to net $100M after debt repayment if the assets are sold. More appealing would be keeping the assets and collecting $75M in cash flow for 2013 alone.
The Huntington development involves 4 production wells and the expectations of net production to the company of 4,500 Boe/d. With oil flows starting in Q1 and the market clearly favoring production growth over divestitures, the $100M doesn't appear enough to finalize the deal this late in the process.
Joint Ventures
The company recently announced three joint ventures to reduce cap ex by $30M quarterly. The following joint ventures were announced during Q3:
Sold 14.3% of 43,000 acres including 24 producing wells for $27.5M to Lanzhou Haimo Technologies Co. in the Niobrara.
Sold 30% of 60,000 acres including 24 producing wells for $41.25M cash and $41.25M in development carry to OIL India and Indian Oil Corp in the Niobrara.
Previously, the company has done deals with Avista Capital Partners in the Utica Shale, GAIL in Eagle Ford Shale, and Reliance Industries in the Marcellus Shale.
The article "SandRidge Energy: Does Tom Ward Need To Go?" highlighted how the lack of consistency with management decisions has led to extremely negative stock returns. Based on the long-term stock results of Carrizo, it evidently is falling victim to the same stockholder concerns. The company continues to grow earnings and cash flows, yet the stock has plunged the last few years similar to SandRidge. In contrary, the oil focused stocks such as Continental Resources (NYSE:CLR) and Kodiak Oil & Gas (NYSE:KOG) have surged.
ychart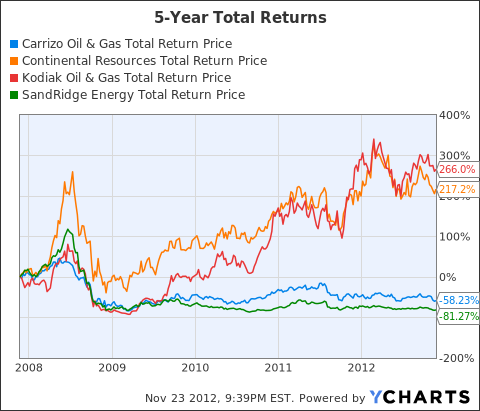 CRZO Total Return Price data by YCharts
Stock Price
The price action of Carrizo remains range bound now for over a year similar to SandRidge. The stock has been stuck between $20 and $32 during that time period. The recent plunged to just below $20 might signal a bottom. During that time period though, the 200ema continues to slump suggesting possible further weakness.
18-Month Chart - Carrizo Oil & Gas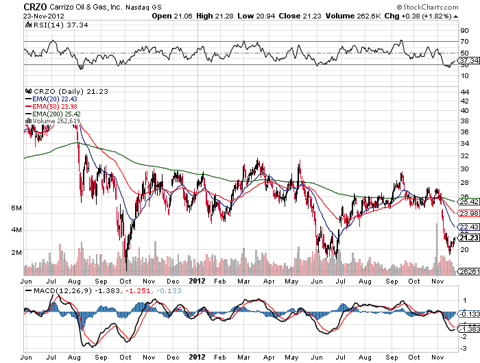 Valuation
The stock valuation remains very attractive with a forward PE of only 6.5. In addition, the company has a comparative valuation to Halcon, highlighted in the article Buying Alongside The Halcon Resources Insiders, that trades at only 4-5x EBITDA. At an EBITDA level likely to exceed $400M in 2013, the stock trades at only 4.5x those EBITDA levels.
The major differences in the stocks is that Halcon already has 80% of production in oil while Carrizo only gets 80% of revenue from oil. With 100K acres in the Marcellus, Carrizo remains the best play for investors favoring an increase in natural gas prices. Halcon is the best play if natural gas fails to gain ground from here.
Conclusion
While oil hit 80% of revenues in the quarter due to oil production growth and low natural gas prices, the company still obtains roughly 65% of production from natural gas. The recent increase in natural gas prices should help the company grow EBITDA numbers in 2013 beyond currently analyst estimates.
The question remains whether the market will become more comfortable with the constant deals that make valuing these stocks confusing. Should companies like Carrizo stop making deals in order to appease Wall Street? The recent stock prices suggest that eliminating deals would reward shareholders whether such actions actually create more value.
Disclosure: I am long CRZO. I wrote this article myself, and it expresses my own opinions. I am not receiving compensation for it (other than from Seeking Alpha). I have no business relationship with any company whose stock is mentioned in this article.
Additional disclosure: Please consult your financial advisor before making any investment decisions.