In a recent piece, I was particularly negative on AMD's (NASDAQ:AMD) prospects in the discrete graphics market. My argument was that contracting market share would lead to continued operating weakness which would in turn hurt the company's ability to invest in the business in the longer term. However, there is a bright spot that has the potential to shine fairly brightly should it not disappoint: AMD's next generation "Temash" APU.
What Is Temash?
Simply put, "Temash" is the codename for AMD's next generation low power X86-64 APU based on the next-generation low power "Jaguar" core. The following slide from the company's presentation at "Hot Chips" reveals a number of key details about the product: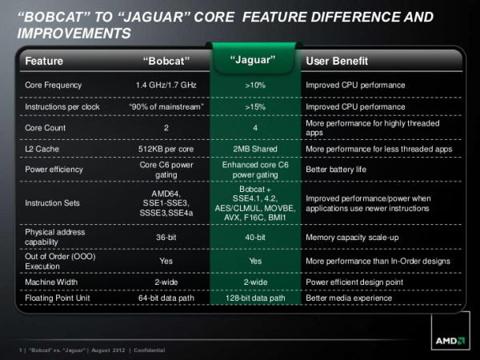 Basically, this new chip is a very serious improvement over its already successful "Bobcat" APU. It will run at higher clock speeds, do more work per clock, come packed with more cores, have an enhanced instruction set, and sport a wider floating point unit. Part of this is due to a new design, and part of it is due to a shrink from TSMC's (NYSE:TSM) 40nm process to its 28nm process.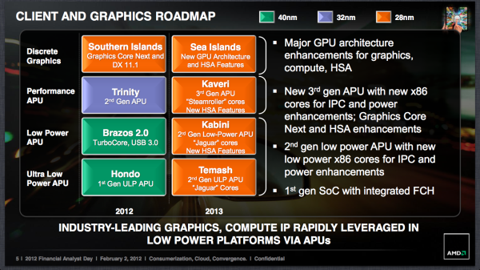 In terms of performance and performance-per-watt, the chip should be a significant improvement over the last gen "Hondo" tablet part, which has seen very few design wins due to the fact that it is power hungry and not a fully integrated SoC. "Temash" changes that by being a full SoC (meaning lower platform power).
The Market Opportunity
Simply put, this chip could be what AMD needs to try to revive itself. With a ground-up, resdesigned low-power X86 core, AMD has a real chance of threatening Intel (NASDAQ:INTC) and the various ARM (NASDAQ:ARMH) licensees such as Qualcomm (NASDAQ:QCOM) at Nvidia (NASDAQ:NVDA) at the low end of the market (tablets, netbooks, cheap notebooks). A power-efficient, low-power, cheap-to-make X86 SoC that combines AMD's graphics expertise and X86 license could work out well for the company, especially as the firm restructures itself.
This could be the kind of focused product that AMD needs to swing back to profitability.
The Problems
Well, the problem is that "Temash" will not be out until Q4 2013 most likely, especially as "Hondo" just launched in Q4 2012. At that time, Intel will be rolling out its next generation "Silvermont"-based "Bay Trail" platform. This will be on Intel's 22nm tri-gate process, giving it a significant performance-per-watt advantage over AMD's 28nm planar based processors. Intel's micro-architecture is also likely to be quite good as the firm has demonstrated prowess in dramatically improving power efficiency in its PC processor line.
And then we have the ARM system-on-chip folks. X86 tablets will likely see most of their traction in the Microsoft (NASDAQ:MSFT) Windows 8 tablet space (although Intel has done the work to get X86 onto Android), so the aforementioned ARM based vendors are likely to prove to be fierce competitors in the Google (NASDAQ:GOOG) Android tablet space, where X86 compatibility is not really a selling point.
Conclusion
AMD's low power processors have generally been quite good in the netbook/nettop space. While the current generation "Hondo" at 4.5W power consumption for the chip and an additional ~0.5W for the chipset are unsuitable to really compete with Intel's "Clover Trail", Nvidia's "Tegra 3", and Qualcomm's "Snapdragon S4", the next generation chip could be a game-changer.
Whether low-ASP (but not low margin - people seem to confuse this) chips for tablets are enough to sustain AMD's X86 business is still an open question, it is clear that AMD's at least trying. And that's a start.
Disclosure: I am long INTC, NVDA. I wrote this article myself, and it expresses my own opinions. I am not receiving compensation for it (other than from Seeking Alpha). I have no business relationship with any company whose stock is mentioned in this article.