The recent pullback has left investors bewildered to find safety in the market. The usual stocks normally immune to such a correction have to some extent been ineffective lately. Perhaps their attractive yields may no longer be their saving grace, since tax increases could be nerfing these once powerfully protective dividends. Even widely-held large caps and dividend titans, best known for their tenacity to outperform during pullbacks, have suffered. Such giants as General Electric (NYSE:GE), Mcdonald's (NYSE:MCD), Intel Corp (NASDAQ:INTC) and Procter & Gamble (NYSE:PG), haven't quite lived up to their reputation as safety stocks: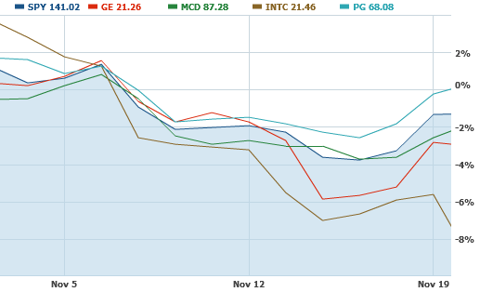 Relative to S&P 500 index, we can see the relative underperformance by these stocks which normally hold up better than the index as a whole. Considering the weakness these companies have shown despite their popular big dividends and lower beta; are there other stocks investors could consider to reduce losses on the next pullback? Take a look at Diageo (NYSE:DEO) and Solar Capital (NASDAQ:SLRC) and their performance during this same period: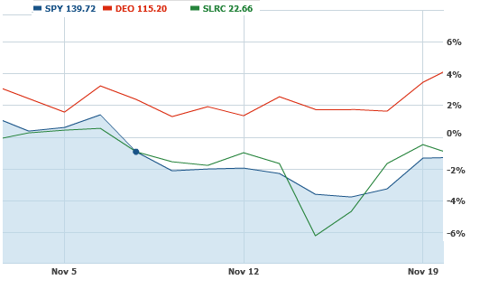 DIAGEO: The Bellwether of Liquor
Diageo, the worlds largest liquor maker by revenue, has a $75 B market cap and sports a 2.9% yield. 2013 projections of a 13% EPS growth rate, while boasting one of the most consistent EPS growth rates in the industry over the past several years, it seems like the story keeps getting better for DEO. DEO's resiliency comes from a globally diversified industry position, and portfolio full of fantastic brands including: Johnnie Walker Scotch whisky, Crown Royal Canadian whisky, J&B Scotch whisky, Buchanan's Scotch whisky, Windsor Premier Scotch whisky, Bushmills Irish whiskey, Smirnoff vodka, Ketel One vodka, Cîroc vodka, Captain Morgan, Baileys Irish Cream liqueur, Tanqueray gin, Guinness stout, Old Parr Scotch whisky, Bell's Scotch whisky, The Classic Malts Scotch whiskies, Seagram's 7 Crown whiskey, Red Stripe, Blossom Hill, Sterling Vineyards, Jose Cuervo tequila.
DEO is organized and divided into 4 geographic regions. In 2011, DEO's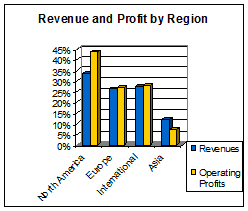 global footprint was very well diversified. But just a couple weeks ago, Diageo purchased a 53.4% stake in India's largest spirits company, United Spirits Ltd., for $2.05 B. This purchase will diversify the company even further, and more importantly, will gain exposure into the fast growing alcohol market in India.
In addition, DEO and United Spirits will form a joint venture to own the traditional sorghum beer business of South Africa-based United National Breweries. The 50-50 joint venture will target emerging markets in Africa and Asia (excluding India). Diageo is expected to invest approximately $36 M into the project. This will diversify DEO even further from its 2011 status, and will harness these growing regions of the world.
The new excitement surrounding these partnerships in India, Africa, and Asia has perhaps kept the stock from falling recently, but I feel the total condition of the company as a whole, including its consistency in the past and a plethora of formidable brands, has turned this company into a bellwether of sorts investors can lean on during these turbulent times in the market.
SOLAR CAPITAL: A Diamond in the Rough
Admittedly, it is difficult to compare a company with a market cap of around $1 B to one as large as McDonalds or General Electric, especially considering SLRC's absence of brand recognition, dividend history, and other hidden values these behemoths contain. However, SLRC performed better than these two dividend titans during the last pullback, and that means a lot in my book. For those unfamiliar with this rising star, SLRC lends money to small businesses, the type that are too thinly traded or too risky on an individual basis for the average investor. Most of SLRC's loans are outside of Europe, which bodes well considering economic conditions.
SLRC's conference call on November 2, management delivered strong results, with NAV growing to $22.70/share:
As of September 30, we had investments in 41 portfolio companies and 23 industries, totaling $1.17 billion at fair value. At September 30, 2011, we had investments in 42 portfolio companies and 24 industries, totaling $1.05 billion. The 12% increase in portfolio value for the 9 months ended September 30, 2012, reflects both continued net growth of our portfolio, as well as the net increase in its fair value.
What companies is SLRC invested in? Management has priorities of choosing recession resilient companies that can "generate cash flow and reduce leverage throughout an economic cycle." A few of SLRC's holdings include:
DS Waters: A U.S. operated company that offers bottled water, brewed coffee and tea beverages and related equipment, break room supplies, and equipment and services for water filtration systems.
DirectBuy: The largest domestic franchiser of membership-based buying centers, which allows customers to purchase products direct from manufacturers.
Granite Global: The company is the leading provider of outsourced insurance-related services such as claims adjusting for property, casualty and auto lines to Canadian-based insurance companies.
Allegis Technologies: A leading provider of software services and card-based technologies for health care benefits.
T&D Solutions Holdings: A leading maintenance provider for electric transmission and distribution lines, primarily in the Gulf Coast and South Mid-Atlantic regions of the U.S.
Asurion: A leading provider of a cell phone warranty services.
Due to management's significant 6% ownership of SLRC, interest of insiders are well aligned with shareholders, which should keep priorities of decision makers well tuned. Also, this long term oriented ownership adds to SLRC's reduced volatility during turbulent times.
SLRC boasts a strong yield of 10.55%, which serves as quite a trampoline during pullbacks, since management has proved time and time again of its resiliency and safety, even during difficult economic times.
Summary:
DEO and SLRC held up extremely well during the recent pullback brought on by fiscal cliff and tax change worries following the US election results. I was surprised to see DEO and SLRC outperform even the safest of companies, ones that are often viewed as the best suited to weather a stormy market. Bellwethers like Procter & Gamble, General Electric, McDonald's, and Intel dove harder than the S&P 500, a noteworthy event, considering their reputations as low beta stocks, with solid business models, dividends, and huge market caps.
With regard to a solid performance during the recent pullback, DEO and SLRC can be safely owned by risk averse investors. DEO has proven itself as a leading global liquor company and a stable business, regardless of difficult economic conditions. In addition, SLRC, with its diverse portfolio, strong insider ownership, and big yield, is an underrated stock with lower beta, and has performed during turbulent times. Both of these companies seem to provide attractive alternatives to the more popular safety stocks, PG, GE, MCD, and INTC.
Disclosure: I am long GE, INTC. I wrote this article myself, and it expresses my own opinions. I am not receiving compensation for it (other than from Seeking Alpha). I have no business relationship with any company whose stock is mentioned in this article.