The last time I wrote an AAPL article on Seeking Alpha, I was expecting a potential break out on AAPL, and my chart had targets exceeding 680 back in June when AAPL was around the 570 region. In fact, in August, I wrote another article on AAPL, in which I identified what I expected to be the top in the stock as well as a bottoming target, as it began what I expected would be a larger correction:
We are expecting a near-term top on AAPL, with potential targets at the 693, 712 and 722 regions. After AAPL hits this upper target range, I think we will see a sizable correction, which will likely take AAPL back into the 500 region. So, if you are an AAPL trader, you may want to ring the cash register over the next week or so, and prepare to reload at much lower levels."
So, now my email box is flooded with questions about where we are going now. So, let's look at some of the facts. Since I am writing within the Seeking Alpha forum, I will first address the fundamental perspective on AAPL, and then discuss the technical aspects, which I personally believe are much more important in being able to invest and trade any stock or index.
For those that like to argue with me about that perspective, remember that it was my Elliott Wave analysis that called for that top in AAPL, as well as the bottoming target BEFORE it even topped. And, don't forget how many people have attempted to call a top in this stock and how many others have been severely burned shorting it. So, before you dismiss the technical aspect of my article, please open your minds to the technical analysis, as it is the only analysis that I have seen provided that not only called the top in AAPL, but also the lower target region.
Fundamentals
Clearly, one of the big things on the horizon for AAPL is its expected release of AAPL TV in the near future. Additionally, it is looking at rolling out a new radio service, and is planning to expand its already dominant position with the digital music market. There is also an expectation that, at the same time that the new radio service is going to be unveiled, AAPL will release an iPad mini with a Retina display.
AAPL has also solved its iPhone 5 supply problems just in time for Christmas sales. Piper Jaffray's Gene Munster reports that his nightly checks of supplies at 100 Apple Stores showed significant improvement in supplies over the past 10 days.
AT&T and Verizon have shown dramatic improvements in availability, while Sprint has maintained consistent availability. Last night, our checks indicated that Sprint phones were in stock at 92% of Apple Stores, AT&T was available at 82% of stores and Verizon at 72% of stores. Additionally, we note that wait times for online phone orders dropped to two weeks as of today.

"We believe," he concludes, "that within the next two weeks that customers will be able to purchase iPhone 5s at Apple Stores same day."

Solving the iPhone 5 supply problem before the holidays was critical for Apple. Last year, iPhones accounted for 53 cents of every dollar Apple earned in its December quarter.
Additionally, as cited in a recent Forbes article by Connie Guglielmo, AAPL getting the go-ahead to sell iPhones through China Mobile (NYSE:CHL) will be a huge catalyst for the next rally in the stock.
A deal with China Mobile would expand Apple's reach there just as demand for smartphones is starting to get serious. China is expected to be the world's top smartphone market by the end of the year, surpassing the U.S. Only one out of ten Chinese who own a mobile have a smartphone. In the U.S. that proportion is already half and half. China has become Apple's second-largest market after the U.S., thanks to insatiable demand from a growing and brand-conscious middle class. Sales in China jumped 78% to $23.8 billion and accounted for some 15% of Apple's revenue in the fiscal year ended in September. That's up from $13 billion in 2011 and a mere $3 billion the year before.
In fact, according to the Forbes article, many analysts are looking at this as the catalyst that takes AAPL to the big $1,000 level. Investors polled by Morgan Stanley have said that this is the number one catalyst to take the stock to $1,000. Amit Daryanani, an analyst at RBC Captial Markets, says AAPL could win over 13% of China Mobile's 3G customers, which should result in sales of 10-16 million iPhones in the first year alone.
The demand for AAPL is also exceptionally robust in China. The AAPL stores there saw riots after the iPhone 4S went on sale this past January. And only hours after the iPhone 5 debuted in the US in September, it was already being smuggled into China for their black market sales.
Even without China Mobile, there are some that feel that iPhone sales will be up around 70-80% quarter over quarter. Additionally, iPhone sales in 2013 may hit $225 million versus $110-$120 million this year. This could lead to revenue increases of 30-50% next year.
Price Movements Based Upon Technicals
In my August article on AAPL, I said that "I think we will see a sizable correction, which will likely take AAPL back into the 500 region." So far, AAPL has bottomed at 505, which clearly meets our target for the expected downside. The question everyone has been asking me is if it has created a final bottomed.
While I am not certain just yet if it has bottomed, the 500 region was clearly an excellent buying point, which is where many in our Trading Room on Elliottwavetrader.net bought positions. But the question of an ultimate bottom is yet to be decided definitively.
When we hit that bottom, I wrote a follow up article in which I stated that I would really like to see AAPL move up to the 580s before we see another drop in the stock. Ideally, the 589/592 level should be strong resistance, which I do not see us breaking though just yet. This is the region of the 1.00 extension to the downside, which is often the target of a 4th wave bounce. If AAPL does reach that level, then we may see another drop that can take us as low as the 500 region again to create a double bottom. But that would be a huge buying opportunity for AAPL, with a stop just below 473.
The reason I noted this region as a high probability target for a bottom was that it represented the 1.618 extension for the c-wave of the 4th wave relative to the initial a-wave decline. Furthermore, it was in the region of the 4th wave of one lesser degree, which made it a region of strong confluence for the conclusion for this correction.
At this point in time, I still think it is possible that this bounce is only a 4th wave bounce, with one more drop towards the 515 region still possible before the larger rally takes hold.
But once AAPL does break through the 589/592 region after the next larger pullback, we will likely be on our way to new all-time highs in AAPL stock. Once the initial phase of the rally begins, I will be able to identify relatively accurate targets based upon my Elliott Wave analysis and Fibonacci extension calculations. So stay tuned.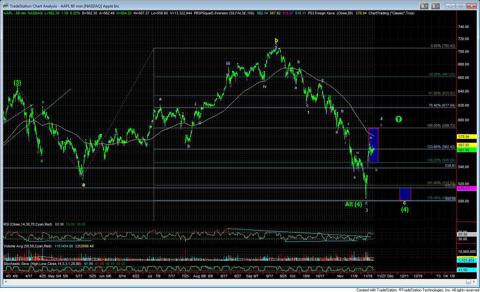 Disclosure: I am long AAPL. I wrote this article myself, and it expresses my own opinions. I am not receiving compensation for it (other than from Seeking Alpha). I have no business relationship with any company whose stock is mentioned in this article.