With a market cap of only $708mm, Inland Real Estate (NYSE:IRC) is a rather small retail REIT, but it operates with the power of a much bigger company. Through impressive JV usage and sub-market targeting, it is able to claim a dominant position in the major metropolitan retail areas of Illinois and Minnesota. Throughout our coverage of this little-known company, we will see how it throws its weight to gain a competitive advantage.
IRC just went through a very important period during which significant portions of leases expired and debt was reaching maturity. Let us take a look at how the situation was handled.
Lease Expiry and Renewal
In the third quarter alone, IRC signed 94 leases. 56 of these were renewals at an average rate of $15.10 per square foot which beats the expiring rents by 14%. 17 of the leases were to new tenants at the higher rate of $15.81/sq. foot. Beyond renewals, Inland needed to lease its recent acquisitions, expansions, and developments, and did so through 21 leases at an average rate of $16.72/sq. foot. This aggressive driving of rates on rollovers was not isolated to this quarter as it is the norm of the past 7.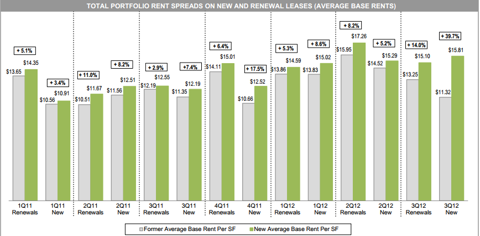 The retail space is experiencing over-supply and serious cap-rate compression; so how did IRC have the bargaining power to drive rates? It has acquired a truly dominant market share in Illinois and Minnesota metropolitan areas, and can use this for bargaining with companies wanting exposure to these markets.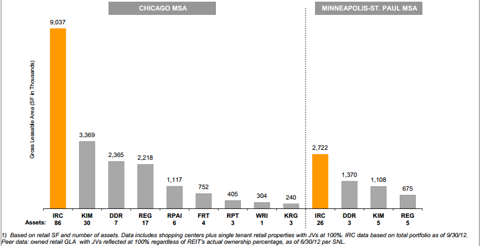 Achieving such a market share with the small size and limited access to capital of IRC seems impossible. This is where the clever use of the joint-ventures comes in. Inland Real Estate is the primary manager of the properties in its JVs, so it gets outsized managerial control of these metropolitan areas with only a small capital investment. This has two primary benefits:
1) IRC can almost monopolistically coordinate pricing amongst its properties in these submarkets to drive rental rates. It can also offer leases at multiple different locations as a packaged deal to retailers wanting exposure to the area
2) It collects management fees for this service which raises its functional yield on the properties.
Debt Maturity and liquidity
IRC had a mountain of debt coming due in 2014. This could be seen as an obstacle, but in today's low interest rate environment it was an opportunity. Much of the debt coming due consisted of the term loan and unsecured credit facility which make up Inland's liquidity. These were extended to 2017 and 2016, respectively and reworked to include an investment grade pricing grid for better base rates. The rate was further reduced with easing of debt to equity covenants based on the February preferred offering.
In addition to smoothly laddering the debt maturity schedule, IRC made great strides in reducing cost of debt. Thus far in 2012, it closed on over $244mm of new and refinanced secured loans with weighted average rate of 4.7% and weighted average term of 9.1 years. This brought their total weighted average cost of debt to 4.30% which is exceptionally low for such a small company. As a basis of comparison, Simon Properties Group, (NYSE:SPG) a large ($46.9B market cap) and strong credit rated retail REIT has a weighted average cost of debt of 5.15% (from their 3Q12). The fact that IRC can beat SPG which famously signed the $4B credit facility at LIBOR + 1% seems very impressive.
Much of Inland's extremely low rate can be attributed to its heavy use of variable rate debt. Watch for IRC to pop out ahead of the competition if quantitative easing continues.
The Investment Opportunity
Over this same period of operational and financial improvement, Inland Real Estate's market price plummeted. The negative price movement climaxed, on November 15th, when it inexplicably fell 25% in a matter of hours. It has partially rebounded, but much of the opportunity remains.
Management seems to agree that it is drastically underpriced, as there has been material insider buying. Daniel Goodwin, a director, Mark Zalatoris (CEO) and many others have actively been purchasing shares in the open market. Goodwin personally (through his trust) owns over 11.8mm shares.
After researching this company, I feel fairly confident in setting my price target for it at $9.50. 2012 AFFO is expected to come in at $0.84-$0.89/share so even at the low end, a price of $9.50 would represent a multiple of 11.3, as compared to the sector's average of 15.6. This target would also bring the share price equal to its Fact-Set estimated NAV of $9.50. While I believe my price target is fairly conservative, it still represents a capital gain of over 18%.
In waiting for this opportunity to come to fruition, investors can enjoy the monthly paid 7.4% dividend. Perhaps Realty Income (NYSE:O) which pays 4.7% should give its trademarked name "The Monthly Dividend Company" over to IRC.
Disclosure: I am long IRC. I wrote this article myself, and it expresses my own opinions. I am not receiving compensation for it (other than from Seeking Alpha). I have no business relationship with any company whose stock is mentioned in this article.