Titan Machinery Inc. (NASDAQ:TITN) was one of the few successful IPOs over the past 12 months.  After pricing at $8.50 on December 6th, the stock closed more than 10% above its offering price.  But the gain was small change considering the stock ran 306% in just over 6 months.
As commodities and agriculture came into focus, bio-fuel initiatives drove demand for corn and grains.  This in turn made it necessary (and profitable) for farmers to upgrade equipment in order to get the most yield out of their farmland.  Titan has met that need by supplying such equipment through its network of 34 retail stores.  With all this demand, the company has been able to grow its earnings from a meager 10 cents per share in 2005 to an expected 93 cents this year (fiscal year ends January 31).
Despite strong growth, healthy margins, and a solid balance sheet; the stock has been pummeled back to the point where it traded in the first days following the IPO.  A weakening global economy has led to fears of decreased demand for everything from fuel to food to financial services.  At this point, the stock is trading at just 11 times expected earnings for this year and 10 times next year's earnings.  The multiple hardly seems rational given the company's solid financial state and strong growth potential.
As with any value play, it is important to not simply buy a stock because it has a low price as the price can obviously always go lower.  In Titan's case, we will not see an earnings release until mid December so financial information will not serve as an immediate catalyst.  However, the fact that the stock has come down to test its IPO price may provide a very attractive spot to begin building a position.
Often a company's IPO price can be used as a "line in the sand" to judge the stock's health even 12 to 18 months after the offering.  Money managers who got in at the IPO would be likely to add to their positions near this level, and underwriters often support the stock above this level to save their reputation.  However if this level is broken and not regained over the next several trading sessions, all bets are off.  At this point, investors who bought on the IPO are now under water and are likely to give up and sell the position driving the price lower regardless of value.
My suggestion would be to begin building a position between $10 and $13 as this is an exceptional value for the stock.  One should use a disciplined stop somewhere below $8.50.  For whatever its worth, the stock could briefly break the $8.50 level and still be healthy, but if it stays below this level for more than a week, I would not hold the position.  With the potential to trade up into the mid 20s (assuming a rebound in the market), this could be a way to quickly capitalize on the opportunities a fearful market is giving us.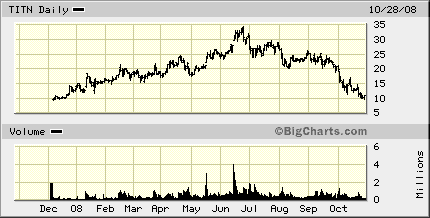 Disclosure: Author does not have a position in TITN.