PepsiCo, Inc. (PepsiCo), incorporated in 1919, is a global food and beverage company. The company makes, markets, sells and distributes a range of foods and beverages worldwide. Famous brands include Doritos, Gatorade, Lay's, Pepsi, Quaker, 7UP and Tropicana.
PepsiCo's businesses are well balanced between beverages and snacks with each accounting for about 50% of group revenues. The company is the world's No. 2 carbonated soft-drink maker and the world's No. 1 snacks maker with a 30% global market share.
source: Euromonitor
China and Asia are the buzz words
More than 30 years ago, PepsiCo (NYSE:PEP) was one of the first American companies to enter China. China is nowadays central to the long-term growth strategy of PepsiCo.
Building and extending its snacks portfolio is a key strategic ambition for PepsiCo. The company aims to grow its core salty snacks brands, at the same time extending into adjacent categories such as crackers, bread bites and baked snacks. This diversification forms part of the company's efforts to develop a more health-oriented offer in line with evolving consumer demand and a stricter regulatory environment.
PepsiCo's increasingly integrated approach to branding offers ways to develop synergies across its international operations and tap into the global rise in health-consciousness. However, the company needs to remain sensitive to localized differences in demand. PepsiCo is notably looking to develop healthy products targeting particular demand in emerging markets.
On November 13, 2012 PepsiCo announced the opening of a new food and beverage innovation center in Shanghai. The facility, which is the company's largest research and development center outside of North America, will serve as a hub of new product, packaging and equipment innovation for PepsiCo's businesses throughout Asia.
The R&D hub will house a pilot manufacturing plant that will allow researchers to test how quickly a new product can get from concept to supermarket shelf, so that PepsiCo can learn more about reacting faster to competition from China's homegrown rivals.
Also importantly, the R&D hub will work on designing new products for Chinese consumers, as well as imbuing some of the food and beverage giant's existing portfolio with a more localized flavor, such as Lay's hot-and-sour-fish-soup potato chips and Quaker Oats' white fungus oatmeal.
Driving Growth in Emerging Markets
China and the Asia Pacific region are key components of PepsiCo's overall plan to drive growth in emerging and developing markets globally. The company nearly tripled its business in emerging and developing markets from $8 billion in annual net revenue in 2006 to $22 billion in 2011.
The opening of the new $40 million R&D center and pilot manufacturing plant in Shanghai is the latest in a series of steps PepsiCo has taken to strengthen its business across Asia.
During 2012, PepsiCo has been very active in China:
Completed a strategic beverage alliance with Tingyi to create the number one liquid refreshment beverage system in China.
The partnership with Tingyi not only gives PepsiCo access to 73,000 direct retailers, it also provides local knowledge. Leveraging the local knowledge with PepsiCo's global research and development capabilities may be the hidden opportunity. Clearly this could be a win-win by better directing PepsiCo resources and growing volumes for Tingyi.
Opened new beverage manufacturing plants in Kunming and Zhengzhou.
The Tingyi-PepsiCo beverage system now has more than 70 manufacturing plants across China and provides consumers with several of the country's most popular beverage products, including: Pepsi-Cola, China's top-selling cola; Mirinda, China's top-selling flavored carbonated soft drink; Gatorade, one of China's top-selling sports drinks; China's top-selling tea and water brands, sold under the Master Kong brand name; and China's largest juice portfolio.
Opened a new Frito-Lay manufacturing plant in Wuhan.
The plant is equipped with one of the most advanced potato chip production lines in the world and will support plans to fuel the expansion of PepsiCo's snacks business in China, where Lay's is the top-selling chip brand.
Conclusion
PepsiCo has a strong portfolio of global food and beverage brands that includes 22 brands that generate more than $1 billion each in annual retail sales. A key focus of the PepsiCo Asian R&D center will be tailoring these brands for regional consumer taste preferences and developing locally relevant new products. PepsiCo has developed and launched a number of locally relevant new products in Asian markets in recent years.
In the beverage field Pepsico has catching up to do compared with rival Coca Cola. Pepsico has a 4.4% market share in China, trailing Coca Cola's 15%. Pepsico's approach to beverage sales has been to transfer its local bottling operations to Tingyi. Tingyi now sells and distributes a number of Pepsico products. The plan of Pepsico is to free up the company so it can concentrate more on product development and marketing of food products.
Wall St Consensus vs. Performance
For fiscal year 2012, analysts estimate that PEP will earn $4.07. For the 3rd quarter of fiscal year 2012, PEP announced earnings per share of $1.21, representing 30% of the total annual estimate. For fiscal year 2013, analysts estimate that PEP's earnings per share will grow by 8% to $4.41.
Price Performance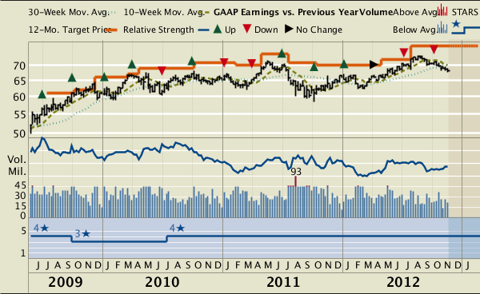 Source: S&P
Personally I think 2012 and 2013 EPS estimates are too conservative, because the company's Asian strategy is going to be already beneficial to revenues and EPS this year. PepsiCo's latest investment will drive the company's growth for years to come.
With a dividend yield of more than 3% you are buying a company that is prepared for the future and could be valued at $80 per share by the end of next year.
Disclosure: I have no positions in any stocks mentioned, but may initiate a long position in PEP over the next 72 hours. I wrote this article myself, and it expresses my own opinions. I am not receiving compensation for it (other than from Seeking Alpha). I have no business relationship with any company whose stock is mentioned in this article.