There are three major players in antibody-drug conjugate technology and one upstart. Seattle Genetics (NASDAQ:SGEN) and ImmunoGen (NASDAQ:IMGN) are trailblazers. Genentech was nimble enough to license the use of both proprietary platforms of these cancer killing techniques and Roche (OTCQX:RHHBY) wise enough to consume them. And then there is Compugen (NASDAQ:CGEN), a mysterious stranger, arriving late to the party and standing dapperly in the corner just out of view.
What makes ADC technology powerful enough to move markets and change oncology treatment forever is simple really. Whereas most cancer therapy involves some form of radiation that carpet bombs cancer cells and healthy cells along with them, ADC technology selectively targets diseased cells with payloads of toxins attached to antibodies in the bloodstream by way of linkers. A better linker equals a better drug and therefore, a better technology. This tactic has proven more effective and less toxic in some cases than traditional therapies.
Seattle Genetics was first to market with their highly touted Adcetris, now producing about $132mm of revenue annually. Not far behind them is Roche, by way of Genentech, by way of ImmunoGen with the next ADC to market: T-DM1. Seattle Genetics over-promised during the Adcetris rollout and now are walking back their predictions with pleas for patience in their latest Q3 conference call. ImmunoGen, dressed a bit too sharply for the rollout of T-DM1 with slender licensing percentages and big sales numbers while getting a haircut following their last quarterly report.
And this brings me to my favorite tool in getting at the truth behind any biotechnology company's story. Nowhere can you find out more about what's really happening there than in the closing question and answer session following each carefully crafted quarterly report. It's then that persons from investment firms with stakes in, or considering stakes in the company, get a chance to question the speakers about what was just said.
You see, what's important to investors is often at odds with what's important to the company. We're concerned about responsible growth - how the company is progressing in developing marketable products that will result in net annual revenues while simultaneously lowering the cost of doing business. The company is interested in garnering our investment dollars and advancing its own agenda, which is not necessarily in harmony with our objectives, but usually is.
Question and answer sessions are the moments when executives veer off script, often times disclosing what their carefully constructed speeches attempt to conceal. What is asked in these Q&A sessions can be just as important to investors as what is answered. And what is not answered can be even more revealing than what is. But you can't just read the transcript. You have to listen to the audio to get the full effect. Words are often woven together to mask a reality as much as to uncover one. Consequently, the human voice becomes more important than ever in getting at the truth. Within the audio recording, you will hear inflection, nuance, volume, and color often giving meaning to words that the words by themselves belie. Reading the transcript on Seeking Alpha is not adequate enough to capture the meaning exposed in Q&A audio, because emotion cannot be transcribed.
In this article, I will give you my insight into three quarterly conference calls. I encourage you to listen to these reports for yourselves to see if you arrive at the same conclusions that I have. In the interest of full disclosure, I will tell you that one of these enterprises is a favorite of mine - Seattle Genetics. Three of the four companies mentioned in the article would be good long-term investments. The fourth is a bit problematic for me at this time. All three companies had fierce Q&A sessions following their presentations in which their representatives were taken to task over a specific set of concerns. Please note that I try not to clean up the audio transcriptions for grammar as this would, I believe, cover up what is revealed. If I have somehow botched my transcription, please make note of it in the comments section below.
Seattle Genetics Q3 Conference Call Nov. 7, 2012

Whoops! Wait a minute! What happened to the billion dollar blockbuster Adcetris of just a year ago? Everyone sat patiently through the rest of the presentation, which was heavily dosed in the usual bits of science, optimism and statistical teasers, but no one could stop thinking about this dour presidential proclamation.
First up, Matthew Rodden of USB Investment Bank, followed by Adnan Butt of RBC Capital Markets. Each went right to the guidance of flat Adcetris sales for both quarter 4 of 2012 and the entirety of 2013. Each wanting to establish the context for this awful pronouncement. And what was President Siegall's response?
To Mr. Rodden a fairly dry recitation of same, but for Mr. Butt a little something more reminiscent of a year ago. "Adcetris is a really great drug. It is helping a lot of patients. It's ultimately going to be a global brand we think, a $1 Billion plus brand, but that is going to take time to get there."
Whew! Yes, I prefer unbridled optimism to cold reality. More please.
To get an idea of how jarring that "flat" guidance was to institutional investors, the third caller, Jason Kantor of RBC Capital Markets asked this. "I just wanted to clarify your sort of, I don't know, pseudo-guidance for 2013." Ouch!
Cory Kasimov, of J.P. Morgan Chase asked the first non-guidance question but it didn't take too long for, Rachel McMinn of BofA Merrill Lynch to come right back at it. "So Clay, just a follow up then. With all of these factors influencing the launch and things maybe being a little bit different than where your mind is at, at the beginning of the year... your initial projections and the $1 Billion number, do you have any loss of conviction in that number, or kind of change your view?"
At this point, I think President Siegall was withering a bit. Perhaps the guidance of "flat" sales was just an attempt to be more realistic. Maybe it was part of a new strategy to forecast low and hit for a higher average on sales, thereby boosting the stock performance. But in the end, he couldn't help but reveal his hand saying this: "We really don't have a change of view globally about Adcetris. We in fact, if anything, our view is more exciting, more and more exciting with Adcetris than ever."
And by the conclusion of the session, President Siegall retreated to his earlier optimism of a year ago (times two) saying this: "... we believe that this will become a multi-billion dollar brand."
My Analysis: Seattle Genetics is understating their revenue predictions as an overreaction to their optimism of a year ago. Revenues will probably be higher than given in this report for 2013 as market penetration in the community setting is nowhere near saturation and the duration of treatment is not being adhered to because the drug is working so well. Additionally, several indications could likely be added to the label in 2014 and beyond, making Adcetris more of the blockbuster it was originally thought to be and less of the disappointment it has become.
It should also be noted that President Siegall was quick to point out that these revenue projections were referencing U.S. sales of Adcetris only.
ImmunoGen Q1 2013 Conference Call Oct. 26, 2012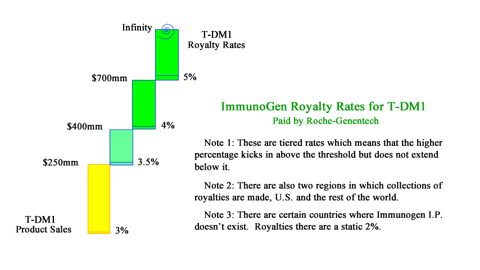 If that in fact they had indicated a tiered royalty in the past, it seemed to escape most of the analysts in the queue for Q&A who somehow got stuck on the presumption of a flat 5%. T-DM1 is owned by Roche, who acquired Genentech, which developed the drug and will pay royalties to ImmunoGen for up to 12 years.
First in line was Simos Simeonidis from Cowen Capital. "I want to make sure I understood correctly, the breakdown of the royalty rate you disclosed. So, first of all the highest royalty rate in the regions where you have I.P. it's 5% and in order to get that you have to be more than $750mm in sales in that region. So for example, in order to get 5% in Europe and the U.S. it would have to be at a total of $1.5b, is that correct? Answer: "Ah, it would have to actually be $700mm not $750mm. And to get 5% on global sales if you will, you would have had to have reached $700mm in the U.S. and $700mm in the rest of the world."
Corey Kasimov, of J.P. Morgan Securities then asked if the royalty rates reset each year to which President Junius responded that they do.
Thomas Wei, of Jefferies and Company then asked if revenues in countries without ImmunoGen intellectual property that were calculated at the lower 2% rate contributed to the overall revenue thresholds priced at the larger rates. He was answered in the affirmative.
Now this conversation went on for some time much to the dismay of parties loyal to ImmunoGen. This is probably best summed up in an article by Prohost Biotech which indicated that shareholders felt the Q&A session was "staged." The stock plummeted from over $16 a share to under $12 within days.
Frankly, I don't see it that way. All of the questions asked were germane to the issue at hand and explored a different aspect of it. I wanted to know for instance whether or not these regions - U.S. and non U.S. would have a benign or contingent relationship to each other. In other words, would ImmunoGen get 5% on U.S. sales above $700mm if non-U.S. sales in the rest of the world reach only $300mm? Thank goodness Adnan Butt from RBC Capital Markets came along with his "separate buckets" question.
My Analysis: The downward revisions to revenue projections made by Stifel Nicholaus short-term in regard to ImmunoGen are probably accurate. I do, however, see that in 2014 and beyond, T-DM1, like Adcetris, will add label indications thereby broadening its use. Also, because it will be priced at a premium to Herceptin and be prescribed for longer durations, T-DM1 will require fewer overall sales to achieve greater profitability.
Additionally, long term, T-DM1 could replace Herceptin generating astronomical sales and therefore commensurate royalties in 2015 and beyond.
If there's one thing that disturbed me most about the ImmunoGen conference call, it had nothing to do with T-DM1. It was rather an issue no one else seemed to care about: stock compensation. When Chief Financial Officer Gregory Perry mentioned that operating expenses had grown by $7.3mm or 33% over last year's quarter, he cited "increased personal expenses, particularly stock comp" as part of the reason.
He went on to note this fell under the sub-category of "general and administrative expenses totaling $5.6mm." Public companies have a fiduciary responsibility to protect shareholder value by limiting expenses. I hope these generous stock compensations achieve a result beneficial to shareholders and not just to the recipients of said largesse.
Compugen Q3 Conference Call Nov. 5, 2012

Now, I don't know enough about Compugen's product portfolio to have a clear understanding of how valuable it is. I also understand that ADCs comprise only a part of their scientific discoveries. What I do know is that if you're going to go to the financial community with your hands out, you can't reduce them to third-class status from the off. It would have been remarkably better to simply state that each entity has importance in its own right and leave it at that.
It appears, however, that I am not the only one that is a bit foggy about Compugen when it comes to communicating their business model to the public. Analysts want to know how these self-proclaimed magnificent products can be commercialized without a complete reliance on investor offerings to foot the bills. In essence, investors want to know about partnerships.
Seattle Genetics and ImmunoGen both formed pipeline collaborations with established firms to advance their own research and development knowing that such partnerships would encourage investor confidence in their viability. This was definitely on the minds of analysts waiting in the queue including Brett Reiss of Janney Montgomery Scott who asked: "What's the aggregate amount of large Pharma companies you are having these discussions on and is there any first mover advantage by any particular Pharma company to strike the first material deal with you?"
The answer he received is so convoluted, I'm not sure I understand it. Here's Martin Gerstel in response: "Well, I think we said we're talking to a number of companies and the fact that we stated these companies are from North America, Europe and Asia I think will give you a feeling that there are a number of companies there. If it's a reasonable number, it would be misleading to actually state the number because that is the question to where do you draw the line and then if you want the number of companies that we've discussed our products with, it's a very big number, if you want the number that where the current discussions are at a certain stage, then of course it gets...some of these companies are at earlier stages. And from the stand point of sort of a first mover advantage, I don't think that..we are talking with major companies and this is an area of high, a very high interest for them but they look at this in a very professional and careful way. You can imagine the number of product opportunities they see both internally and externally and, so at this stage they are just going through their due diligence."
Okay, I do get something of that, but I must admit it's vexing. It must have been similarly hard for Brett Reiss to track as he asked this follow-up question next. "Pretend I'm your six year old grandson. Can you describe to your six year old grandson what...can you be a little descriptive, what are those conversations revolve around? What are they asking you? What are you saying to them?"
This time I found Martin more comprehensible. "...earlier discussions with pharmaceutical companies, before we had the pipeline and we are attempting to get them to work with us with respect to our capabilities, the questions always related to them trying to understand the way we did things, how do we do the predictive discovery. Even to the extent of some of them even wanting to have access to the certain of the algorithms that we utilize, which of course we would not share with them. What is totally different now is when they see these results, the questions as to how we do things goes out the window. The results speak for themselves...the evidence is 100% clear..."
I've redacted some of the response for time and clarity.
Klaus Von Stutterheim of Deutsche Bank then asks about the burn rate over the next 12 to 24 months and possible sources of funding.
Gerstel responds that capital is available into 2014 and that the current burn rate is under control. He ends by saying; "So we don't see any immediate crisis in any way. Of course companies like ours [laughs] should always have substantial cash on board."
Finally, the dogged Brett Reiss returns from re-insertion in queue to nervous laughter and attempts this last inquiry: "Have the discussions with any particular Pharma company gotten to the point where they've specifically said what more they need from you before they would be willing to commit to a material financial deal, where there's material consideration that would be extended to the company?"
And one more time for Marin Gerstel: "(sigh) Um, I mean, I don't think we should get into this discussion. But the only thing I would say is the discussions really don't kind of, don't go in that direction. I mean, they do their due diligence, they request information, and we provided it to them, uh, so, you know, but, I guess, let me just drop it at that. We cannot, even if we wanted to, there's nothing we could tell you, that would assist you, that would give you what you're looking for. You know, because we can't, no one can really know when the first deal is going to be signed. There's just no way. These are complicated agreements. So they can take some fairly extensive time just to draft the arrangements."
My Analysis: I'm bewildered! Now, I know from having written these articles before that many readers want absolute certainty or nothing at all when it comes to analysis. If someone, such as myself, admits to his or her lack of certainty, it is perceived by many as weakness or somehow lacking in professionalism. I obviously don't share that opinion but understand why people feel that way.
The rudimentary concern for me regarding Compugen is this: though it may in fact have a pipeline of compounds and technology that is second to none, I cannot comprehend where in the evolution of their product development they currently reside. I also cannot understand how far along the path they are to forming partnerships to help them advance these products. They are either the woeful victim of my egregious inability to understand their message or conversely, a victim of their own inability to communicate their message. Which it is, I'm not sure, but I do know this. I'm not going to anytime soon open my wallet to move money into theirs without first feeling valued as an investor and second, believing that I understand their business plan better.
Will I miss out on a great investment opportunity? Possibly, yes. I look forward to Compugen investors' input in the comments section below. If you must scold me prior to educating me - have at it! I simply want to learn why you're so enthused about this company. What does it have to offer? How close are they to a marketable product? How close are they to a mutually beneficial professional collaboration? And please make it so that my "six year old grandson" can understand it.
One last thing I need to say is that the agreements Martin Gerstel is referring to are complicated and they do take time to consummate. They cannot always be described to our satisfaction and I lean towards accepting this position at face value rather than characterizing it as evasive.
I presently have no positions in any of the companies mentioned but may initiate a long position in Seattle Genetics in the weeks or months ahead.
Disclosure: I have no positions in any stocks mentioned, and no plans to initiate any positions within the next 72 hours. I wrote this article myself, and it expresses my own opinions. I am not receiving compensation for it (other than from Seeking Alpha). I have no business relationship with any company whose stock is mentioned in this article.