Chesapeake Energy (CHK) is the second biggest natural gas producer and the 11th biggest liquids producer in the US. It is the #1 driller of horizontal shale wells in the world. It has the largest US leasehold with more than 15 million net acres. It has seismic data on about 30 million acres. In other words it is ideally positioned to become one of the biggest oil, NGLs, and natural gas producers in the US - an energy major. As it is Chesapeake is already a large oil and gas producer. It had Q3 2012 total production of approximately 4.1 bcfe/d. This was up 24% year over year and 9% sequentially. Q3 2012 liquids production was approximately 143,000 barrels/day. This was up 51% year over year and 10% sequentially. Oil production grew 96% year over year and 23% sequentially to about 98,000 barrels/day. This is an increase of about 18,000 bopd from Q2 2012. When you consider that Chesapeake has been selling off producing assets at the same time as it has achieved these great growth statistics, you have to be truly impressed. When you consider that Chesapeake rejected 467,000 barrels of ethane (NYSE:NGLS) in Q3 (about 15,000 bpd) due to very low ethane prices, you have to be more impressed. Of course, the $1B in adjusted EBITDA and $1.1B in operating cash flow in Q3 2012 is impressive too. This was more than 15% above analysts' consensus estimates.
The approximate 31% fall in natural gas prices year over year has necessitated a write down of Chesapeake's natural gas assets. This accounts for much of the Q3 2012 GAAP net income loss recorded of $2.06B. About $2B of this was due to asset write downs. The full after tax charge was $2.2B. Further, the production revenues were also reduced from $3.98B to $2.97B due largely to the lower natural gas prices.
The low natural gas prices are expected to be a temporary situation. Further, much of the natural gas surplus due to the warm winter this past year has disappeared. With an el Nino year forecast for this winter (2012-2013), natural gas prices are expected to rebound in 2013. The current Nymex price as of this writing is about $3.78/MMbtu. This is already much higher than the SEC trailing 12 month pricing for natural gas of $2.83/MMBtu (or per Mcf). Chesapeake says every $0.10/MMbtu rise in natural gas price translates roughly into $100 million in added EBITDA for Chesapeake. The current price, if sustained or increased, would do a lot to increase Chesapeake's revenues going forward. Chesapeake's estimated natural gas price for all of 2013 is from $3.75/MMbtu to $4.00/MMbtu. Such an average price would add demonstrably to Chesapeake's reported adjusted earnings of $0.10/share for Q3 2012 in future quarters. It might also result in a revaluation of Chesapeake's assets upward in 2013. Regardless of the short term picture, most experts believe that US natural gas prices will rise substantially over the next several years. LNG exports may reach 10 bcf/d in a few years. More natural gas is expected to be used for electricity generation. Plus the US is bound to eventually follow China in using much more natural gas for transportation, especially for trucking and for city transit systems. The conversion of city transit systems is already significantly underway. All these things and others will increase the demand for natural gas. Hence they will lead to price increases and more profits for Chesapeake, which is the second largest US natural gas producer.
Chesapeake has also implemented cost saving measures. Production expenses were down 13% quarter over quarter in Q3 2012. G&A expenses were down 13% quarter over quarter. Drilling expenses are falling dramatically, especially since Chesapeake is cutting the number of active rigs. Chesapeake had 165 rigs active in January 2012. It now has only 89 rigs active. Much of this has been due to a huge reduction in the number of natural gas dedicated rigs. Still the actual amount of development has not been cut by the 46% you might expect from the rig figures. Instead the use of pad drilling has led to large efficiency increases. For example, six lateral wells might be drilled from one pad. In this case, the drill rig does not have to be torn down before it is moved to a nearby site on the pad. It can be moved as a whole to the nearby pad site. This is a huge expense and time saver. In some cases it can be moved as a whole to a nearby pad (say a mile away).
Chesapeake also greatly improved its oil hedges both for Q4 2012 and for all of 2013. It now is 76% hedged in Q4 2012 at $99/barrel. It is 69% hedged for 2013 at $96/barrel. Further for the roughly 50% of Chesapeake's oil that is being sold at LLS prices (roughly Brent prices), Chesapeake has hedged about 35% of the 50% being so sold for the difference in the pricing between LLS and WTI at an average premium of $14 for 1H 2013. Chesapeake has not yet made substantial natural gas hedges for 2013. It is waiting to get into winter, when the futures prices are expected to be higher. This makes sense.
In sum Chesapeake is a huge buy. It is touting a resources value of $50B-$60B, but it is really worth more in the neighborhood of $100B+. When you consider that Chesapeake has a market capitalization of $11.49B and an enterprise value of $28.77B, you can see that it is a great value at its current price. It is not likely to go bankrupt. The roughly 8.5% $4B emergency loan it got in the spring of 2012 has already been paid off (or will soon be). Some was paid off through asset sales. The remaining $1.2B will be or has been paid off with monies from the new roughly 6.0% interest $2B credit facility. This further cost reduction is good news for Chesapeake, and it shows Chesapeake is viewed as a much better credit risk these days. Chesapeake's plan to sell off $17B-$19B in non-core assets in 2012-2013 is making good progress. Chesapeake has encountered some minor delays.
Some sales projected for late 2012 are now not expected to occur until Q1 2013. However, Chesapeake is overall doing well here. Plus the CapEx expenditures are dramatically decreasing. This means that Chesapeake should be able to pay for much if not all of 2013 CapEx out of Operating Cash Flow. Plus Chesapeake is still believably on a course to reduce its debt level to $9.5B or below by the end of 2013. If you are looking for a value, Chesapeake is a big buy. If you are looking for a trade, you can probably buy Chesapeake at its beaten down price of $17.83 as of the close on Friday November 23, 2012. You can then likely make money by continually selling near term calls on the stock. If your stock gets called away, you have made a profit. If not, you get to continually make a profit from your call option premiums. You can feel safe that eventually Chesapeake's stock price will rise due to its fantastic fundamental value. Plus don't forget that you will get to collect an approximately 2% dividend while you own the stock.
The two year chart of Chesapeake provides some technical direction to this trade.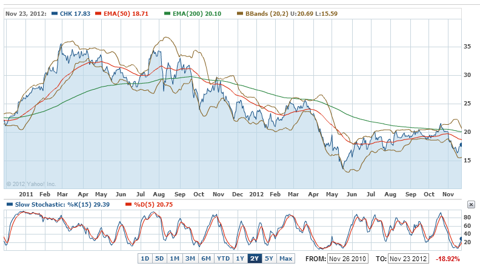 The slow stochastic sub chart shows that Chesapeake is near oversold levels. The main chart shows that Chesapeake has been in a downtrend for almost two years. However, Chesapeake has recently put in a higher low as it has risen off its recent bottom. This is a good indication that an uptrend may be coming soon. When you add the likely extra income from the many assets (such as Utica assets) that have been awaiting pipeline completions, etc. to the outlook for increased 2013 profits, you get a very rosy picture indeed. The new pipelines from Conway, Kansas to Mt. Belvieu, Texas should also help to raise Chesapeake's average NGLs prices. Chesapeake is a buy both fundamentally and technically.
If you think you might be interested in some of the other natural gas to unconventional oil converters or just some great unconventional oil stocks, some of the other big players in Chesapeake's space are: EOG Resources (NYSE:EOG), SandRidge Energy (NYSE:SD), Pioneer Natural Resources (NYSE:PXD), and Continental Resources (NYSE:CLR). All of these stocks have their good points. All are among the biggest unconventional oil producers in the US.
Note: Some of the fundamental data above is from Yahoo Finance.
Good Luck Trading
Disclosure: I have no positions in any stocks mentioned, but may initiate a long position in [[Chesapeake]] over the next 72 hours. I wrote this article myself, and it expresses my own opinions. I am not receiving compensation for it (other than from Seeking Alpha). I have no business relationship with any company whose stock is mentioned in this article.