Recent news on housing starts has many following the building sector excited but how sustainable are these increases?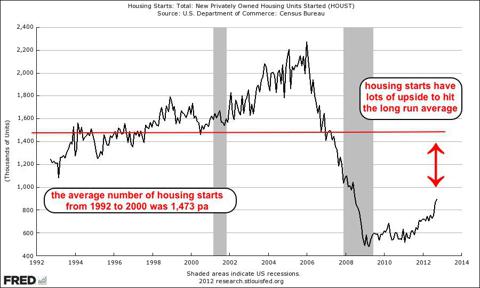 The chart above shows housing starts on single family homes (HOUST, sampled monthly in thousands of units) over the period 1992 to 2012. Housing starts have fallen significantly from their January, 2006 peak with the total drop approaching 79% by April, 2009. Since then we've seen housing rebound roughly 87%, bringing the market to levels last seen during the recession when starts were in effective free fall. But let's take a look at the longer term trends: if we consider only the period from 1992 to 2000 (ignoring the post dot com flow of money into housing and the subsequent bubble) we see an annual average of 1,473K starts. In other words, even considering recent gains, starts are running about 60% of their long run average. Even more significantly, this ignores important demand side drivers of the housing market such as job and population growth, record low mortgage rates and an overall decline in home ownership. So this trend seems established and short of fiscal cliff style disruptions, likely to continue in the near term.
How to play it? Homebuilding is a fragmented market with the majority of companies completing less than 25 properties per year. However there are two interesting entities operating in this space. The chart below shows share prices of DR Horton (NYSE:DHI) and Pulte Group (NYSE:PHM) over the past year. Each have both performed well, up 80% and 222% respectively. These increases in share prices come on the back of strong execution and delivery, with DR Horton finishing 17,176 homes and Pulte Group completing 15,275 homes in 2011.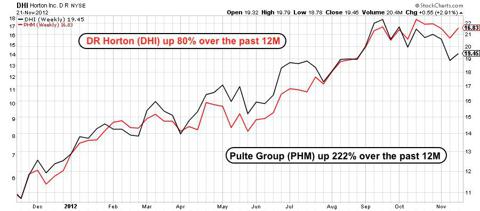 Nice little earners over the past year but how about going forward? To help answer that question I've captured relevant years from their income statements below. Note that DHI Horton's fiscal year ended on September 30, 2012 while Pulte Group's fiscal year will end December 31st 2012; estimated periods are noted as such.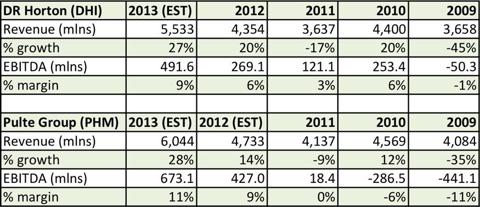 Coming out of the 2009 recession both firms exhibited large losses, however from 2011 on each has exhibited double digit revenue growth and steadily increasing margins. These are both factors that helped drive recent increases in share price, and more importantly each firm seems well positioned to continue this growth if the housing market continues to recover.
Disclosure: I have no positions in any stocks mentioned, and no plans to initiate any positions within the next 72 hours. I wrote this article myself, and it expresses my own opinions. I am not receiving compensation for it (other than from Seeking Alpha). I have no business relationship with any company whose stock is mentioned in this article.