After getting fantastic feedback on my look at the most oversold names in the S&P 500, I decided to share a similar review of some oversold Mid-Cap names. As I explained previously, this is the time of year when investors both big and small dump losers for tax or face-saving reasons, often creating opportunities for entries into either long-term investments or intermediate-term trades. The smaller the stock, often the more exaggerated the selling pressure can be, so looking into the S&P 400 Mid-Cap Index is actually more interesting to me. This year provides another interesting angle, as many stocks with big gains are getting hit as I described recently, with owners looking to book gains with existing low tax-rates.
Before I go on, I want to share my definition of oversold, with the caveat that there is no one correct way conceptually to define it. The system I use was invented by StockVal, which was acquired by ThomsonReuters a few years ago. The basic math is to evaluate the current price compared to a long-term moving average in the context of the volatility of the stock over the past five years. The output on this price momentum indicator can be thought of in terms of standard deviations from the norm. The 12 most oversold names ranged from -1.19 to -2.88. Without going into the exact scores for each name, here is the list of companies: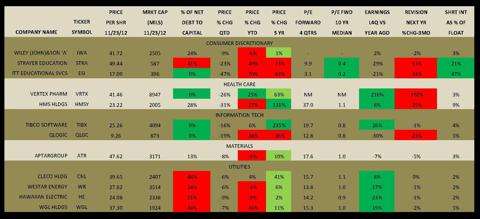 Like the larger companies we looked at, we get some diversity here in that several economic sectors are represented, with Utilities again getting more than their fair share. Also similar to the previous review, most of these stocks are down in 2012, with a few exceptions. The majority, though, have advanced over the past five years despite the recent pullback. I'll quickly share some thoughts, with the caveat that I don't follow any of these particularly closely.
The three Consumer Discretionary names include John Wiley & Sons (NYSE:JW.A), which has been a winner over the past five years, along with two stocks from the beaten-down for-profit education industry, Strayer (NASDAQ:STRA) and ITT Educational (NYSE:ESI). JWA, over 200 years old, is a publisher and global provider of content for research and education. The company just announced the sale of CliffsNotes and Webster's New World Dictionary and the acquisitions of Efficient Learning Systems, an e-learnings system for professional accounting and finance (CPAexcel for CPA exam preparation) and Deltak.edu (technology platforms for colleges to move online). The other two stocks have substantial short-interest ratios that might fuel some buying at some point, but they seem to have little else working in their favor. STRA has a huge dividend (8%) that it is covering for now.
In Healthcare, Vertex (NASDAQ:VRTX) had a nice run on its cystic fibrosis drug earlier this year, but it has pulled back as concerns about its effectiveness have increased. It also has a Hepatitis C drug in development. The company has a new CEO, Dr. Jeff Leiden, who joined earlier this year from the Board and was previously Chief Scientific Officer and then COO at Abbott (NYSE:ABT). The P/S ratio of 5X is about as low as it has been in 10 years. HMS Holdings (NASDAQ:HMSY) is one that has caught my attention. Viewed as an Obamacare play due to its cost containment focus, the company has struggled this year as adoption of its services has been slow. They prevent hospitals from ripping of Medicaid and Medicare (and private payers too). To me, this big winner looks like the right kind of oversold stock to investigate further, as its growth is robust but a bit less than analysts had forecast. The company decreased its own outlook for 2013 twice in the last quarter - hopefully they have been conservative at this point.
The two Technology names are quite different from one another. Tibco Software (NASDAQ:TIBX), which describes itself as an infrastructure software provider that enables cloud-computing, has been a big winner, while Qlogic (NASDAQ:QLGC) has struggled for years. QLGC, which sells products based on Fibre Channel and Ethernet technologies for storage networks, LANs and converged networks, has almost $500mm in cash and investments. The stock is valued at 1.5X tangible book value. TIBX has rallied in 2012 despite the recent retreat which began after they reported their Q3 results in late September (though this is when stocks rolled over as well). Looking at the press release, one thing that jumped out is how negatively currency impacted those results. This is one to investigate further in my view, as deferred revenue jumped 10% sequentially and 21% from the prior year.
Aptar Group (NYSE:ATR) is the sole representative from the Materials sector. I don't know this company too well, but it sells packaging delivery systems used in fragrance/cosmetics, personal care, pharmaceuticals, household and the food and beverage markets. The stock reacted poorly to its recent earnings report, when sales declined 2% (+2% net of currency and acquisitions) and the company guided weakly for Q4.
Finally, the four Utilities, which include Cleco Corporation (NYSE:CNL), Westar Energy (NYSE:WR), Hawaiian Electric (NYSE:HE) and WGL Holdings (NYSE:WGL), appear to be down on sector issues. CNL has a dividend yield of 3.4%, but the others are higher, with WGL at 14.3%, WR at 4.7% and HE at a juicy 5.1%. HE is trading a bit below its median PE valuation, and that yield is just above the 10-year median of 5%. HE hasn't raised its dividend in the past 5 years though. CNL is based in Lousiana and generates power for both retail and wholesale (281K customers) and operates a wholesale energy business. WR is the largest electric utility in Kansas, serving 700K customers and also offering transmission. WGL has four operating segments, including Washington Gas (1mm customers in Washington, D.C.), retail-energy marketing (third-party marketing of gas and electricity), commercial energy systems and wholesale energy solutions. HE is a holding company with an electric utility but also a bank with over $4 billion in deposits.
Buying significantly oversold stocks can lead to good long-term entries or favorable short-term trading opportunities. But one can't blindly buy oversold stocks, or the portfolio will be filled up with Enrons and WorldComs. Hopefully this list and my comments have provided enough information to help the reader decide if a deeper investigation is warranted. Of the stocks mentioned, TIBX and HMSY look most interesting to me.
Disclosure: I have no positions in any stocks mentioned, and no plans to initiate any positions within the next 72 hours. I wrote this article myself, and it expresses my own opinions. I am not receiving compensation for it (other than from Seeking Alpha). I have no business relationship with any company whose stock is mentioned in this article.