Research In Motion (RIMM) shares have been surging lately. In the last month, shares have risen more than 55%.

The reason for the steep rise in shares seems to be related to newfound optimism for BB10. Analysts have upgraded RIM and have stated that the launch of BB10 could be much more successful than the market believes. While analyst upgrades have caused an increase in share price, these upgrades may not be a strong enough reason to buy.
Jefferies analyst Peter Misek raised his 12-month price target from $5 to $10.
"Preliminary results from our quarterly handset survey indicate developed market carriers have a much more positive view of BB10 than we expected. With greater carrier shelf space and marketing support, we now believe BB10 has a 20 per cent to 30 per cent probability of success. Our theory is that carriers see BB10 as one of their last chances to avoid being locked into a long-term smartphone OS duopoly"

- Peter Misek, Analyst, Jefferies and Company
The stock is already trading above Misek's 12-month target. The target is based on a 20% - 30% chance of success for BB10. Based on this, the market believes that the chance of success may be significantly higher. However, given the lead that Apple (NASDAQ:AAPL) and Google (NASDAQ:GOOG) have already gained in the market place, I highly doubt that BB10 would make a noticeable dent in market share.
Raymond James has already stated that RIM will need to sell 18 million units just to breakeven. This is based on a $375 per unit.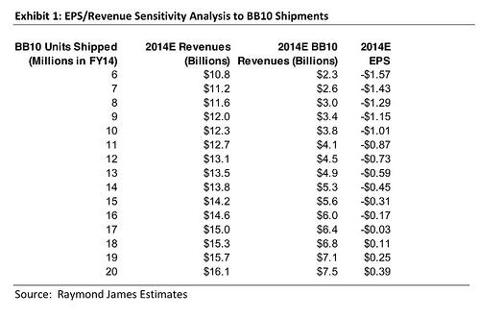 RIM's shares are running on steam at this point. Momentum is very high, which means that either the company blows out expectations or the stock will fall significantly. RIM's delay for the release has caused them to fall further behind. Google has already locked in a deal with LG.
Apple and Google are mainly gaining share at the cost of RIM's previous failures.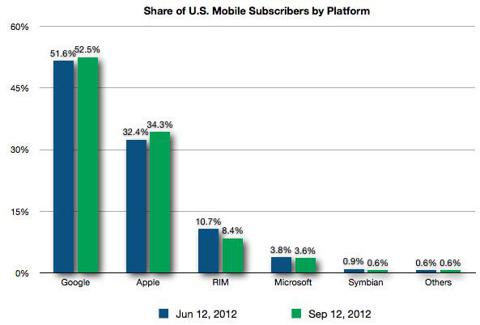 The new Nexus 4 will cost $200 with a two-year plan from carriers such as T-Mobile. An unlocked version is around $349. This is less than the price for BB10 that Raymond James is expecting.
The shares have jumped up nicely lately and investors should use this opportunity to sell. It seems that speculation has taken over and the share price is already trading near or above price targets that many analysts stated. There may not be much room for the stock to run anymore. Investors should use this opportunity to sell before the BB10 release.
Disclosure: I have no positions in any stocks mentioned, and no plans to initiate any positions within the next 72 hours. I wrote this article myself, and it expresses my own opinions. I am not receiving compensation for it (other than from Seeking Alpha). I have no business relationship with any company whose stock is mentioned in this article.