Coca-Cola (NYSE:KO) is a high quality dividend paying stock renown not only for its beverages, but for its history of increasing both its revenues and earnings. As a testament to its brand management, Coca-Cola currently has 15 brands with generate over $1 billion a year. The company is also a serial dividend raiser, with 2012 marking the 50th consecutive year of an annual dividend increase. Stock buybacks are also a major part of Coca-Cola's plan to enhancing shareholder returns. The company announced on Oct. 18 a plan to repurchase 500 million of its shares. This total would equal 11% of its current total shares outstanding.
Coca-Cola is currently trading for $37.93 as of Nov. 23. Its current dividend for Q3 2012 is $0.255 per quarter, making its dividend yield 2.69%.
Dividends
Coca-Cola has an impressive history of increasing its dividend. The average increase since 2007 has been 8.4%. Assuming Coca-Cola announces a similar dividend increase during Q1 2013 (which is widely expected) the yield then could reach 2.9%.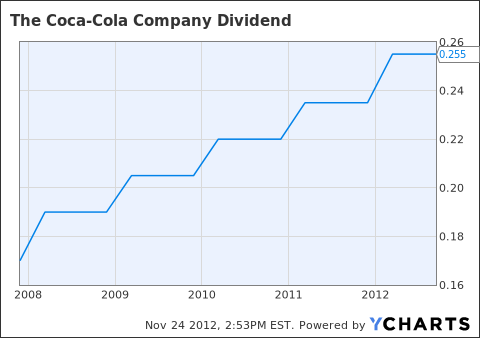 | | | |
| --- | --- | --- |
| YEAR | YEARLY DIVIDEND PER SHARE | % INCREASE FROM PRIOR YEAR |
| 2012 | 1.02 | 8.5% |
| 2011 | 0.94 | 6.8% |
| 2010 | 0.88 | 7.3% |
| 2009 | 0.82 | 7.9% |
| 2008 | 0.76 | 11.7% |
| 2007 | 0.68 | 9.6% |
Revenue
For 3Q 2012 Coca-Cola had revenues of $12.34 billion. This is an increase of 1% compared to the $12.24 billion in revenue reported for Q3 2011. For the first nine months of 2012, Coca-Cola reported revenue of $36.6 billion. This is a 3% increase from the $35.5 billion for the similar period of 2011. Since 2008, Coca-Cola has grown revenue by over 58%.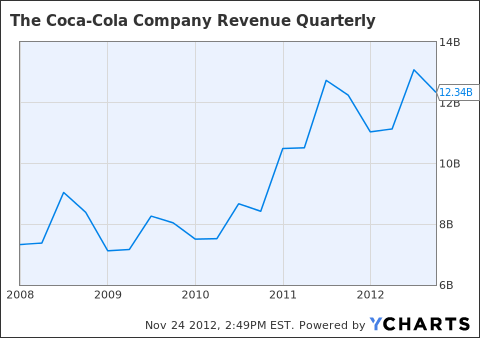 KO Revenue Quarterly data by YCharts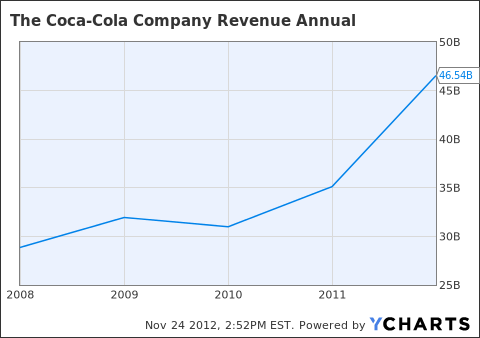 EPS
Coca-Cola reported EPS for 3Q 2012 of $0.50. This is a 4% increase from the $0.48 reported for 3Q 2011. Quarterly EPS for Coca-Cola has nearly doubled since 2008. Please note in the chart below that the spike in EPS during Q4 2010 was due to debt refinancing.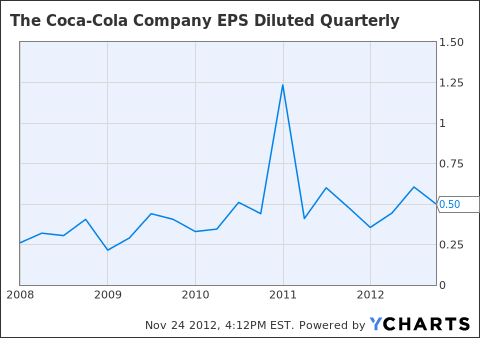 Long Term Debt And Cash
Long-term debt for Coca-Cola at the end of Q3 2012 was $16.2 billion. This is an increase of 19% from the $13.6 billion in long-term debt at the end of 3Q 2011. However, a better indicator of debt levels for Coca-Cola would be to subtract its cash from its long-term debt. As shown in the chart below, Coca-Cola has until Q1 2011 had more cash on hand than long-term debt. The increase in debt levels was primarily due to the acquisition on October 3, 2010 of the North American division of Coca-Cola Enterprises (NYSE:CCE) for $15 billion.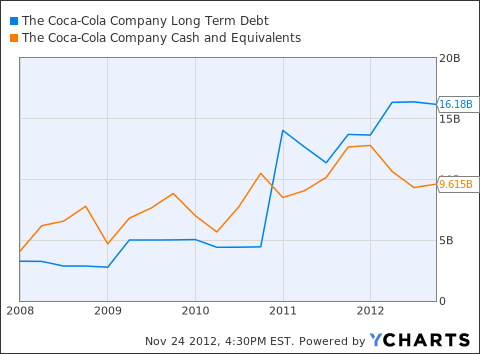 Payout Ratio
Coca-Cola's dividend payout ratio for Q3 2012 was 51%. However, on a TTM basis the ratio was only 37%. Coca-Cola has been steadily lowering the payout ratio from the highs of 70% it reached during 2009.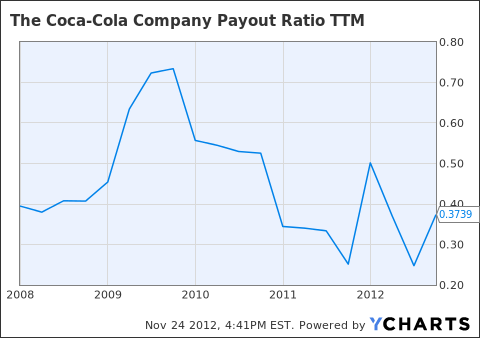 Shares Outstanding
Average shares outstanding at Coca-Cola have been steadily in decline. At the end of Q3 2012 the company had 4.587 billion shares outstanding. This is a decrease of 1.5% from the 4.653 billion shares outstanding at the end of Q3 2011. The company has reduced its share count by 120 million since 2008. If you take into consideration the recently announced 500 million share buyback announced on Oct. 18, Coca-Cola has committed itself to continuing its intensive share buyback program.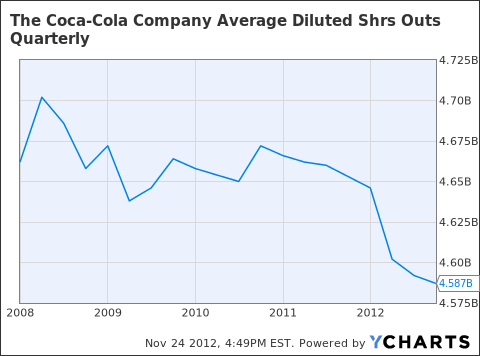 Valuation
The market seems to have taken favor with Coca-Cola. The current TTM PE of 19.91 is quite pricey. Even if you back out cash, the PE only drops to 18.82. The market seems to be pricing in some growth. At current levels, the stock price seems slightly overvalued.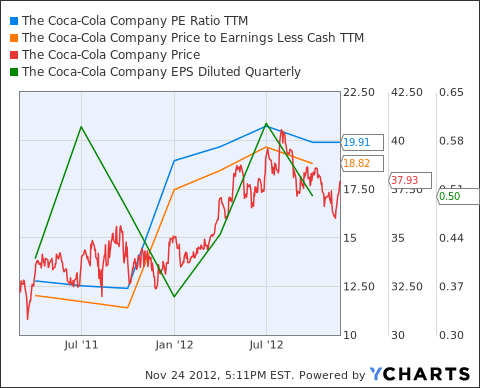 Conclusion
Coca-Cola is a world class company committed to returning ever increasing returns to shareholder via both yearly dividend increases and stock buybacks. However, at current levels, I believe the stock price is tad too high. I would look to buy in if the stock would pull back to below $35.
Disclosure: I have no positions in any stocks mentioned, and no plans to initiate any positions within the next 72 hours. I wrote this article myself, and it expresses my own opinions. I am not receiving compensation for it (other than from Seeking Alpha). I have no business relationship with any company whose stock is mentioned in this article.