When a company surprises the market by reporting a strong quarter, shares quickly rise to correct for the mispricing. Riverbed (NASDAQ:RVBD) closed at around $23 when it reported a revenue increase of 15% compared to the previous year. Margins also improved to 29%, and net income rose 15% year-over-year. Yet shortly after the quarterly results were reported, Riverbed undermined confidence from its shareholders when it said it would acquire OPNET for nearly $1 billion. Riverbed offered OPNET shareholders $43: $36.55 in cash, and 0.2774 Riverbed common shares for each OPNET share. With the steep decline in Riverbed shares, it is appropriate to evaluate the merits of the OPNET acquisition.
1) Acquisition Highlights
OPNET
In fiscal 2012, OPNET increased sales for its flagship APM (Application Performance Management) products by 32%. APM sales represented three-quarters of product bookings. The company filed for 14 new patent applications to increase its portfolio of intellectual property.
OPNET's philosophy is to bring tools that improve service quality to the enterprise. The company seeks to develop better ways monitor data at a deeper level within the network infrastructure. To deliver actionable information to customers, OPNET combines and correlates data from many sources. This enables the customer to better-manage cloud computing, virtualization, and other applications that depend on network performance.
Riverbed
Riverbed will be combining OPNET with its Cascades business unit. Cascades makes products used to monitor network performance. The strategic fit will give the combined product an edge over rivals. Riverbed will be better-positioned to benefit from growth in virtualization. The Cascade 10 operating system "sees" Citrix (NASDAQ:CTXS) XenDesktop and VMWare (NYSE:VMW) View. Both companies are leaders in the virtualization space. In the most recent quarter, both companies reported earnings that beat consensus.
2) Analysis of Acquisition Valuation
Investors wonder if OPNET was too expensive an acquisition.
Riverbed is paying a 34% premium to bolster its product offering. OPNET (NASDAQ:OPNT) competes with CA Inc. (NASDAQ:CA), NetScout (NASDAQ:NTCT), and Compuware Corp (NASDAQ:CPWR). By all key valuation metrics, including trailing P/E, Price/Sales, Price/Book, enterprise value to EBITA, and enterprise value to sales, Riverbed is paying a substantial premium:
| | | | | | |
| --- | --- | --- | --- | --- | --- |
| COMPANY | TRAIL P/E | P:SALES | P:BOOK | EV:EBITDA | EV:SALES |
| CA | 11.1 | 2.14 | 1.91 | 5 | 1.94 |
| Compuware | 26.8 | 1.93 | 1.79 | 11.23 | 1.92 |
| NetScout | 27.6 | 3.11 | 2.95 | 10.56 | 2.61 |
| OPNET | 56 | 5.33 | 7.61 | 25.87 | 4.81 |
(Data source: Seeking alpha)
In Fiscal 2012, OPNET generated $173 million in revenue and $27.2 million in cash flow from operations. Its revenue grew in two of its last four years: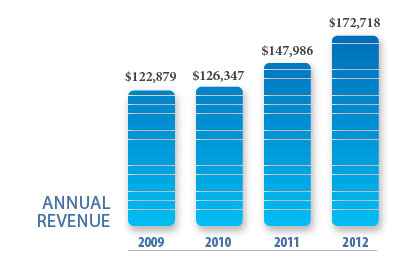 (Source: OPNET annual report)
Earnings grew 45% compared to the previous fiscal year, but nearly doubled compared to earnings in fiscal 2010: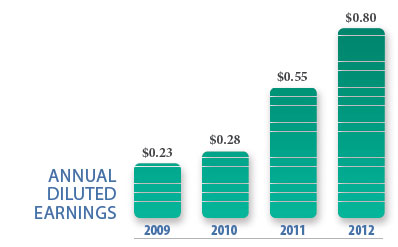 (Source: OPNET annual report)
Riverbed likely placed substantial weight on the strong results in OPNET's last two fiscal years.
Riverbed forecasts profits will rise in 2013 from the OPNET acquisition and revenue will be even more meaningful in 2014. OPNET will need to continue to grow at the same pace of its last two fiscal years for this forecast to be met. Given the worsening macroeconomic conditions, investors should be cautious this forecast will be met. Operationally, integration issues could arise.
3) Enhancing Product Line
OPNET has over twelve years of experience in Application Performance Management ("APM"). The company will give more meaningful management tools for customers using Cisco's (NASDAQ:CSCO) IP Telephony and Telepresence product.
4) Fourth Quarter Forecast a Positive
Despite the negative reaction by shareholders to the acquisition, Riverbed previously forecast a stronger quarter. Revenue is expected to be between $230 million to $236 million and earnings of $0.29 per share in the next quarter. For the full-year, revenue is forecast to be around $835 million.
5) Mixed Outlook from Competitors
Cisco allayed fears that weak demand from telecom carriers would persist when Cisco reported earnings. Cisco beat estimates and provided a forecast for its next quarter that was not as bad as many feared. The company expected demand from U.S. and Asia-Pacific markets would continue.
Conversely, Juniper (NYSE:JNPR) forecast spending over the next few quarters would not improve, while Corning (NYSE:GLW) and Broadcom (BRCM) also provided a soft outlook in its most recent earnings report.
Stock Performance Comparison: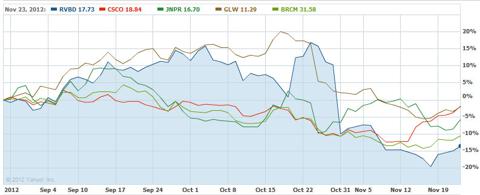 (Chart Source: Yahoo Finance)
Conclusion
The premium paid for OPNET is substantial. Riverbed is paying nearly 30x earnings, excluding cash and interest income. The purchase price is also 11.65x trailing sales. Like Riverbed, OPNET relies on improving conditions in the US for margin growth. In the near-term, any delays in integrating OPNET will hurt Riverbed shares.
Improved results by OPNET over the last two years give hope that the acquisition will be net positive for Riverbed. OPNET spent $55.4 million in sales and marketing in fiscal 2012, up 13.7% from the previous fiscal year. In that same time frame, revenue increased 16.7% and profits grew by 47.8%.
Shareholders should expect limited upside in Riverbed shares in the near-term, as OPNET is integrated. If markets are led downward by macroeconomic weakness, this gives shareholders with a longer time horizon an opportunity to accumulate shares in Riverbed.
Disclosure: I have no positions in any stocks mentioned, but may initiate a long position in RVBD over the next 72 hours. I wrote this article myself, and it expresses my own opinions. I am not receiving compensation for it (other than from Seeking Alpha). I have no business relationship with any company whose stock is mentioned in this article.