Nvidia (NASDAQ:NVDA) is no stranger to capitalizing on high margin, high barrier-to-entry products. While CEO Jen Hsun Huang and management pitch Tegra (the firm's low power, ARM (NASDAQ:ARMH) based system-on-chip for smartphones and tablets) as the future of Nvidia to please the sell-side analysts and the retail investors, it is critical to note that in the near- to medium-term, Nvidia is largely dependent on high end, high margin GPUs (graphics processing units) to generate the majority of its cash. Indeed, a glance at Nvidia's latest 10-Q yields some valuable insights:

In the most recent quarter, 76% of operating income came from the consumer graphics business (GeForce), 40% of operating income came from "Professional Solutions" (Quadro for workstation graphics, Tesla for HPC). The "Consumer Products" business that seems to be what investors can't get enough of is actually responsible for a $41M dent in operating income.
The problem is not one of negative gross margins, but of relatively steep fixed costs that set the breakeven bar higher than today's sales levels. This problem will be solved as the Tegra division ramps in sales, likely spurred by the "Wayne" SoC for tablets and high end smartphones in 2013 (due to increased tablet and high end smartphone TAM) and the firm's first fully integrated processor + baseband solution codenamed "Grey" launching in 2014.
Assuming the continued low-double-digit growth in graphics and professional solutions, there will be a fairly sharp increase in EPS as the "Consumer Products" through 2013 and 2014. This will not only likely lead to a fairly violent upward correction in the firm's share price, but it will enable Nvidia to continue to more aggressively pay dividends and buy back shares - something it has likely been reluctant to do until very recently (further confirming that management likely shares my view of the upcoming improvements in the firm's already healthy fundamentals).
However, as rosy as this story seems to be, especially as AMD (NASDAQ:AMD), the firm's chief rival in graphics - and until now, in HPC accelerators - seems to be burdened by financial woes and brain-drain, a new challenger has come to play in Nvidia's HPC accelerator game - Intel (NASDAQ:INTC), which could potentially threaten what would otherwise be a fairly unobstructed path to a much higher share price.
Where The Real Money From The GPU Is Made
Nvidia's "Professional Solutions" business consists of two parts, as mentioned previously: "Quadro," which is a line of professional workstation graphics cards, and "Tesla" which is a line of high performance compute accelerators.
The interesting thing about these product lines is that they leverage the R&D costs associated with the development of the "GeForce" line of products. "Tesla" and "Quadro" parts are actually substantially similar to consumer-grade silicon, utilizing fundamentally the same architectures (although in the latest generation, the highest-end flavor - the GK110 - is a much larger, more feature-rich version of the consumer- and low-end HPC silicon). The ASPs for boards utilizing these cards is generally in the $2,000+ range, as opposed to the $100 - $500 range for consumer graphics cards, and they carry substantially higher margin.
Case in point: The graphics segment posted 26% operating margin while the professional segment posted a whopping 45% operating margin.
The Mix - Quadro Versus Tesla
To get a better feel of the mix of the professional solutions group, I point out this particularly helpful slide from the UBS Technology Conference presentation: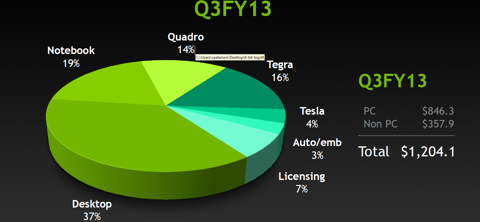 Tesla makes up 4% of sales, and Quadro makes up for 14%, implying that the mix is roughly 22%/78% Tesla/Quadro.
The Intel Threat
This brings us to the threat. Intel announced its "Xeon Phi" HPC accelerator. This does not compete with the "Quadro" business, as the chip is not designed to handle graphics processing, but this goes straight for the "Tesla" business.
While Nvidia's chips in this space are generally considered to be faster and more power-efficient than Intel's entry into the space, the flip-side claim is that Intel's products are much easier to program for, due to a shared tool-set chain with the firm's widely popular X86-64 based "Xeon" processors. Intel also has pricing power advantage for the following reasons:
Intel's part is on a smaller process node than Nvidia's, so transistor-for-transistor, Intel's chip is smaller and thus cheaper to manufacture
Intel's processors do not need to include any graphics-specific transistors, which means Nvidia's 7.1B transistor part goes up against Intel's ~5B transistor part
Nvidia, on the other hand, has the following advantages:
A proven track-record and a firmly established customer base
Development costs are largely amortized by usage of the relevant technologies across the entirety of Nvidia's product lineup (whereas the "Xeon Phi" is a fairly brand new and unrelated-to-anything-else part).
Strong history of GPGPU design prowess, which should allow Nvidia to retain the competitive upper hand in the near- to medium-term.
Intel will very likely gain a non-trivial amount of share in this space. However, given that Nvidia has a strong track record here, and for the advantages I listed above, it is unlikely that Intel monopolizes the field. Further, I expect the TAM to grow significantly over the next decade (only ~35 out of the Top 500 supercomputers are accelerated). So even as market share declines (by virtue of the presence of another competitor), Nvidia will likely be able to exhibit healthy growth in this area for the foreseeable future.
Quantification Of Threat, etc.
It is helpful to quantify the opportunity for the two players.
At 4% of FQ3 revenues, the "Tesla" business accounted for $48M in sales. While it is hard to construct a reasonable growth model for this portion of the business due to the lumpiness of demand here, it is possible to attempt to quantify the financial threat to Nvidia in the very worst case.
In FQ3, the firm had a fairly large order (18,600 units) for the most recently launched Tesla "K20" for the "Titan" supercomputer, so it is not unreasonable to think that the $48M for this quarter is at the high end of Tesla business' sales for the current fiscal year.
Constructing a worst-case scenario, we assume Intel completely consumes this business and Nvidia loses $192M in sales per year. These are sales that have an operating margin of at least 45% (unfortunately for Nvidia, the "Tesla" cards, on average, likely carry greater margin than all but the highest end "Quadro" parts), so this impacts the bottom line by $86M on a yearly basis or with the most recent share count of 629M, by $0.13/share. Sell-side analyst estimates are calling for $0.86/share in FY2013, so in the very worst case, Nvidia's EPS declines 15%.
This view is pessimistic and very likely unrealistic, but it is something investors need to be aware of in producing their own financial models.
Conclusion
Intel is a fierce player and represents the first legitimate competitive threat that Nvidia has seen in the space. I believe, however, that Intel's competitive position in this nascent field is overstated in the near- to medium-term and that expanding TAM and strong leadership from Nvidia's team should ensure that the segment's sales and profitability continue to grow, even if Intel gets a piece of the action.
Disclosure: I am long NVDA, INTC. I wrote this article myself, and it expresses my own opinions. I am not receiving compensation for it (other than from Seeking Alpha). I have no business relationship with any company whose stock is mentioned in this article.