Because if it did, we're looking at a relatively rosy picture for the economy this time next year.
The yield curve is typically trotted out to predict recessions, and it took a lot of hits in 2006-07 when it was inverted, with many saying that long-term interest rates were being held down artificially by demand from China. Those naysayers have since been proven wrong.
But the curve works pretty well in forecasting growth too, Joseph G. Haubrich and Kent Cherny of the Cleveland Fed remind us. The following chart from the pair shows the spread between 10-year Treasury notes and the 3-month T-bill against GDP growth lagged one year. Since the yield curve is used to forecast growth 2 to 6 quarters out, the lag helps to line up growth levels with the spreads that predict it: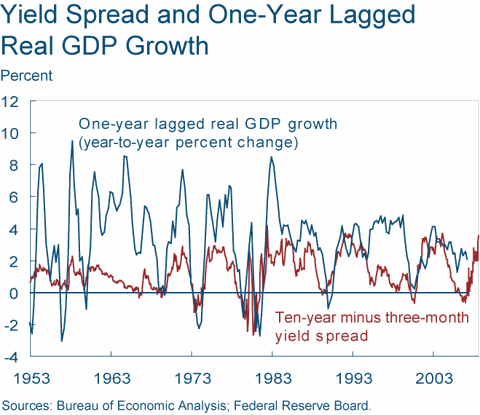 At yesterday's close, the spread between the 10-year and the 3-month was 3.28 percent, down from a peak of 3.82 on October 15. All of the other times the curve was that steep the economy was growing strongly a year later.
But we're living in unique times. A flight to quality has pushed down the yield on the 3-month bill, so the argument could be made that the curve should really be a little flatter. Plus, if bank lending doesn't pick up, the scenario for robust growth late next year seems quite dismal. And looking at Japan's experience after its bust doesn't provide confidence. In the mid-1990's, the similar spread between 10-year and 3-month Japanese government debt was relatively high, but tepid growth and recession followed.
On the other hand, Haubrich and Cherny say the chance the economy will be in a recession late in '09 is a tiny 0.05 percent. And after the super-gloomy FOMC statement yesterday afternoon, a little optimism doesn't hurt.