Financial results for Q32012 made analysts concerned about Best Buy's (NYSE:BBY) profitability. After a 14% fall in 2Q2012's EPS, the company came up with several strategies to combat the worsening business conditions. It brought management reshuffling, the most important part of which was the appointment of Hubert Joly as the new CEO.
BBY did pre-announce the financial loss for Q32012, which made many think that poor Q3 results are incorporated in BBY's stock price. However, after the recent Q32012 earnings release, the stock is trading at a record 20-year low price, shunning analysts' consensus that the worst is priced in.
The case of BBY appears to be quite similar to that of Circuit City, which went bankrupt in 2008. Circuit City was a company that used to lead the electronic goods market. However, because of the global recession and the strategic mistake of firing experienced sales executives, it had to file Chapter 11. However, we feel that BBY is not heading towards the same fate just as yet. This is because BBY is making attempts to adopt and revamp itself under the guidance of Hubert Joly. We feel that the performance of the company in Q12013 would be a better indicator of BBY's future trend, as by then the strategies of the new CEO would be fully executed.
Financial and Operational Analysis:
BBY's popularity is decreasing as the electronic giant faces deep cuts in margins and key indicators. While the results for Q22012 set the alarm bells ringing, Q32012 did not prove to be any better. The company witnessed a 95bps drop in revenue while cost jumped by 92bps. This resulted in gross margins shrinking by 6.37%, and it reported net losses for Q32012.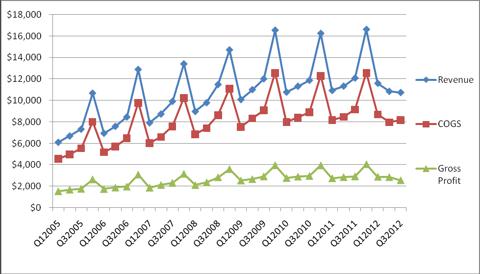 Things are even worse from an operational perspective with the company suffering a significant decline in Same-Store Sales (SSS). The only segments where the company saw some growth were the Computing, Mobile Phone and Appliance segments. It faced declines in all other segments, as shown in the figure below: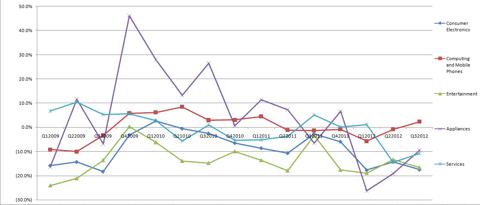 Despite shrinking margins and weak financial performance, BBY appears to be quite attractive relative to its competitors. The company is trading at a record low-price and dirt cheap valuations. A relative analysis reveals that the company is trading at a forward P/E of 5x, which is far below its competitors' average. Similarly, its EV/EBITDA of 1.69x is far below its competitors' average of 13.18x, as shown in the table below:
A Relative Analysis Based on Multiples (NYSE:X)

Company

Trailing P/E

Forward P/E

PEG

P/S

EV/EBITDA

Amazon (NASDAQ:AMZN)

-

132.08

-645.43

1.82

48.18

eBay (NASDAQ:EBAY)

16.48

17.68

1.43

4.61

14.59

WalMart (NYSE:WMT)

14.49

12.73

1.58

0.52

8.04

Target (NYSE:TGT)

14.31

12.69

1.19

0.56

7.68

Apple (NASDAQ:AAPL)

12.70

9.63

0.51

3.40

8.52

Best Buy Co.

5.05

-1.48

0.09

1.69

GameStop (NYSE:GME)

7.63

0.87

0.35

3.59

Competitor Average

14.50

28.21

-91.62

1.62

13.18

BBY Forward EPS

$2.29

BBY P/E Historical Average

10.84

BBY TARGET PRICE Based on Historical Average P/E

$24.82
This dilemma involving low profitability but cheap valuations raises concerns about investing in the stock. Things could improve, considering the future prospects of the company. The coming quarter is very important from this perspective. As the holiday season arrives, the situation would become favorable for retailers because a significant increase in revenue is observed during this quarter of the year. A trend analysis of BBY shows that the company has witnessed these fourth-quarter jumps in the past. Historically, revenue has moved up with an average of 42%, as shown in the following graphs: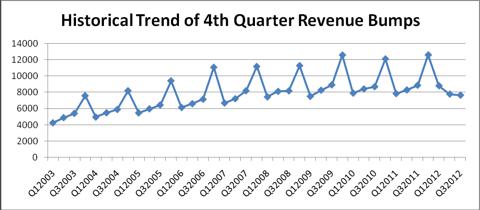 This leads us to believe that BBY could still benefit from the coming quarter. If it can do so, we would expect its earnings to go up and profitability to improve, making BBY a stock worth investing in. However, we feel that Q42012 will not prove to be as profitable as previous fourth quarters of the year. The graphs show a decline in revenue increases after 2006. This is because:
This year is characterized by intense competition as different retailers have come up with various online and in-store strategies to strengthen their positions. Analysts view increased competition from mass merchants and big-box retailers as the key threat to even the long-standing dominance of AMZN. Several big players have improved their online presence significantly.
A good example is Wal-Mart, which expects to increase buying by up to 15% as its online forum has been developed in a better way. WMT and Target Corp have come up with strong promotional offerings. The competition has become so fierce that all brick-and-mortar competitors of BBY are facing decline in their same-store sales. A comparison of BBY with GameStop Corp can be observed in the following graph: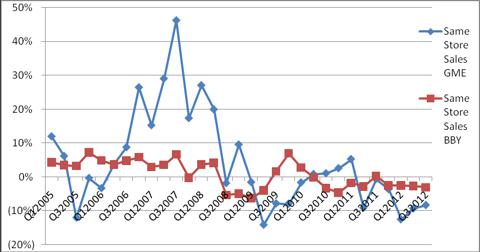 Although BBY can also come up with competitive promotional strategies, we doubt that it would, considering the company's worsening profitability compared to its competitors.
Moreover, the problem

of

"mystery shoppers"

is

another major concern. Due to online forums being widespread and easy to access, people mostly come to BBY to take a closer look at the items they are interested in, and then go to online retailers such as AMZN to buy them at cheaper prices. This new trend could prove very harmful to the brick-and-mortar presence of BBY, as it has become more of a showroom rather than a buying center.
Can BBY's online performance boost its revenue in Q42012? We doubt it. The research highlights the strong online competition that BBY will have to face this year. Competition will come not only from online giants such as Amazon and eBay

, but also from new online competitors such as WMT and TGT. Both have introduced dynamic online pricing, which could result in record competitive pressures for BBY.

The worsening economic landscape could act as a great hurdle for BBY, as is the case with its key competitors. As purchasing power decreases globally, we are highly skeptical about a sharp revenue increase this year. Moreover, Hurricane Sandy has added to retailers' suffering, raising our doubts regarding a big revenue jump in Q42012.
Our Stance:
Should investors invest in BBY or should they avoid the stock? We have a neutral rating on this stock because:
As the stock is trading at record low-levels, its chances of going down further are not very significant, given that BBY displays strong performance for Q42012. This makes us have a long stance on the stock. However, we are skeptical about a jump in revenue this year because of the record-high competition and worsening global economic conditions.
Although Hubert Joly is coming up with new strategies to revamp BBY, his strategies are still in their infancy and it is too early for us to comment on the future profitability of BBY.
Disclosure: I have no positions in any stocks mentioned, and no plans to initiate any positions within the next 72 hours.
Business relationship disclosure: The article has been written by Qineqt's Retail Analyst. Qineqt is not receiving compensation for it (other than from Seeking Alpha). Qineqt has no business relationship with any company whose stock is mentioned in this article.