McDonald's (NYSE:MCD) has had a pretty rough 2012. Shares have slid over 14% for the year, as McDonald's recently made new 52-week lows earlier this November. As I outlined my long-term bullish position in a recent Seeking Alpha article, I started to take a closer look at the dividend payments. While many investors may be worrying about some of the short-term turmoil that McDonald's is facing, it's comforting to know that its dividend is safe and sound.
McDonald's, which is now yielding over 3.5%, is considered a great bargain by many long-term investors. Below is a chart, accompanied by a table displaying the recent dividend payments and increases. McDonald's has been consistently paying out a dividend since 1976 and has never completely cut the dividend during that span. Below, the annual dividend payout for previous ten years: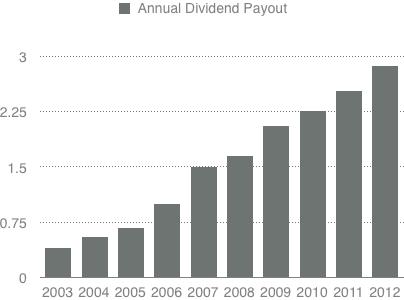 As you can see in the chart above, the annual dividend payments made by McDonald's has steadily increased over the last decade. Also, if you think back to what this decade has included, you may begin to release how impressive this feat is, especially through the 2008 financial meltdown.
Below is another chart displaying the quarterly dividend payout from 2008-present. The chart begins in 2008, since that is when McDonald's recently began paying out a quarterly dividend, rather than an annual dividend, which began in 2001. You can view all the dividend payouts in this historic dividends chart.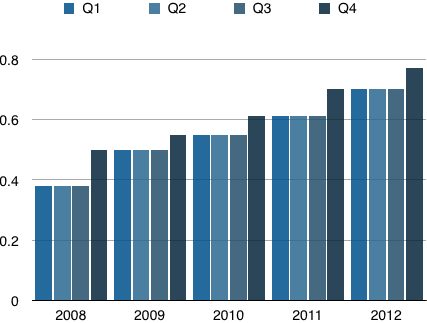 Coupled with the chart above, one can see how McDonald's' dividend payment is typically boosted in the fourth quarter (darkest blue bar), while staying constant for the first three quarters of the year. One can also see how McDonald's has continually been able to increase its dividend over the years.
It is helpful to analyze the increases in chart form, such as the two above. However, often times it is equally or sometimes more helpful to see the dividend increase as a percentage of change, rather than by dollar value increase. Below is a chart, displaying the current and previous annual dividend payouts, accompanied by the percentage change, over the last ten years:
| | | | |
| --- | --- | --- | --- |
| Year | Current Annual Dividend Payout ($) | Previous Annual Div. Payout After Raise ($) | Percentage Change From Previous Year |
| 2003 | .40 | .235 (2002) | + 70.21% |
| 2004 | .55 | .40 | + 37.5% |
| 2005 | .67 | .55 | + 21.8% |
| 2006 | 1.00 | .67 | + 49.25% |
| 2007 | 1.50 | 1.00 | + 50% |
| 2008 | 1.64 | 1.50 | + 9.33% |
| 2009 | 2.05 | 1.64 | + 25% |
| 2010 | 2.26 | 2.05 | + 10.24% |
| 2011 | 2.53 | 2.26 | + 11.94% |
| 2012 | 2.87 | 2.53 | + 13.43% |
As we can see on the chart above, McDonald's has been able to significantly raise its dividend over the last decade. McDonald's has increased its dividend by 10% or more 9 out of the last 10 years. In fact, the only year that the dividend didn't increase by at least 10% was in 2008, but the increase was for 9.33%, allowing the dividend to continually rise. On average, the dividend payout increased by 29.87% each year, quite a stellar increase when you think about.
In fact, McDonald's has only reduced the dividend payout twice since 1976, the first being in 1986 and the other in 1989. That's a pretty good track record, especially considered the two dividend reductions were not completely cut and did quickly recover and increase soon after.
So as we can see on the chart and graphs above, McDonald's dividend tends to increase consistently and substantially. Though increased pressure from competition has picked up, I would expect McDonald's to continue with its generous payouts. Should the dividend payouts get reduced or suspended, or should the dividend growth rate fall below 10% for several years, I would consider selling McDonald's. But for now, I would consider the recent dip as an excellent buying opportunity for the fast food giant.
Disclosure: I have no positions in any stocks mentioned, but may initiate a long position in MCD over the next 72 hours. I wrote this article myself, and it expresses my own opinions. I am not receiving compensation for it (other than from Seeking Alpha). I have no business relationship with any company whose stock is mentioned in this article.