It is difficult to assign a dollar value to patents. Further, litigation to monetize them is complex and uncertain. To an extent, Acacia Research Corporation (NASDAQ:ACTG), a "Leader in Technology Licensing," has successfully addressed such problems by reaching agreements with customers who utilize its intellectual property ("IP"). It has also been using cash to increase its patent portfolio. Overall, the $1 billion firm is making a strong, but not overwhelming, case as an investment.
An October 2, 2012 news release announces Acacia's acquisition of 1,900 med-tech patents from Boston Scientific (NYSE:BSX) under terms that are not available, and immediately on the heels of a settlement between BSX and an ACTG subsidiary. Finding the existence of infringement, and therefore a way to monetize each of 1,900 patents, is actually a detailed and time-consuming effort (one related story describes reverse engineering). The new portfolio has had no observable effect on consensus analyst estimates, or positive effect on share price.
Acacia's most recently reported results, for Third Quarter of 2012, are disappointing. They have subsequently announced a $100 million stock repurchase plan, well ahead of its next earnings report, and active through May 15, 2013. It should impact Fourth Quarter results. ACTG's float comprises 48.26 million, out of 49.71 million, shares outstanding. Using an approximate repurchase price of $21 per share, up to 10.13% of publicly available equity could be removed from the market.
An effective buyback program would not suffer from uncertainties for investors surrounding any impending tax increase on dividends. However, the deployment of cash decreases any likelihood of a special dividend before year end and could be a reason for the stock's recent sell-off. The company's payment to employees includes stock compensation, and it estimates $23.6 million in such charges for 2012. Additionally, the buyback authorization includes the small percentage of stock that is not publicly traded, so, if executed fully, it may have a more concrete effect on the firm's reported earnings per share, and still shrink the float.
Since before the BSX acquisition, Yahoo analyst consensus has been for $0.25 per share in Fourth Quarter of 2012 earnings. ACTG is expected to next report its results during February, 2013. Curiously, its falling share price has decreased the P/E multiple from 10x to roughly 8x; while annual estimates and the forecast five year growth rate have remained constant, at $2.46 and 38%, respectively. Further, analyst recommendations are reiterated at one strong buy, three buys, and one hold. As of November 19th, JP Morgan has issued a reiterated "Overweight" rating on ACTG (and has upgraded Rambus, Inc. (NASDAQ:RMBS) to "Overweight" from "Neutral," reflecting the bank's past belief that "Patents, as an asset class, and licensing as a business model, present attractive long-term investment opportunities").
ACTG recently made other remarkable acquisitions. In January, 2012, the company spent $160 million acquiring Adaptix, including its 4G patent portfolio and $10 million in cash. Adaptix owned patents around the world, though its web site's partial listing did not specify any held in Europe. Acacia President Matthew Vella said the idea behind a global portfolio is to achieve multiples that are unobtainable in just the USA. ACTG probably anticipated over $1.5 billion in total revenues to be generated. Vella also informed that some prospective Adaptix licensees are requesting licenses under other portfolios as well, and that trials are scheduled to begin in April. Acacia also spent $64.96 million on other IP before October.
For the quarter concluding September 30th, 2012, ACTG lists $264.15 million in cash, and a substantial percentage of it may be utilized if the full buyback is executed. A special dividend is possible, though not to be expected in consideration of the company's acquisitions if they are to continue. Total liabilities reported to the Securities and Exchange Commission are just under $38 million.
There have been multiple insider transactions dated November, 14, 2012, none of which transpired on the open market. Ryan, Vella, and Executive Chairman, Robert L Harris II have each acquired 40,000 shares. Mr. Ryan's 447,392 share stake is just under one eighth of George Soros's 3,913,037, which represent 1.15% of the billionaire's self-managed portfolio.
Non-Practicing Entities ("NPEs"), such as ACTG, are secular as an investment. They give little reason to worry about macroeconomic problems, and should be able to perform independently of wider conditions. Also, the industry may enjoy some immunity to the impending obsolescence for practicing entities, because it should not affect them unless carefully utilized patents expire.
Though much about ACTG sounds terrific, there are potential problems to consider when evaluating it. The stock has been trading near, and resetting, its 52 week low. Referencing its five-year chart, it last traded at $20 during the second half of 2010.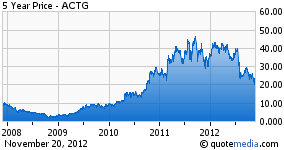 Some open market insider buying would be a wonderful way to let investors know that management believes the stock price has bottomed and that its newly paid for IP amounts to a gainful situation. The buyback announcement appears to be one such sign, management should signal belief in its efficacy.
Further, there is some new press regarding The United States Department of Justice's joint effort with the Federal Trade Commission to examine the patent industry amidst antitrust concerns. While regulatory consideration appears to be preliminary, government intervention is one thing that could substantially and adversely affect patent holding and licensing businesses. The current focus emphasizes enterprises created by other companies. One example is Mobile Media Ideas, LLC, spawned by Nokia (NYSE:NOK) and Sony Corp (NYSE:SNE), which is suing Apple (NASDAQ:AAPL); Rockstar Consortium, described in the reverse engineering link above, has similarities.
A Wall Street Journal article cites Justice Department economist Fiona Scott Morton, who says that instead of competing, firms are "Cooperating...to raise rivals' costs and share the profits from doing so...[Royalties] could get large enough to make some products unprofitable to develop or produce." Supporters for increased or modified regulation are likely to include Cisco (NASDAQ:CSCO), a confirmed attendee for a December 10th conference. Though the meeting is ostensibly directed at collusive entities, its findings, and any pursuant action, could be harmful to ACTG.
Lastly, NPEs are increasingly present. Other corporations in the field include Vringo (VRNG), VirnetX (NYSEMKT:VHC), and RPX Corporation (NASDAQ:RPXC). There are also a large number of privately held firms involved in the same activities. Thus, it may not be as easy to negotiate agreeable terms when acquiring patents; or to attract new investors, especially if the balance sheet weakens.
ACTG is currently a healthy business with plenty of cash. It has prospects for growth, amidst causes for concern. A clear indication that a floor is in place under its lowered share price would send a message that it should seriously be considered as the top vehicle for capital appreciation in the NPE industry.
Source: Kendall, Brent, and Ashby Jones. "Regulators Take Look At Patent Firms' Pull." The Wall Street Journal, Monday, November 19, 2012, Marketplace Section.
Disclosure: I have no positions in any stocks mentioned, and no plans to initiate any positions within the next 72 hours. I wrote this article myself, and it expresses my own opinions. I am not receiving compensation for it (other than from Seeking Alpha). I have no business relationship with any company whose stock is mentioned in this article.